20 Influencer Marketing Trends for 2022
At the end of the year, Influence4You analyzed the influence market and identified the 20 major trends for 2022.
Live Shopping, NFT, Metaverse, data development, professionalization of influencers…
Discover our Top 20 influencer marketing trends for 2022 without further delay!
Moreover, discover our 20 Influencer Marketing Trends in 2023 here.
1) Live Shopping: The new phenomenon confirmed
Live Shopping is the new phenomenon in influencer marketing. Similar to teleshopping, it's about live videos, videos filmed live that mix the demonstration of products or services with entertainment.
Technically not all the possibilities have been offered yet, however companies like Carrefour, Fnac-Darty, Cdiscount, Sephora … have already rushed to use this feature.
Ideal for e-retailers, the Live Shopping feature is offered to the users and when it's coupled with influencers, this function is very powerful to offer a new shopping experience and to generate sales.
Download our free Live Shopping and Influencer Marketing Guide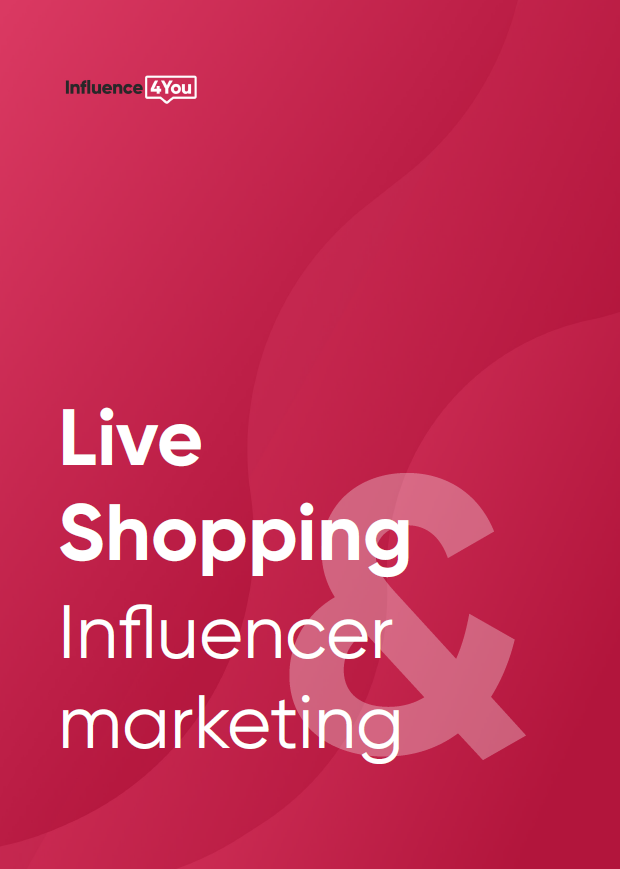 To know more about Live Shopping and the possibilities of campaigns, read our blog which contains the best 7 examples of Influencer Live Shopping Replays to Inspire You.
Go further and read more about the Live Shopping features of each social media platform like Instagram Live Shopping, Facebook Live Shopping, YouTube Live Shopping, TikTok Live Shopping, and Twitch Live Shopping for Brands and Influencers.
2) New tools for Influencers
Social networks are developing many features day-by-day, but most of them are recently oriented to influencers.
Besides this, social networks are offering new publication formats such as Shorts or Reels, along with new professional tools to generate more revenue.
We can mention the creation of Instagram / Facebook Shops, badges on Instagram which are in fact paid subscriptions to follow. An influencer like on Twitch, integrated affiliate programs and marketplaces to find collaborations on TikTok.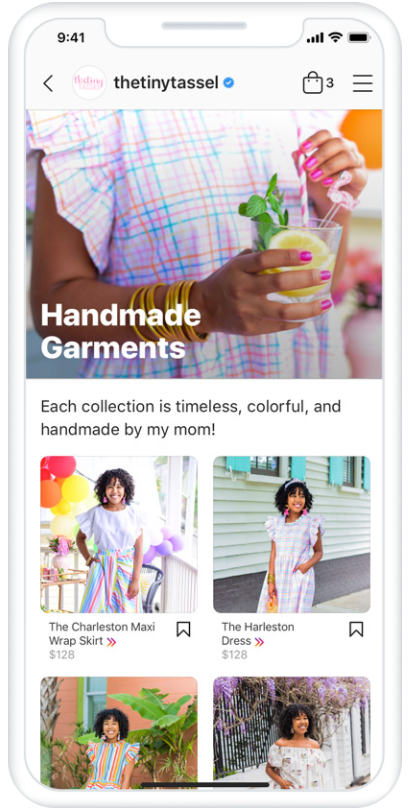 This trend displays the crucial issue that influence marketing has become. Social networks are positioning themselves even more with influencers in order to support them in their development. Whether it is for creative tools or for professional ones.
These developments have a double interest for the platforms since the competition is tough and an influencer can attract a huge audience and engage with them but also promises interesting sources of income in the long run (commissions on payments, advertisements on contents…).
3) NFT
Non-Fungible Tokens (NFTs) are to be considered for 2022. We won't go into the details of this concept using blockchain technology and close to cryptocurrencies, but remember that NFTs are a new potential source of revenue for influencers.
TikTok has understood the NFT issue and launched TikTok Own the Moment in September to push the use of NFT on its platform.
On the social network, the public gives more importance to the influencer rather than to the brand directly.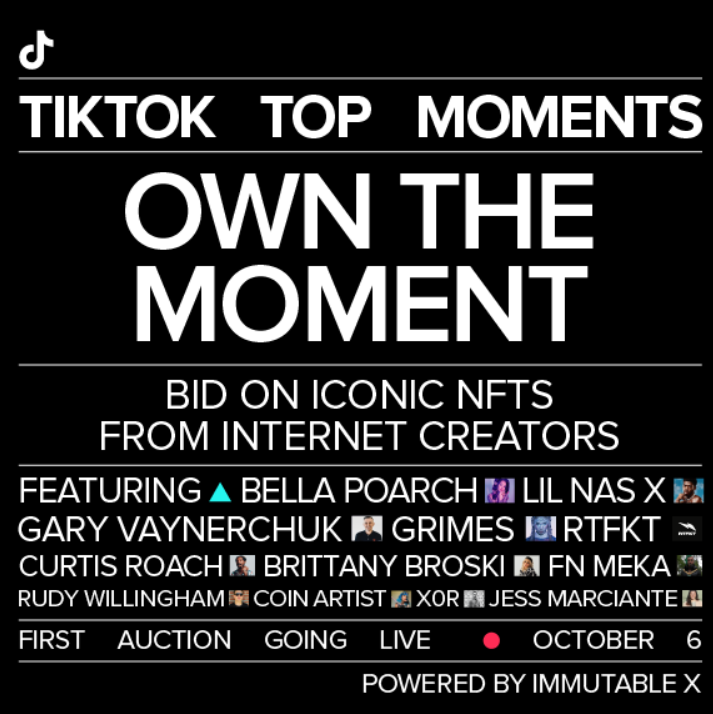 That's why NFTs can allow an influencer to sell their publications to their audience. For example, a TikTok video, an Instagram post, or a YouTube video… Everything is certified original by the NFT technology that makes the content sold unique.
This phenomenon affects all sectors and not only Sports as already in the United States. However, the NBA (American Basketball League) also sells the best shots of games in NFT.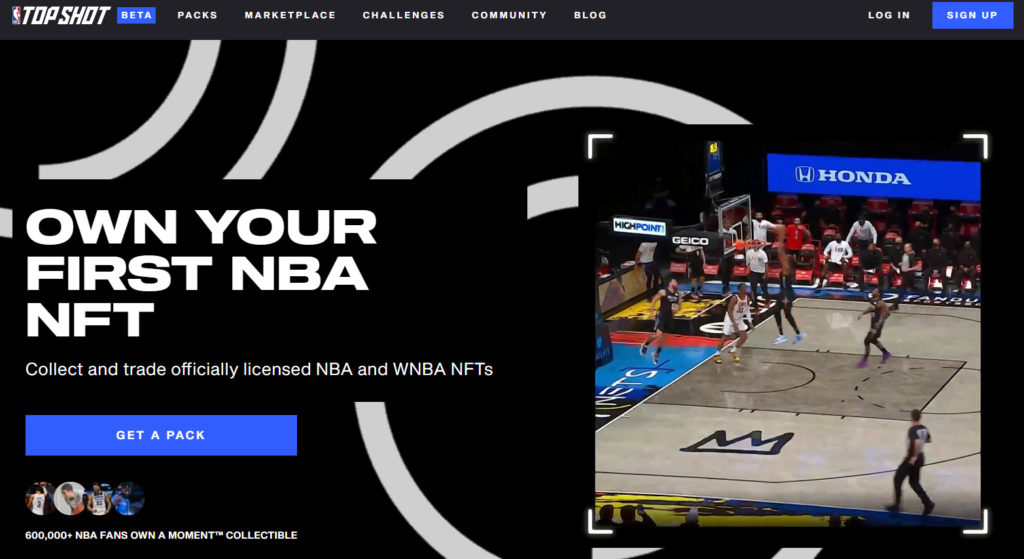 Another example is of 32 years old Artist named Amrit Pal Singh made over $1 million in 9 months by NFTs (57 nonfungible tokens). He says that he began minting his Toy Faces NFTs in February, most of them are inspired by people who have inspired him.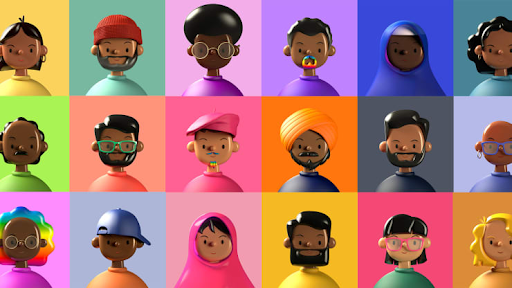 Source: Amrit Pal Singh's Toy Faces NFTs
4) Virtual Reality and Metaverse
Snapchat is the undisputed leader in virtual reality, the social network has been innovating in this field since its creation and sees a bright future in this technology with e-commerce. Thanks to this feature, which allows users to see virtual objects in their homes, or even wear virtual clothes.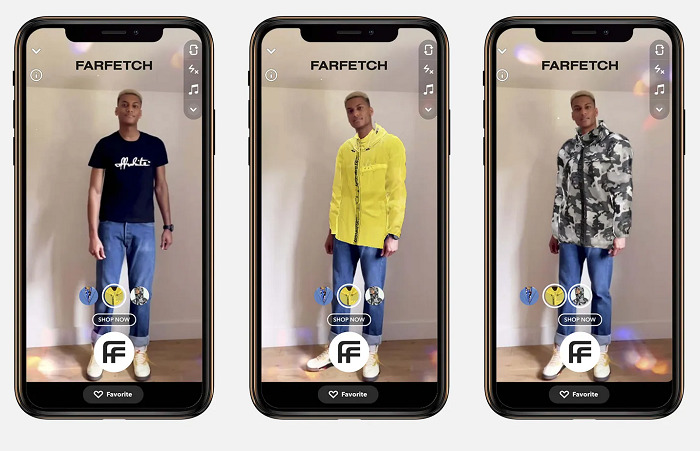 We can imagine the possibilities for influence campaigns!
But virtual reality doesn't stop there, brands are positioning themselves in the virtual world entirely.
One example is the partnership between luxury brand Gucci and the popular video game Roblox, which allows Gucci to create a fully visitable virtual space for players, the Gucci Garden Experience.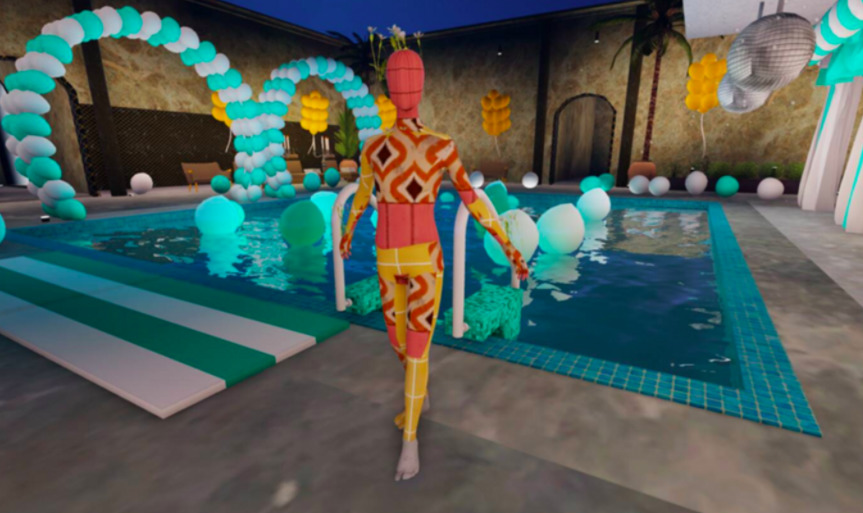 In addition, there is a series of virtual accessories available in limited edition sold through the Roblox store. One of them is the virtual Dionysus Bag which was sold at a higher price than the original one in the store (4115 dollars in virtual against 3400 dollars in physical)!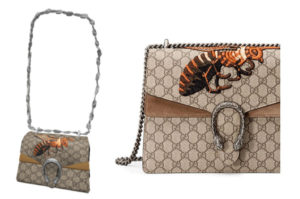 Finally, the Meta Group (Facebook) recently announced the launch of the Metaverse, a totally virtual world linked to the Oculus headset where it will be possible to do just about anything.
This idea came straight out of the Matrix movie, is as much a fear of drift as it is of generating new virtual opportunities to be seized.
Whatever the case, the virtual world will be more present in our lives and the new generations will adapt it without any hesitation.
5) TikTok, the year of confirmation
With 3 billion downloads and 689 million monthly active users worldwide, TikTok has been a real tidal wave in 2021.
The main advantage of the network is its algorithm that allows anyone to be easily visible and reach a large audience quickly. The growth of TikTok profiles is still quite impressive.
Today, the competition is tough and TikTok's codes are not yet well understood by advertisers. However, the social network has armed itself to meet the demands of advertisers and influencers with the development of its several functions (TikTok Fund, association with Shopify, integration on connected televisions in the United States …).
On the creators' side, TikTok recently launched three new features to develop influencers' sources of income, including "tips" that allow subscribers to reward their favorite creators.
2022 sounds like the year of confirmation. The social network is expected to evolve and perform well in the future.
Advertisers are going to use this social network more and more for their influence campaigns and this is going to push the creativity of influencers even more!
By the way, if you want to become a real expert and know all the codes of TikTok, download our free book dedicated to TikTok "50 creative ideas for your influencer campaigns on TikTok".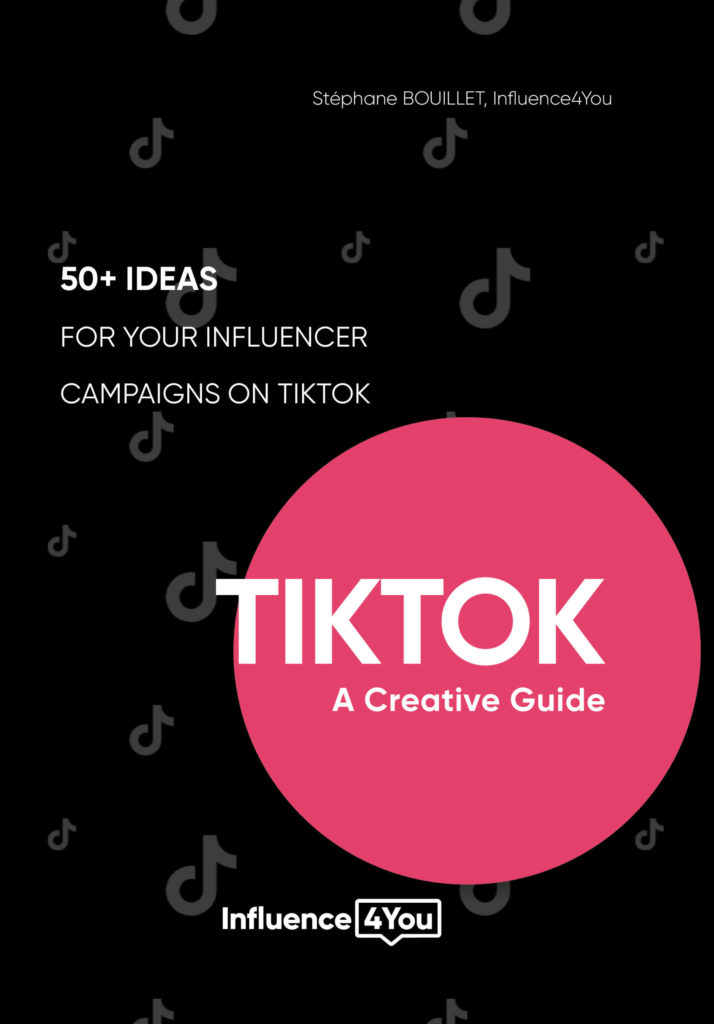 6) Podcasts
A huge trend had begun last year, podcasts have spread everywhere on all subjects. You can find Podcasts of your interests on audio platforms such as Spotify, Apple, Deezer, or Amazon. Podcasts are also perfectly integrated into websites.
Here also social networks are trying to position themselves and trying to integrate this format more and more.
YouTube already has a podcast category and recently hired an executive specialized in the audio format to develop it further. Facebook has launched Live Rooms Audio, Twitter launched the Spaces feature, and LinkedIn is reportedly looking into the format.
Despite the end of the Clubhouse hype, audio is clearly coming back into fashion. So brands and influencers will be able to seize the opportunities that podcasts offer to engage their communities even more.
7) Professionalization of Influencers
The influencer market is reaching its maturity. Regulations have developed, advertisers have become more experienced and the public is now more informed and demanding.
To respond to these evolutions, influencers have also evolved by becoming more professional. To help them, structures such as ARPP in France, propose to frame influential partnerships in order to propose responsible and ethical communication.
Thus, the ARPP has launched several tools in this sense:
These steps allow market players to know the regulatory constraints related to advertising rules in order to propose more responsible content.
Also, the official website of the Federal Trade Commission (FTC) in the United States works to stop deceptive ads, and its endorsement guides go into detail about how advertisers and endorsers can stay on the right side of the law.
If you endorse a product through social media, your endorsement message should make it clear that you have collaborated with the brand and they are paying you or giving you free or discounted products or services.
Disclosing these kinds of relationships is important because it helps to keep your recommendations honest and truthful, and it allows people to weigh the value of your endorsements.
As an influencer, it's your responsibility to make these disclosures as a social media influencer, to be familiar with the Endorsement Guides, and to comply with laws against deceptive ads.
Finally, social networks are aware of the stakes and are making funds available to support influencers. We can mention TikTok, Twitter, Twitch but also Facebook which plans to grant a 1 billion dollars envelope in 2022!
These funds aim to help influencers not only develop but also to structure their careers.
8) Influencers more and more integrated with brands
Brands are integrating more and more influencers into their daily life. Capsule collections (limited edition products), the use of their images in their communications as ambassadors or in advertisements, the integration of their social networks in their websites, Live and Live Shopping.
This trend is going to grow even more and will take new forms. Indeed, brands will be using their talents to develop new parts of their business and especially the management of their social networks.
Depending on the brand's profile, an influencer can: –
write blog articles and newsletters for a brand
cultivate and manage relationships with a brand's community
create original content such as videos, advertisements on social networks
create and manage virtual stores for brands…
Influencers will not only promote a brand but also manage it in part.
9) E-commerce, the natural extension of social networks
Social networks offer more and more features around e-commerce. Pinterest and Instagram offer to create stores and catalogs, TikTok has partnered with Shopify, YouTube is testing the shopping feature in the United States.
All players are positioning themselves to offer a new experience to their audiences. An experience with a natural extension since the audience spends more and more time on social networks, it is therefore quite logical to be able to offer a total "shopping" experience and thus generate new revenue.
But even if a brand can now create a store on Instagram or TikTok, this remains a simple tool. This is where influencers come in as intermediaries.
Indeed, there is nothing better than an influencer and his power of recommendation to boost the sales of e-retailers.
Influencer campaigns from e-retailers should multiply and it will be necessary to master the field, starting with the selection of the right influencer for the brand.
On this subject, take inspiration from The Best Live Shopping Campaigns from Online Retailers (Carrefour, Fnac-Darty, Boulanger, Cdiscount, Leroy Merlin…).
10) Influencer marketing investments on the rise
The global influencer marketing market has reached more than 13.8 billion dollars in 2021 and will exceed 15 billion dollars in 2022 according to Influencer Marketing Hub.
Brands, marketing, and communication managers will massively integrate influence into their global strategies. The more the market develops and becomes professional, the more investments increase because performances are now more easily measurable.
Finally, the latest performances of influencers in the world stimulate investments because the results are there.
We can mention the Chinese influencer Li Jiaqi, a lipstick tester who has 30 million followers and who broke his record by selling 125 million euros worth of products in a single Live Shopping session.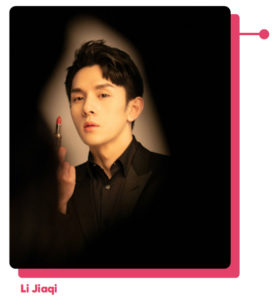 Seán McLoughlin, A YouTube gamer also known as Jacksepticeye on YouTube, raised almost $659,000 during a 12-hours Livestream Tuesday for covid-19 relief efforts.
Or in France, the ZEvent 2021 raised more than 10 million euros for the Action Against Hunger association after 50 hours of life on Twitch! Doubling the fundraising compared to last year.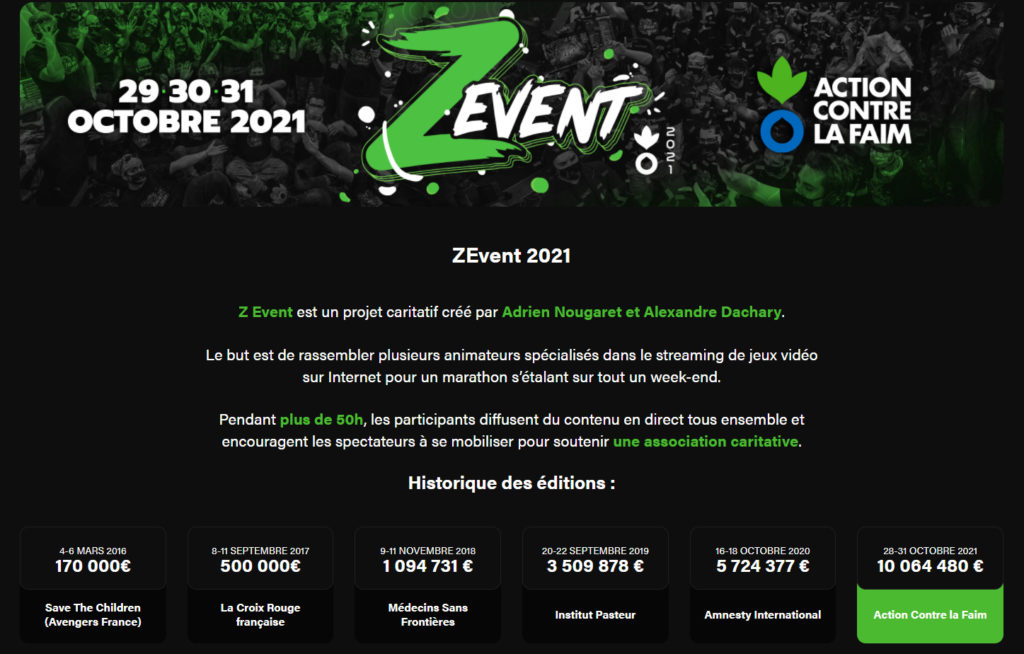 A great performance demonstrating the power of influencers.
11) Influencer companies in constant growth
The growth of influencer companies in 2021 was impressive and often exceeded 100% compared to 2020!
Large groups have thus become more interested in this sector. This has led to a concentration of players with the acquisition of certain influence companies such as Reech, Hivency, Octoly, Follow, or Linkalyze… which are almost all now owned by media or communication groups.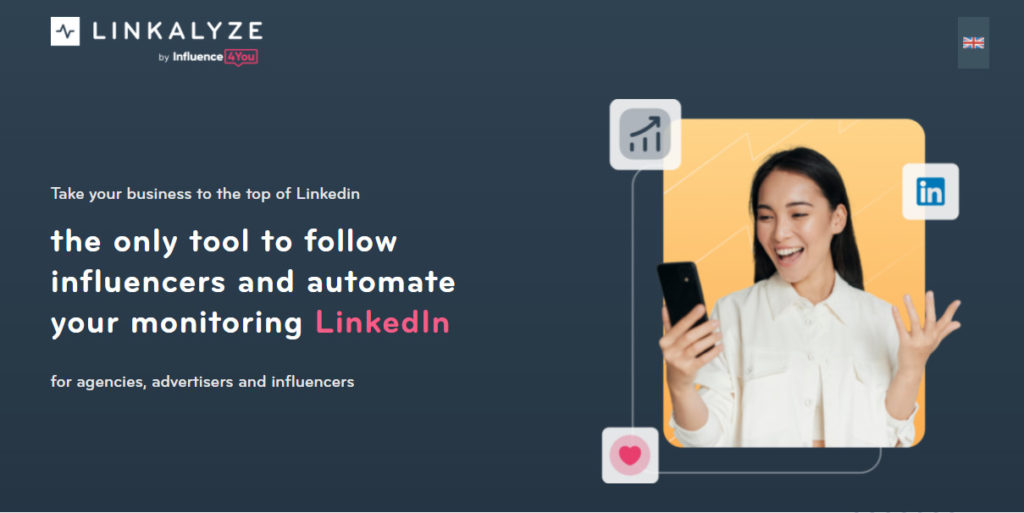 There are fewer and fewer independent players like Influence4You and this trend could continue given the strategic importance of influence for media and communication groups and the growth projections for the coming years.
12) Internalizing influence marketing
Many companies have created "influence poles" because influence is increasingly considered as a separate media with all its complexity.
Thus, there are two possibilities for companies that internalize:
Manage all influence internally and with their own tools. This requires expertise and significant resources.
Use technologies that allow you to manage influence marketing, such as SAAS influence marketing platforms

that integrate a project management part.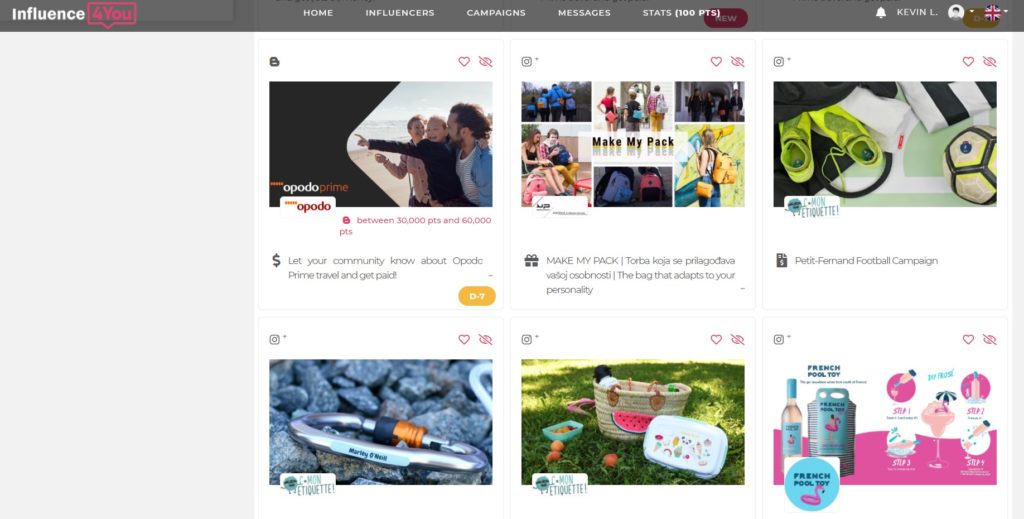 For the second option, following the example of other SAAS tools such as Hubspot or Salesforce, a complete influencer marketing platform will integrate perfectly with companies' influencer services in order to facilitate the many time-consuming tasks that campaign management can represent but also to have access and analysis of the numerous data available from influencers.
Another sign is the presence of numerous training programs and schools dedicated to influencing marketing, such as Kellog School of Management in the United States.
These new training courses clearly show the importance and the stakes of influence marketing for companies and the need to meet the future needs of companies to manage the influence part.
13) Evermore accurate data
Data has always been important since the beginning of influencer marketing but it will be even more important tomorrow. The advancement of artificial intelligence allows us to foresee new possibilities.
Brands that are more and more demanding in data will have an analytics-oriented approach. For this, technology will have to follow in order to analyze the most important KPIs and to be able to go into the details of the measurements.
The analysis of influencers' profiles will become more and more complete thanks to the display of precise data such as:
Audience profiles
Influencer and audience interests
Geographic locations of influencers and audiences
Interactions (likes, shares, comments, number of views…)
The look-alikes…
A good influencer platform will even be able to show you a history of past collaborations to give you an idea of the quality of the influencer's work.
In this regard, take a look at our new influencer sheet here (desktop format) presenting all the data and KPIs to take into account for your campaign.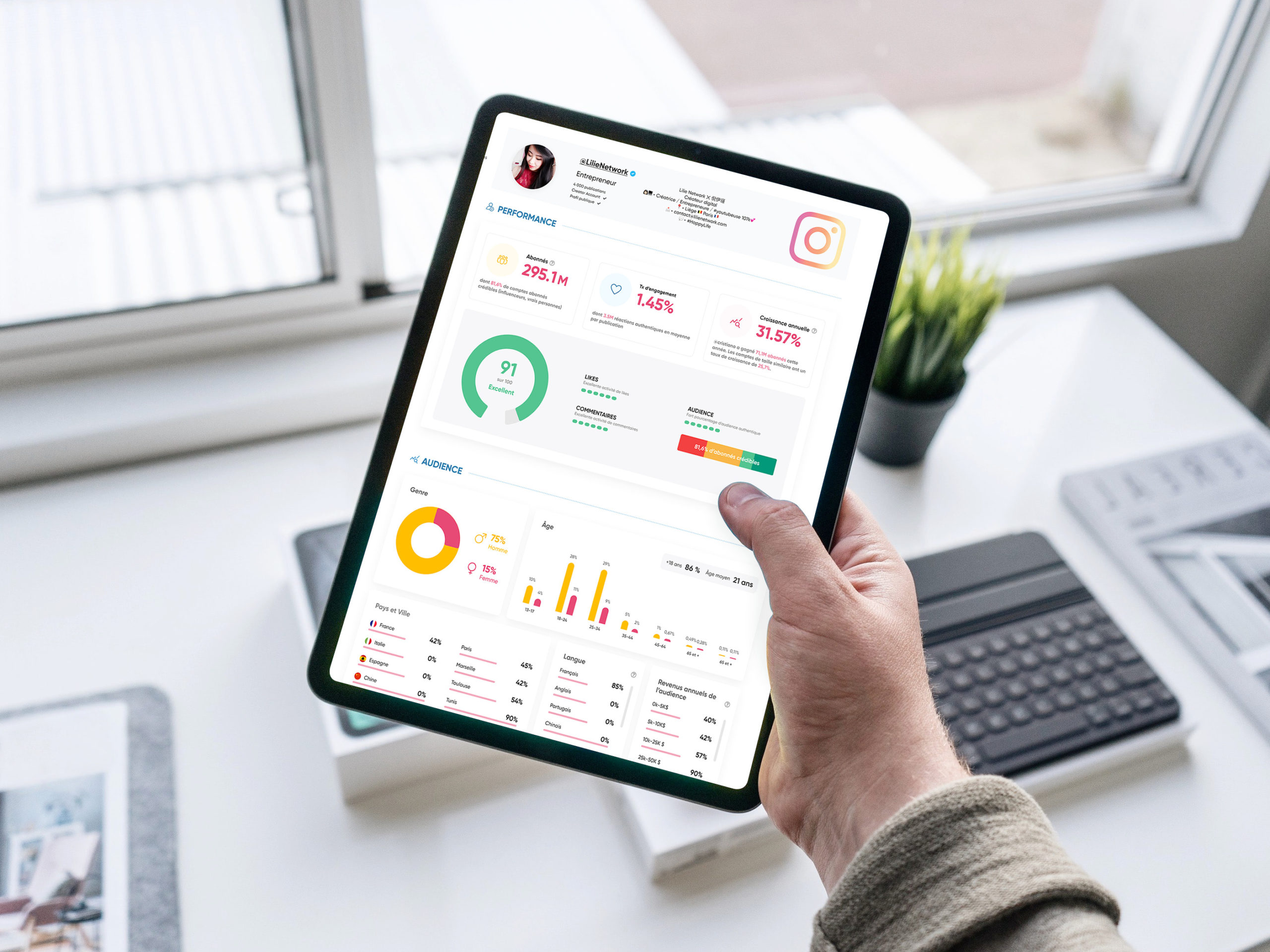 As for campaign reports, they will be able to display key and advanced data to be taken into account in a global marketing strategy.
Finally, it is possible to imagine future integrations with tools such as Google Workspace, HubSpot, Shopify… to facilitate data integration.
14) Affiliate programs are getting stronger
Engagement rate, reach, awareness, traffic, sales… Influencer marketing is a complete media in its own right where measurements are varied.
Many brands want to have a precise measurement of sales and conversions generated and for this, several techniques exist such as tracked links personalized by influencers, promotional codes…
In addition to this, affiliate links that not only allow the brand to track performance and measure sales but also allow to reward the influencer via commissions. Moreover, Instagram has announced the implementation of a native affiliate program to reward creators.
This classic technique will not only help brands to generate more sales but will also certainly change their perceptions of affiliation which, combined with influencer marketing, becomes a very powerful tool and revenue generator for influencers.
15) Last year before the end of third-party cookies: nightmares and opportunities for advertisers
All web browsers have announced the removal of third-party cookies. Firefox, Edge, Safari, and Chrome had planned to eliminate them next year, but it seems that Google has postponed this until 2023 since Chrome represents 60% of the market.
​​This is a subject feared by marketers and advertisers who will have to start finding alternatives because there will be alternatives, just like with the implementation of the GDPR (General Data Protection Regulation), the web actors have adapted to respect the new standards and use data differently.
Influencer marketing has an important card to play by being a contextual media par excellence.
Thus, by using influencers, brands will always be able to reach their targets according to the categories of influencers and the interests of their audiences.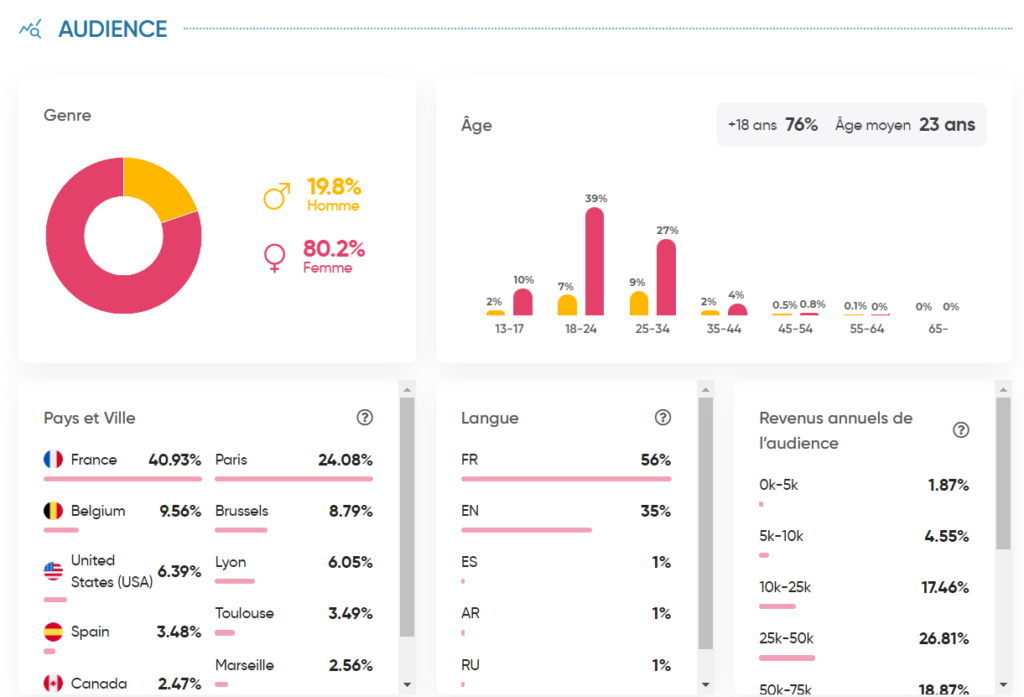 Influence4You Influencer Sheet
On the other hand, promotional formats are adaptable according to your needs: post, story, short or long video, live, and others…
With the possibility to target one or several social networks (Instagram, TikTok, YouTube, Twitch, LinkedIn…) at the same time to widen your target.
In addition, performance analysis is possible through the analysis of the influencers' profile data but also through the use of personalized promo codes or tracked links dedicated to the influencers.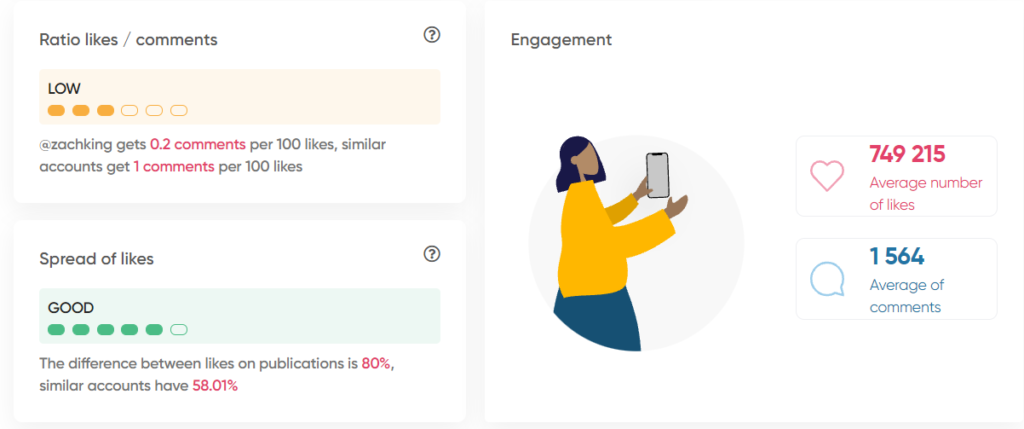 Influencer marketing is a real opportunity for advertisers in both B2C and B2B!
16) Long-term influencer relationships
The long-term relationship with influencers will intensify. Even if temporary or short-term collaborations work very well, what is better than being able to count on an influencer in the long term? The latter will be more impregnated by the brand, its products or services, its values… and will thus share the brand's message in the best way.
For brands, it's a guarantee to get their messages across to the public, but also to be able to call upon the same influencers quickly and easily and also to set up operations more easily than with new profiles.
So be prepared to see influencers positioned with the same brand for a relatively long time.
17) Authenticity and Creativity
Basic arguments but always more real and sought after by the public, authenticity is important because a message delivered by an influencer in a very commercial way will have a negative effect on the influencer and the brand. The audience will feel betrayed by someone who is supposed to be trusted.
Hence, creativity is required to stand out. It is also linked to authenticity because it brings proof that the content created by the influencer is original and not commercial.
PiwDiePie (110 M subscribers) is a gaming YouTuber. He ranked Top as the most-popular YouTuber of 2022 and 2021. He delivers original and authentic content to his audience by using his skill of creativity during commercial collaborations with GFuel for instance (watch the first minute of the video below).
This type of content is highly appreciated by the subscribers who perceive very well the collaboration of their favorite YouTuber.
Social networks provide many tools to let your creativity speak (duet option on TikTok, Snapchat filters, …).
Thus, brands will have to leave a greater part of creativity to influencers in order to continue to guarantee great performances.
18) Micro-influence fully integrated in communication strategies
Star influencers have real advantages, but micro-influencers have nothing to be ashamed of.
First of all, micro-influencers are naturally perceived as more authentic. They are profiles that are very close to their communities and do not (yet) make influencing as their main source of income.
Secondly, the engagement rates of their publications are generally higher than those of the biggest influencers. This is particularly interesting for brands.
Finally, it's easier to contact micro-influencers than the big ones. Micro-influencers allow you to manage campaigns at a lower cost and to multiply collaborations with several profiles to reach different audiences.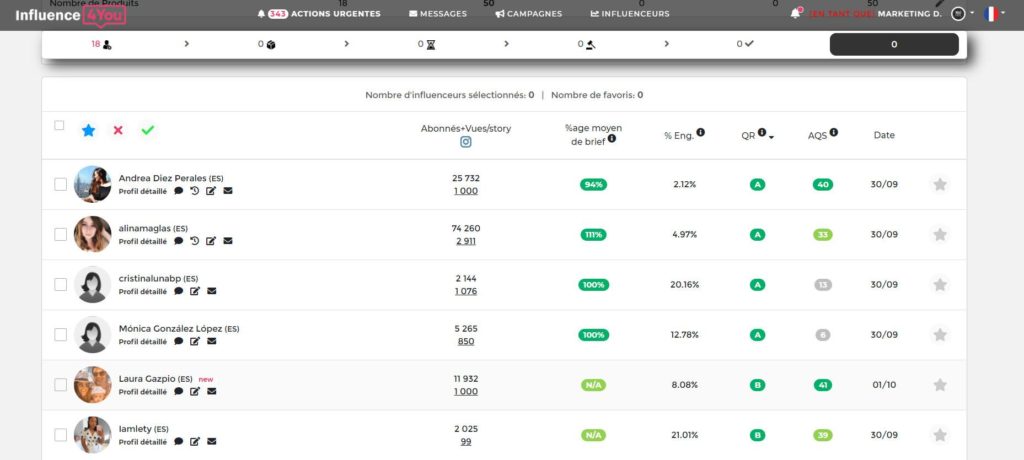 The only condition to successfully run the time-consuming micro-influencer campaigns is to be well equipped. An influencer marketing platform (like Influence4You) allows brands to manage entire campaigns with hundreds of profiles easily.
19) Videos: Long, Short, Live
As the years go by, the video format is preferred more by the influencers and the social networks.
Its been a while now that videos have represented more than half of the content on social networks and new formats have appeared to meet the high demand, such as Shorts on YouTube or the merging of video formats on Instagram into a single one called Instagram Video.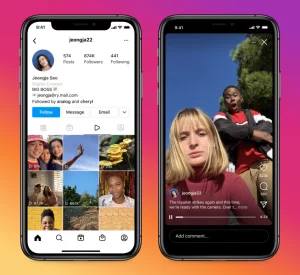 To this, it should be noted that many tools are available to make video edits like on TikTok or Instagram with Reels.
Today, an influencer can publish in different video formats:
Long formats available on most social networks like TikTok recently

Short formats: TikTok, Shorts, Reels, Stories…

Lives available on all social networks now
An example of a short video format with the Instagrammer Yoga Practice (2.5M followers):
This short video format is therefore clear to be preferred not only in order to meet consumer demand but also because this format allows to go further in the presentation of products or services.
20) Cross-platform
Cross-platform (or multi social networks) has also developed well. It is now common for advertisers to create marketing campaigns on 2 or more social media simultaneously, for example, Instagram, YouTube, Twitch, and TikTok for example.
Even if some influencers especially the most famous ones have large communities on several social networks; most influencers will have only one or two highly developed social networks.
This is when cross-platform becomes essential to increase the reach of an influencer campaign. Moreover, each network contains different audiences, and not communicating on a network can make you lose great opportunities.
Of course, you have to adapt the content and the message to the social network, but once well-calibrated, a cross-platform social campaign is a really powerful strategy to be visible everywhere.
Again, a good influencer marketing platform will help you set up these campaigns easily thanks to their technology.
Influence4You has integrated all social networks on their platform (Instagram, YouTube, TikTok, Facebook, Twitch, Snapchat, Pinterest, Twitter, Blogs, and LinkedIn) offering the ability to cross-platform easily. To know more visit our website today!
That's all, these are our Top 20 Influencer Marketing Trends for 2022. We hope that these trends will help you focus on your influencer strategy this year and to better perform in your influencer campaigns.
Don't hesitate to contact us to help you with your future influencer campaign!
Also if you are an influencer and want to find collaborations, register on our platform for free!