Our favourite influencer marketing platforms
Influencer marketing has become a pillar of marketing strategies when it comes to promoting a brand and its services or products.
As it is more affordable than running a TV commercial or traditional outdoor and transit advertising, and more targeted than a page in a magazine, influencer marketing has earned an enviable position amidst brand awareness practices.
But as this is still a very new practice, the key is to know how to go about it. Finding the right influencers, knowing how to communicate with them, managing posts, and getting the desired results in terms of content and outreach are not all that easy. Without the right processes, these tasks can also be very time-consuming.
Thankfully, there are numerous influence marketing platforms to help your brand run its influencer marketing campaign. As the influencer marketing industry matures, so do the solutions and expertise around it to help streamline processes.
Influencer marketing software has boomed in the last few years. The idea is to help brands and agencies when working with influencers for their marketing campaigns. They offer keyword searches, influencer discovery tools, searchable databases, campaign and relationship management workflows or dashboards that can help you save a precious amount of time.
To have a better idea of the different platforms and services they offer, we've made a recap for our top 4 influencer marketing platforms. We go through their offerings from tools and functionalities, to prices (though they might evolve), as well as their different services to help you with your choice of influencer marketing platform.
1. Influence4You
Launched in 2011 in Paris, the agency has developed internationally and grown its services with its influencer marketing platform. Entirely focused on social influence, the agency offers different devices and strategies to grow your brand's influence on different platforms. It operates on a total of 9 social media channels: Instagram, YouTube, LinkedIn, Twitter, Facebook, Pinterest, Snapchat, TikTok, and blogs.
With 20 project managers, Influence4You also has a SaaS platform dedicated to brands and advertisers. It is the simplest workflow and most comprehensive solution on the market according to independent panel Grizzlead. There are numerous functionalities for brands and agencies, and you can also reinforce your campaigns through nano-influencers.
Influence4You offer a turnkey solution for all parts of the influence marketing process. Here's a list of its services:
·       Influencer discovery 
Influence4You offers influencer listings from its database of handpicked creators. These themed lists based on different verticals (such as music, politics, science, family, etc.) can be completed at any point.
You can filter this search as the influencers are labeled with different tags to help you decide from more than 37 million available influencer accounts. Your preferred social media platform, number of followers, country, and language; these are some criteria you can use can sort through searches.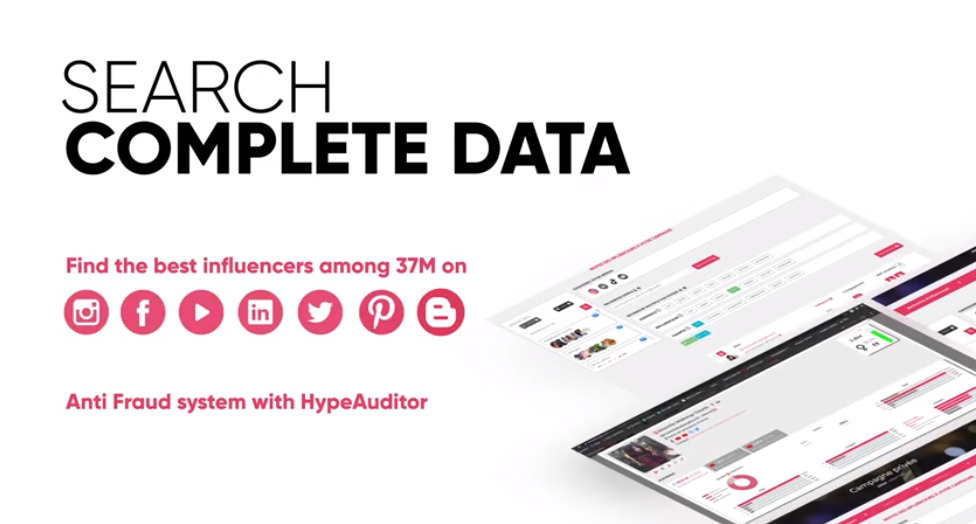 You can choose the most relevant criteria for your campaign, and decide on the perfect influencer from your narrowed search results.
Especially useful to tailor your search further is the keywords search taken from the influencer's bios on Instagram. This makes it easy to find mamas, animal lovers or fashionistas, for example.
Curate your customized lists from your search results. This is the easiest and simplest way to sort through results, and to find your favourite influencers in just a few clicks. Indeed, this perfected search method is a huge time saver for influencer marketing campaigns.
By the way, Influence4You has a partnership with HypeAuditor, a fake follower checker. This allows you to know the real audience size for your brand to reach real and active targets. You can also install a Chrome plug in to automatically indicate influencer statistics on their Instagram posts.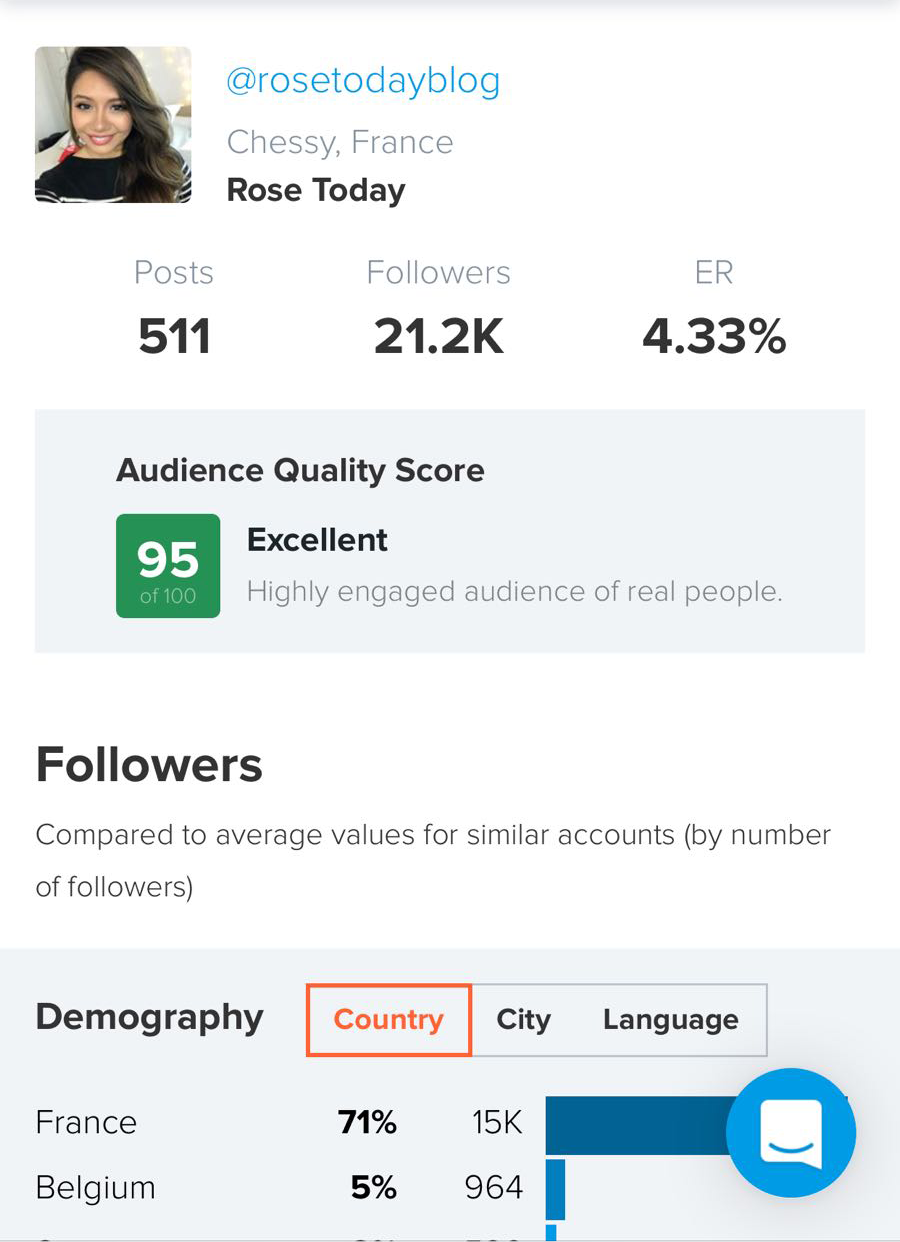 ·       Campaign management 
Influence4You's campaign and influencer relationship management workflow allows you to both manage your relationship with influencers invited on a campaign, as well as your own tasks linked to this campaign.
Organized in a timeline workflow, you can put reminders for the dates contracts should be sent, follow-ups, when to send your products, deadlines for confirming the brief or casting. The software automatically arranges your tasks on a visual timeline to avoid you running behind. Similar to Trello, you can drag influencers from one column to another (with different labels: 'invited', 'refused', 'to be confirmed', etc.).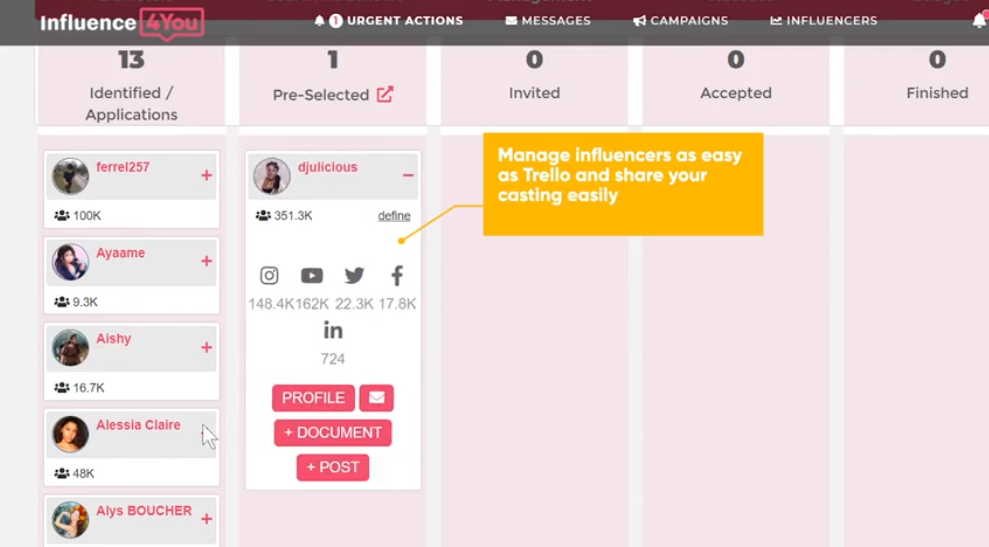 For your campaigns to be as impactful as possible, you can easily create promo codes for the influencers that are sent automatically, or ask Influence4You's project managers to take care of the logistics for you.
·       Campaign analytics 
The use of Influence4You's stats tool enables you to calculate your ROI as well as the campaign's overall EMV. This functionality gives you the campaign's key figures: engagement rate, number of impressions and likes, global reach, and total number of publications, etc. You can also find the details for each post, and the data for each influencer. You can add comments and then export the report as a PDF, to easily share it with your clients or marketing directors.
·       Marketing budgets 
The budgeting tool is more efficient and simpler than an Excel table, allowing you to keep an eye on your expenditures and to stay within the set budget. This is useful for managing your spending on the campaign.
·       Contracts 
Organizing contracts can be draining. That's why Influence4You's platform helps you to remember contract send dates and to see when contracts were sent, returned and signed, or manage several contracts with the same influencer. This service also includes the electronic signing of contracts.
In conclusion, this influencer marketing platform is full of helpful tools and functionalities. Get a peek into how it works in the video below.
Rates: 
470€ /month for startups or 990€ a month for brands and agencies for a 1 year campaign management subscription
700€/month for project management with top influencer and access to 37M influencers
2. IZEA
IZEA dates all the way back to 2006, where it started by paying bloggers to create sponsored brand content. Now it runs an influencer marketing SaaS platform for brands and agencies that automates influencer and content marketing campaigns. The platform offers a complete solution for influencer content production and distribution on Instagram, YouTube, Facebook, Twitter and blogs.
·       Influencer discovery
IZEA's platform search function generates lists of creators that meet a brand's requirements. The IZEA software gives influencers a score based on their reach, and allows brands to target the influencers they find most suitable for their project. IZEA can also be used by influencers themselves, who can bid on opportunities directly via the platform.
·       Campaign management 
You can use the IZEA platform to help streamline campaign processes. They split the workflow into the following steps, all of which can be done directly on the IZEA platform: creating the opportunity, accepting bids, reviewing the influencer's content deposited on the platform, publishing and tracking posts.
·       Campaign analytics 
The IZEA platform allows you to analyze the performance of published posts, as well as to promote the best posts to boost your campaign easily.
·       Payment 
Influencers can be paid directly via the platform.
Rates: 
$149/month for the influencer discovery tool
3. AspireIQ
Formerly Revfluence, AspireIQ works on a self-service basis with Instagram and YouTube. Its database of more than 150K influencers are influencers who have opted into the system. The idea is that anybody can sign up to this platform to be made searchable for brands. However, they do need to meet the following criteria: a minimum of 500 likes on Instagram or 2,500 views on YouTube. These influencers are then entered into Aspire's database. They can be found by brands or see and bid on a brand's projects. This makes it especially useful for nano-influencer strategies. It operates on the following channels: Instagram, YouTube, Facebook, Twitter, Pinterest and blogs.
·       Influencer discovery 
The platform is a two-way influencer marketplace. Brands can post project proposals for influencers to bid and scroll through the database of accounts. The tool also includes a "Quickmatch" functionality that is not unlike Tinder to match brands and influencers on a posted campaign.
·       Campaign management 
Relationship management tools include a real-time chat with creators and bidding functionalities. The automated workflow streamlines collaborations, from connecting with influencers to content approval for publication and tracking. You can also call upon AspireIQ's Managed Services for industry expertise tailored to your campaign's goals.
·       Campaign analytics
You can track your campaign results in real-time, with a clear vision of best performing content and general campaign success. The platform also enables you to repurpose content across different channels to maximize ROI.
There is also a social listening tool to monitor brand health and stay up-to-date with trending topics and what conversations are being had on your brand.
4. Traackr
Traackr aims to help medium to larger-sized companies and agencies build good and lasting relationships with influencers. Its influencer discovery and campaign management solutions are also some of the most data orientated on the market thanks to very thorough insights.
Traackr's platform operates on the following channels: Instagram, YouTube, Facebook, Twitter, Pinterest, Tumblr and blogs.
·       Influencer data
Traackr is a mix between opt-in human input and algorithmic results. The platform helps find the right influencers for a campaign by optimizing search results: keywords, filters and performance indicators all help sort through the 6M influencer profiles. The searchable influencers are present on 13 social media channels, 49 countries and 26 different languages. This makes it one of the biggest and most global influencer discovery database.
A social listening tool allows you to track influencers' content in real-time, whilst another tool enables you to visualize through a 'network map' the connections between influencers and other people in and out of the company's network. This means your company can also sort through influencers in terms of how much of a relationship they already do or don't have with them.
A plus point: when you like an influencer, Traackr enables you to do a keyword search on the influencer's content spanning back up to 2.5 years. 
·            Management tools
Thanks to AI tools, you can manage your campaigns efficiently whether they are events, sponsored campaigns or gift campaigns… Share your progress with colleagues and keep an eye on each step programmed with the influencer. Its relationship management tool makes it impossible to get things muddled or forget what's been done or said, with the platform's task tracker.
·            Marketing budget
You can manage your budget and negotiate rates with influencers directly on the platform, guided by the recommended influencer pricing based on their past and sponsored posts. You can also pay your influencers in different currencies thanks to a secured payment system.
·           Campaign reports
It's all in the name! This influencer marketing platform is efficient when it comes to tracking campaign results. Traackr provides a complete report, presenting analytics in an interactive way. You'll be able to spot what activations were most performant straight away, so you know what to prioritize further down the line.
For more information, visit our website here: Influence4You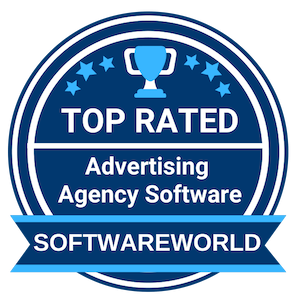 Advertising Agency Software