20 influencer marketing trends in 2023 to know
To help you get ready for the future, Influence4You shares its analysis of the influencer market and its predictions for 2023!
Here are our top 20 trends for 2023:
Influencer authenticity
Transparency
TikTok – always aiming higher
Instagram still a leading platform
Brands internalising influencer marketing
The Metaverse and NFTs
Video increasingly consumed
Twitch diversifying
B2B influencer marketing
All kinds of podcasts
Live Shopping
Creator funds
Influencer content
Personal data protection
Numerous influencer marketing platforms
Long-term collaborations
Influencer marketing as part of the marketing mix
Larger influencer marketing budgets
Multi-talented influencers
Events
Read on to discover the top 20 influencer marketing trends in 2023, with tools, guides, reports and advice for each trend to make sure you're as prepared as possible. Enjoy!
The Top 20 Influencer Marketing Trends in 2023
1) Influencer authenticity
Ethics and values
Environmental and societal awareness has been increasing for some years now and in 2022 it's clear that all market players are now on board.
For starters, the general public generally no longer consume in the same way as before and may sometimes boycott certain brands.
At the same time, influencers are increasingly turning down collaborations with brands that are not 'responsible' enough. For example, we can include influencer Danni Duncan, who takes a stand against fast fashion and consumerism and is an advocate for the slow fashion movement. A stance that her community clearly appreciates.
2023 is sure to be a pivotal year for many influencers who are less and less likely to recommend just any product or service, preferring instead to share the same values: environmental, societal, ethical, humanitarian… These issues will be at the centre of their concerns.
For brands, adapting to this new demand is becoming a crucial issue in order to sustain their business, not be turned down for collaborations, and also prevent public complaints which may harm the brand's image!
2) Transparency
The end of scandals
This year, there have been several scandals about questionable practices in the influencer marketing sector. Although this is fortunately rare, these scandals resonate quite strongly with the general public and are widely reported on by the press.
Nevertheless, the market has become very structured over the last 10 years. For example, the law in the UK is very clear. Influencers and partnerships across the board are subject to consumer protection laws and are monitored by the United Kingdom's Committee of Advertising Practice ('CAP') Regulations require content creators to be fully transparent to users. So influencers should not give the impression that they are authentic consumers when they are not.
In the US, the FTC requirements ensure that influencers cannot hide their 'material connections' to a brand they are endorsing. This way, the public has a "clear understanding of any potential bias or motivation on the influencer's part".
So, for your next influencer marketing campaigns, make sure you're transparent and in compliance with the regulations in force, otherwise you may face penalties and a tarnished reputation.
Want to learn more?
You can find out all you need to know about European regulation in our article 'Brand and Influencer Partnerships: All You Need to Know About Regulation in Spain, Germany, Italy, France, Belgium, UK'.
3) TikTok – always aiming higher
Unprecedented growth
TikTok is approaching 2 billion users worldwide with 1.5 billion monthly active users in 2022! In the United States, there are over 80 million monthly active users. The social network continued its unprecedented growth this year and in 2023, growth is expected to be even more significant. In short, TikTok broke all records.
The social network has undergone many changes (video length, launch of TikTok Now to rival photo-sharing app BeReal, etc.) and considers itself more of an entertainment platform than a real social network. An effective strategy that brings about new formats and opportunities for collaboration… This is confirmed by Ypulse's Media Consumption Monitor Survey (conducted in October 2022 among approximately 1,500 Americans between 13 and 39) which puts TikTok in second place at 60% (behind Netflix at 69%) of the most used platforms for watching videos. TikTok is then revolutionising video consumption!
To sum up, advertisers need to be active on TikTok, even if the trends are not always easy to grasp.
Want to learn more?
Check out our TikTok guide, '50 Ideas for your Influencer Campaigns', available free digitally or to order in paperback.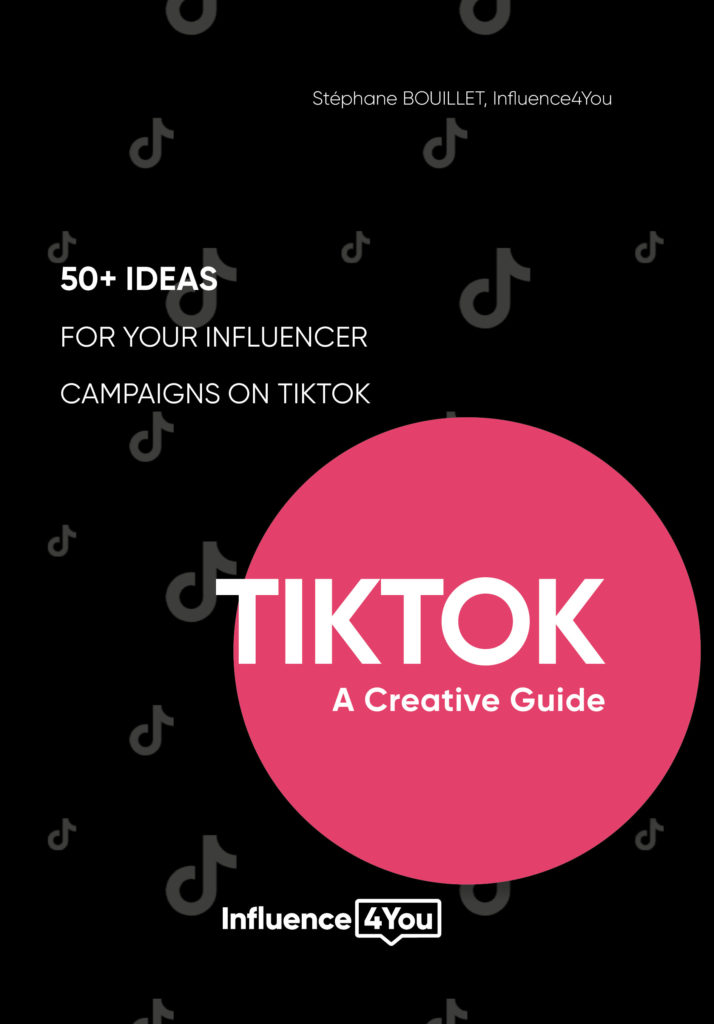 4) Instagram still a leading platform
But the gap is narrowing…
Instagram has 2 billion users worldwide and an estimated 127.2 million monthly active users in the US. It remains a leading social network and one of the most popular among advertisers for launching influencer marketing campaigns.
But the gap is narrowing with TikTok, and Instagram's attempts to change itself has not gone down well with users, especially since Kylie Jenner and Kim Kardashian shared their thoughts! As a result, Instagram has backtracked on its attempt to mimic TikTok.
That's not to say they're abandoning video though as their Reels format is proving successful and growing by the day.
Instagram is still a leading social network. Consider Reels for your next influencer campaign…
5) Brands internalising influencer marketing
With more and more positions for managing influencers
The insourcing of influencer marketing is not something new and more and more brands have created 'influencer divisions'. Indeed, influencer marketing is increasingly considered as a media lever like any other.
For this, a company can handle its influencer marketing using their own tools, but this requires a lot of resources and expertise. So, for the most part, advertisers turn to influencer marketing platforms that allow them to manage some or all of their projects.
Moreover, there are an increasing number of jobs dedicated to influencer marketing, e.g. influencer marketing manager, influencer marketing project manager, etc. This confirms that influencer marketing is becoming a key concern for companies, and means they need to organise themselves differently.
Influencer marketing is becoming an increasingly large part of advertising strategy, so make sure you're as well prepared as you can be.
6) The Metaverse and NFTs
The cost of innovation
The Metaverse and NFTs have been the subject of much discussion this year, and have been both lauded and hated, seen as either promising or downright dangerous. In short, a real technological revolution is under way but it's still a long way off.
Faced with this, many brands have already made the leap into the Metaverse. First, to test and experiment, and second, to position themselves as pioneers and begin to influence new consumers. For example, we can include Nike with NIKELAND, Gucci, Ralph Lauren, Forever 21 on Roblox, Stella Artois on Zed Run…
As for NFTs (Non-Fungible Token), many luxury brands have already developed their virtual collections, including Gucci with their virtual trainers, Givenchy and Guerlain with NFTs sold for charity and Louis Vuitton with collectable NFT candles in their video game.
Where does influencer marketing fit into all of this? Faced with this new online world, brands willalsoneed to advertise their collections or virtual worlds. To do this, you need to utilise different communication channels, and influencers are perfect for this. Take for example the collaboration between Dom Pérignon and Lady Gaga (who is very influential) with the pre-sale of 100 bottles of champagne in NFT form before they're available in shops. Each purchase was accompanied by the delivery of a real bottle of champagne. The campaign was a real success!
For another example, take a look at Instagram's announcement last November of a new feature that'll allow you to create, sell or trade NFTs via Instagram. A feature that opens new avenues for influencers to generate revenue, create unique collections for their communities, and, of course, influencer campaigns centred on NFTs.
The Metaverse and NFTs will continue to make headway in 2023 and while the market isn't yet ready, it's better to get ahead of the curve now to avoid falling behind.
7) Video increasingly consumed
With production values to match
The more the years go by, the more that video consumption increases. Social networks have created lots of their own versions:
Lastly, a video trend that is emerging among all influencers is the 'TV format'. Talk shows, recording studios worthy of the biggest TV studios, games with guests, sports competitions… More and more content uploaded is inspired by television programmes. This trend clearly shows that young people have moved to social networks such as YouTube.
Influencer marketing campaigns must increasingly turn to video to meet the demands of the general public.
Want to learn more?
Check out our article 'Everything You Need to Know About Instagram Video Formats'.
8) Twitch diversifying
New kinds of content
With 32 million users in the US and 22.8 billion hours of content consumed on the platform in 2021, Twitch is the leader in livestreaming.
But what is particularly notable in recent years are the amount of events that are popping up on Twitch such as the Game Awards, a physical event focused on gaming that racked up nearly 2 million viewer hours, StateFarm with their Gamerhood challenge, a gaming tournament taking place in a custom-built neighbourhood, Crunchyroll's Anime watchalongs, and Mindcrack Marathon, a group of content creators, YouTubers and Twitch streamers that play games together and take part in challenges to raise money for charity.

These events show how Twitch is diversifying. The platform is no longer strictly focused on gaming, offering a wide range of content. It's clear that Twitch is highlighting its IRL (In Real Life) category, whether that's sports, music, cooking, travel, talk shows and podcasts, etc. More and more influencers and brands are getting involved, offering innovative concepts.
If you haven't yet given Twitch a go as a user OR advertiser, now's the time. These records are likely to be the first of many in 2023.
9) B2B influencer marketing
Professional influencers
As you'd expect, professionals are also involved in influencer marketing. Some have huge communities and share their expertise to B2B oriented audiences. This works the same way as a typical influencer marketing campaign except they use less social media platforms.
While a professional blog, Twitter account or even Facebook account can reach a professional audience, LinkedIn has a near monopoly in this area.
With 227 million members in the US, and 55 million companies listed on the platform worldwide, LinkedIn has considerable influence in the business world. Some have already grasped this and developed large communities, attracting advertisers interested in their expertise.
At the same time, companies continue to create 'employee ambassador' programmes. Here, an employee of the company becomes the ambassador for the company's communication. This type of programme coupled with a well-defined content strategy based on the demographics and editorial calendar, will allow the brand to generate even more visibility on LinkedIn.
If your product or service is aimed at a professional audience, B2B influencer marketing is a worthwhile channel.
Check out our free resources:
Download our free Chrome Linkalyze plugin, the SAAS tool for monitoring and analysing posts and influencers on LinkedIn. This tool will help you find the right expert for your needs!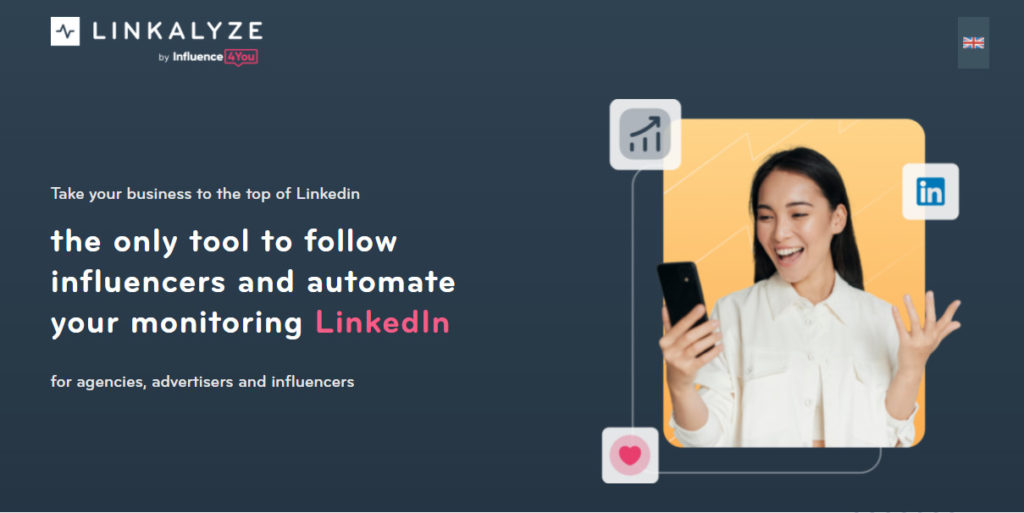 10) All kinds of podcasts
No topic left behind
Audio content seems to be here to stay. There are many ways to listen to podcasts such as on Spotify, Apple, Deezer, Amazon, and via many social networks too, like YouTube, Facebook and Twitter.
In terms of content, podcasts cover pretty much all subjects: sports, music, news, advice, expertise, entertainment … and for all types of audiences, whether consumer or professional. This format is attractive to all influencer marketing actors whether brands and agencies or influencers. Examples include digital creators Alisha Marie & Remi Cruz's podcast 'Pretty Basic' where they talk relationships, daily life and mental health among others.
Podcasts are an excellent way to reach a targeted and engaged audience. Consider them for your next campaign.
11) Live Shopping
A work in progress
After two years of growth via social networks, it's time to make an assessment of this format which is very popular in Asia.
Let's start with liveshopping's setbacks: Facebook and TikTok have dropped the feature (for the time being).
Indeed, Facebook, which is in crisis, did not manage to find its audience, and has instead decided to focus on Reels.
It's a different situation for TikTok. Live shopping is a popular format in Asia, but elsewhere it doesn't yet respond to the demands of users as a short-form video entertainment platform. However, it's likely that TikTok will have another go at it as the platform seeks to expand into e-commerce as demonstrated by its partnership with Shopify.
Which social networks are succeeding with live shopping? Instagram, Pinterest, YouTube, Twitter and Snapchat.
Starting with Instagram, they're testing the feature in the US and it seems to be working well, allowing you to create your own Instagram shop. It's unknown when this feature will launch in Europe.
YouTube has partnered with Shopify, allowing you to link an e-commerce shop to a YouTube channel. In addition, you don't even need to leave the platform to make the payment. A promising start for YouTube.
As for Pinterest, you can now find live shopping in the Pinterest TV tab in the US and Canada. More than 900 brands have already got started and allow live selling of their products. A unique positioning as Pinterest is better known for offering inspirational image content.
A lot of changes are coming to Twitter, but the latest is that the social network has also partnered with Shopify and even tested its first live shopping event called 'Cyber Deals Sunday' with singer Jason Derulo. The results were convincing but it remains to be seen whether it'll make a comeback…
As far as Snapchat is concerned, the social network is expanding its e-commerce a little differently as it is focusing on virtual reality. They're offering an experience that combines live shopping and virtual reality!
Live shopping is no doubt the future of e-commerce but social networks currently lack certain technical capabilities such as letting you pay without leaving the application. Once these barriers are removed, it's likely that this format will explode in popularity. Until then, you can prepare yourself in advance by testing this new format.
Want to learn more?
Download our free Live Shopping Influencer Marketing Guide and discover the features available on each social network, the best examples of Live Shopping from e-retailers and the current offers on the market.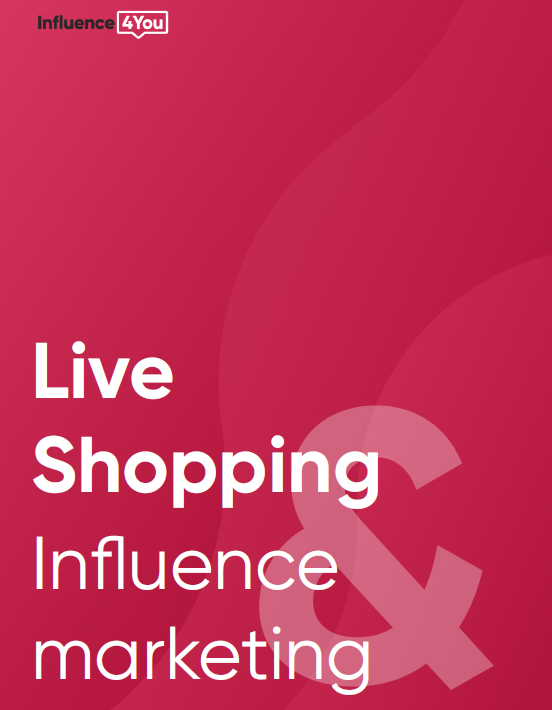 12) Creator funds
Social networks begin investing
Numerous social networks have set up funds to both support creators and push the use of new features. Let's look at some examples.
Last October, TikTok launched the TikTok Creation Programme which consists of better remunerating creators by encouraging them to create videos longer than one minute. This means that the revenue is $1 per 1,000 views, which is excellent for influencers on the social network. This confirms that TikTok intends to increase the length of the videos on the platform and as an advertiser, you'll have to come up with longer videos than before.
In contrast, YouTube has decided to pay short-form content creators to rival TikTok and wants to expand its YouTube Shorts. As a result, YouTube will pay 45% of the advertising revenue generated by Shorts to their creators. This is also a signal to advertisers.
Instagram and Facebook (Meta), are launching new ways to pay influencers. First, the ability to offer paid subscriptions between $0.99 and $99.99 among eligible influencers. Their premium subscribers will have access to exclusive posts and livestreams for example.
Also noteworthy is the introduction of Facebook 'Stars' and Instagram 'Gifts'. These are gifts that can be offered by users. The money used to buy these digital gifts is then donated to the person who made the video. Instagram Gifts are available via Reels. Facebook Stars meanwhile can only be used during Facebook livestreams.
Furthermore, Facebook's professional accounts allow content creators to monetise their livestreams and receive advertising revenues generated by their Reels.
Finally, Meta has launched Digital Collectibles, giving you the possibility to create your own NFTs and sell them on Instagram. Creators will be able to showcase their collection and offer it for sale on the social network.
To sum up, it's clear that Instagram and Facebook Reels are Meta's most promoted format, and the development of NFTs marks a turning point for Instagram, which is entering the era of the metaverse as well.
As for Pinterest, a 20-million-dollar fund has been launched to compensate 'creators who share their passions on Pinterest and create lots of engagement with their content'.
Finally over on Twitch, the Twitch Charity has been developed to simplify fundraising for streamers, especially smaller ones.
As an advertiser, it's important to identify which publication format is supported by these funds. Indeed, social networks tend to prefer certain formats in terms of performance (more impressions for example), so you need to make sure you use the right one for your influencer marketing campaign.
Want to learn more?
Download our free ebook 'The Secrets of Influencer Marketing: 87 Ideas for Your Influencer Campaigns'. Written for communication professionals needing inspiration for their influencer marketing campaigns, this book identifies 87 ideas for campaigns that can be adapted based on the sector and requirements.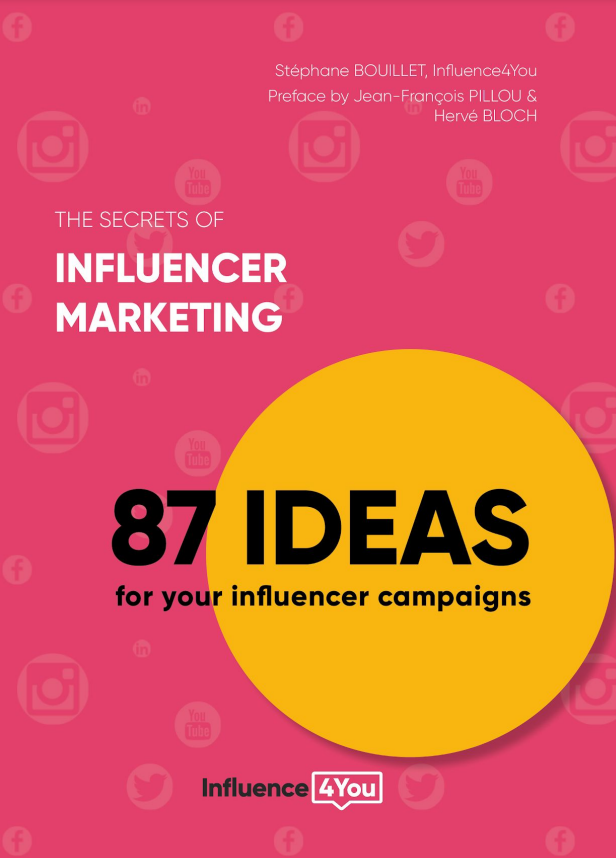 13) Influencer content
Repurposing and paid media
The use of an influencer's content by a brand is called User Generated Content (UGC). Although this technique has been used for a while, it's clear that UGC has taken off this year. Brands have clearly understood the merits of repurposing influencer content, especially as the content is seen as more authentic and relevant to the target audience than promotional content. Gucci offers a good example of this, demonstrating the power of the format.
And let's not forget influencer content amplification. This technique has been slow to develop in Europe but is now in great demand! This involves taking the influencer's content and publishing it in an advertising campaign.
Numerous social networks, such as Facebook, Instagram and TikTok (via Spark ads), now offer this feature via their ad managers.
This technique will therefore be central to advertisers' content creation strategy in 2023.
Want to learn more?
Check out our article on content strategy here.
14) Personal data protection
The phaseout of third party cookies postponed
A nightmare for advertisers and marketers, Google has postponed its phase out of third-party cookies to 2024. The aim is to remove the need for third-party cookies by replacing them with new targeting methods that ensure user privacy. In other words, we'll have to find new ways to target a specific audience.
Apple has taken a stand for the protection of its users' data. In addition to removing third-party cookies from its Safari browser, the company has developed App Tracking Transparency, a system that forbids ad tracking (on iPhone and iPad) without the user's explicit consent. This has already cost the Meta group a lot of revenue and has an impact on online advertising.
Lastly, after the implementation of GDPR (General Data Protection Regulation) in Europe, the United States followed suit. On August 11, the Federal Trade Commission (U.S. Competition and Consumer Protection Authority), launched a project for the creation of new federal rules for personal data protection.
2023 is shaping up to be the last year before significant changes in advertising. But the good news is that influencer marketing is a great alternative for targeting a particular audience. You just need to make sure you have the right guidance and tools…
Want to learn more?
Discover the most complete influencer data sheet on the market that'll help you select the right influencers for your target audience.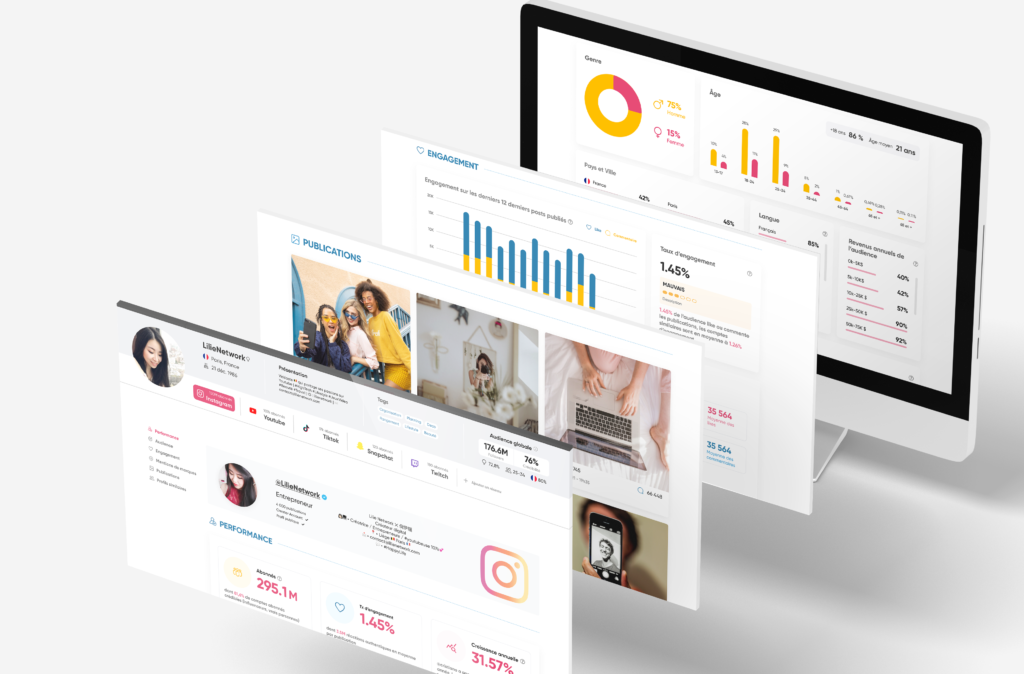 15) Numerous influencer marketing platforms
More and more offers on the market
The influencer marketing sector is very competitive and the number of players today is astounding. Between influencer marketing agencies, influencer agencies, social media agencies that dabble in influencing and influencer marketing platforms, it can be difficult to navigate.
Technology plays an important role and the number of influencer platforms prove this. There are hundreds of them around the world, some of which only offer data and others complete solutions (like at Influence4You).
As for social media, some help connect influencers and advertisers such as TikTok Creator Marketplace, Instagram Creator Marketplace, YouTube BrandConnect and Snap Creators…
Lastly, websites that are more oriented towards e-commerce have also been launched, such as Amazon and more recently Shopify with Shopify Collabs.
There are a lot of different services, but the key to managing your influencer marketing strategy is to adopt a complete solution that allows you to find the right influencers, launch your campaign on several social networks and measure your results at the end of the campaign.
16) Long-term collaborations
More than just a trend
Although collaborations with influencers have become commonplace over the last 10 years, most of them were short or even one-off collaborations.
Today, the trend seems to be reversing. Brands increasingly opt to work with influencers on a long-term basis. This has several advantages, such as knowing the influencer's expectations and way of working perfectly, better engagement among the audience of the brand or service, and greater brand awareness than with short-term collaborations.
Many 'ambassador' programmes have emerged and many brands have positioned themselves to meet this trend. Some brands go even further with co-creations. For example, Chiara Ferragni with Evian and Ninja with Adidas.
Want to learn more?
While many sectors have gotten started, the luxury sector is clearly ahead of the game. Get inspired with our free Luxury Influencer Marketing Guide.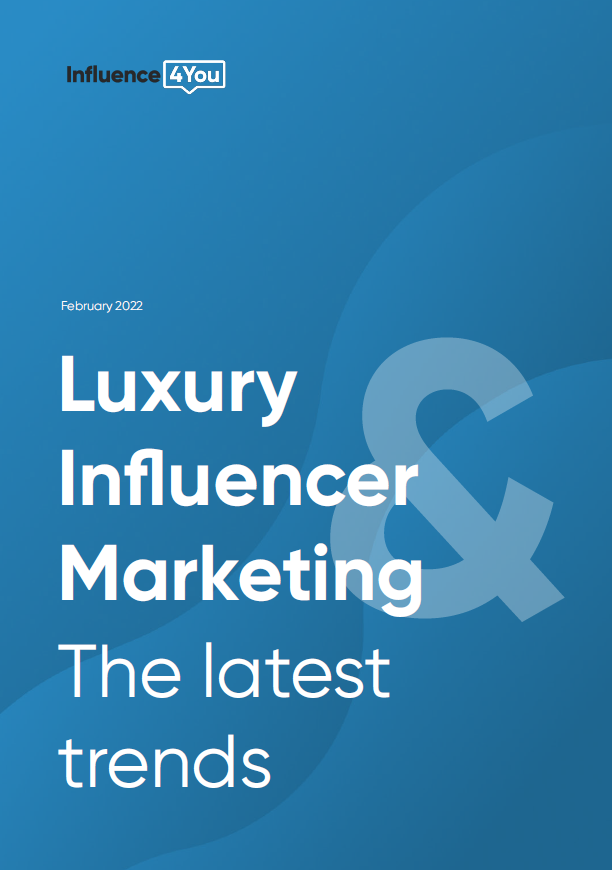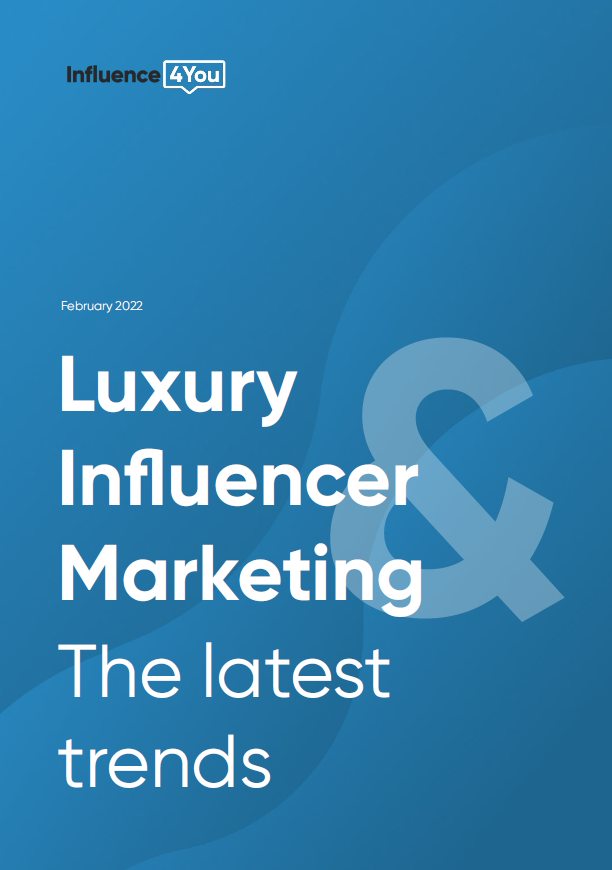 17) Influencer marketing as part of the Marketing Mix
Including influencer marketing in overall strategy
Often sidelined in companies' overall strategies, most marketers now incorporate influencer marketing in the marketing mix.
Just like other channels, influencer marketing is now recognised as a very effective media lever and therefore has its place in an overall business strategy.
Moveover, the ability to measure performance accurately allows professionals to think ahead and demonstrate quantifiable and comprehensive results. ROI (Return on Investment), EMV (Earned Media Value), impressions, clicks, number of sales generated with promotional codes or affiliate links… As well as socio-demographic data of influencers' audiences that is as in-depth (if not more) as other channels.
Influencer marketing has its place in the global marketing and communication strategies of brands, and with the end of third-party cookies approaching, it'll be all the more crucial to properly utilise this fully-fledged media lever.
Want to learn more?
Our ebook 'Influencer Marketing for CEOs' will help you understand how to concretely measure the impact of your campaigns on your consumers' behaviour.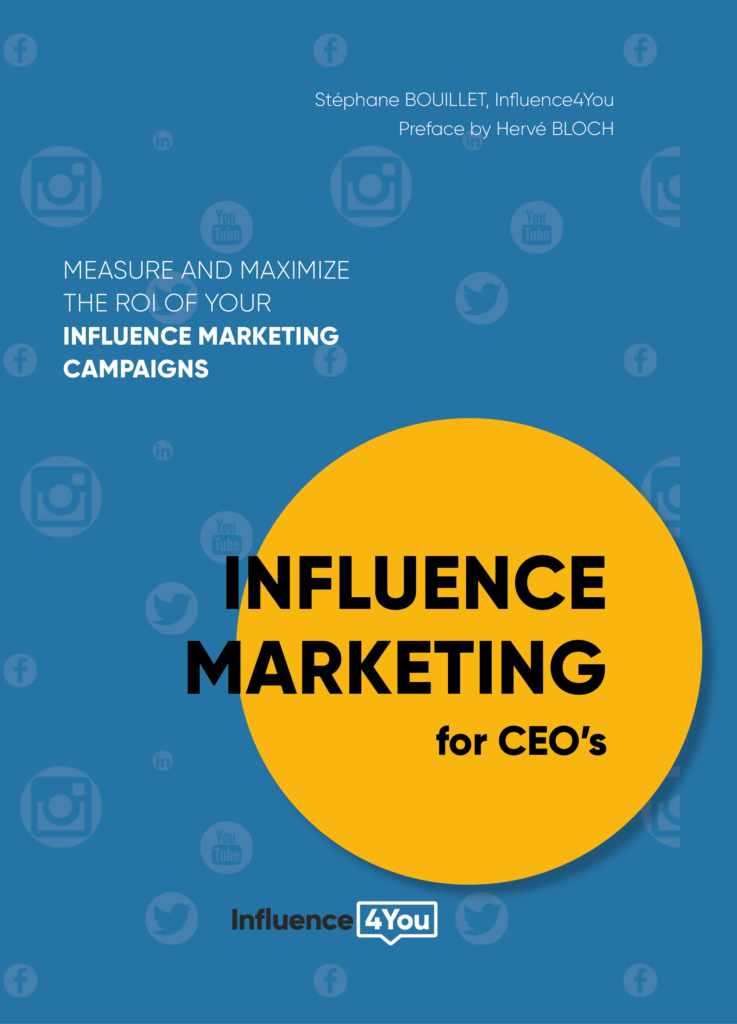 18) Larger influencer marketing budgets
Still on the up
In 2022, the influencer marketing market is worth 17 billion dollars (20 times more than in 2015) and projections indicate a market of 32.5 billion in 2023 and 41 billion by 2025. At the same time, 76% of brands plan to increase their influencer marketing budgets!
These are impressive figures that match the growing recognition of influencer marketing in general. More and more campaigns are being shared, the biggest influencers are considered real 'stars', audience and profit records have been broken this year and, the more the years go by, the more they confirm that influencer marketing is the most dynamic and fastest growing medium.
The next few years are likely to see even more huge investments, so as an advertiser you'll have to be prepared to invest in order to stay on top of the game!
Check out our free resources:
Influencer marketing budget simulation tool
19) Multi-talented influencers
Entrepreneurs, TV, music, film, advertising…
Have you ever noticed that today's big influencers are real jacks-of-all-trades? The biggest influencers have now diversified, no longer sticking to a single topic (fashion, sport, travel content, etc.). Nowadays, we often see influencers offering all kinds of content.
Take the example of Zoella or Zoe Sugg. One of the UK's biggest YouTubers, she originally uploaded style and beauty content for a teenage audience. Over the years, she began to diversify, launching a fashion brand as well as a homeware collection with Etsy.
She's far from the only influencer to have done this, we can also include 'the face of TikTok' Charlie D'amelio. Known for her song and dance videos, she has since began to star in films (making her debut in Stardog and TurboCat), and even appeared in The Simpsons.
These examples will only continue to grow. This trend should be taken into account when choosing influencers, as you can now dream up even more original content and reach a broader audience with the biggest influencers.
Want to learn more? Check out our rankings of the biggest influencers:
The Most Popular YouTubers of 2022
The 10 Most Popular TikTokers in 2022
The Most Popular Instagram Influencers in 2022
20) Events
Physical events back in full swing
After two years of pandemic, events are back in full swing, and many influencers have begun to offer their own events.
Branded events have resumed, and some are inviting influencers to promote them. This classic technique is making a comeback and proving very successful. For example, Imagine Museum, an award-winning glass museum based in Florida, invited two influencers, Christine Cooper and Richard Ireland, to promote one of their new exhibits. The influencers experienced the event in-person and then posted about it on their profiles. An excellent way to drive ticket sales! These kinds of collaborations with content creators allow events to be experienced in a different way and on social media. They also offers the opportunity for a brand to boost their visibility on Instagram and attract a new audience!
But the real new trend is that influencers themselves are now organising events! There are plenty of examples.
Let's start with Marzia Kjellberg who launched a pop-up store in Brighton, UK, for her brand Mai Accents. The pop-up was a success, drawing in lots of fans and customers.
On Twitch, as mentioned earlier, event formats have proved exceptionally popular, such as the Game Awards (a physical event focused on gaming), StateFarm's gamerhood challenge (an in-person gaming tournament), and Mindcrack Marathon (a charity marathon taking place in a mansion).
The most popular YouTuber in the world, MrBeast, has already made his channel event-driven by organising challenges and competitions for his community, all with production values that rival the biggest TV shows.
It's impressive just how popular events have become in the sector. We think that this will be the preferred format of some brands for generating a real buzz around influencer campaigns.
So, that's a wrap on the Top 20 Influencer Marketing Trends in 2023! We hope that these trends will help guide your influencer marketing strategy and improve the performance of your campaigns.
Don't hesitate to get in touch if you need guidance in your influencer marketing campaigns!
And, if you're an influencer and want to find collaborations, sign up to our platform for free!