Influence4You acquires Linkalyze
Influence4You has acquired Linkalyze, the only SaaS monitoring tool to manage influencers on LinkedIn, becoming the most comprehensive platform on the market.
After announcing a strategic partnership in early 2020, Influence4You ended-up buying French software Linkalyze. This tracking tool is available for free at linkalyze.app and a premium version is accessible via Influence4You's offer.
'The number of requests we receive for assistance and support on B2B influencer marketing campaigns has considerably increased. It was therefore essential that we incorporate influencer tracking and analytics tools for LinkedIn into our current product offerings' says Stéphane BOUILLET, founder of Influence4You.
Access data on 500,000 of LinkedIn profiles
'When Thomas Pons and Sylvain Tillon, the founders of Linkalyze, suggested that we buy their technology, it was a no-brainer. This acquisition gave us access to statistical data of over 500,000 LinkedIn profiles and allowed us to become the French leader in B2B influencer marketing. With this tool we now offer the broadest range of technology on the market (micro and micro influencers, B2C and now B2B)' adds Stéphane Bouillet.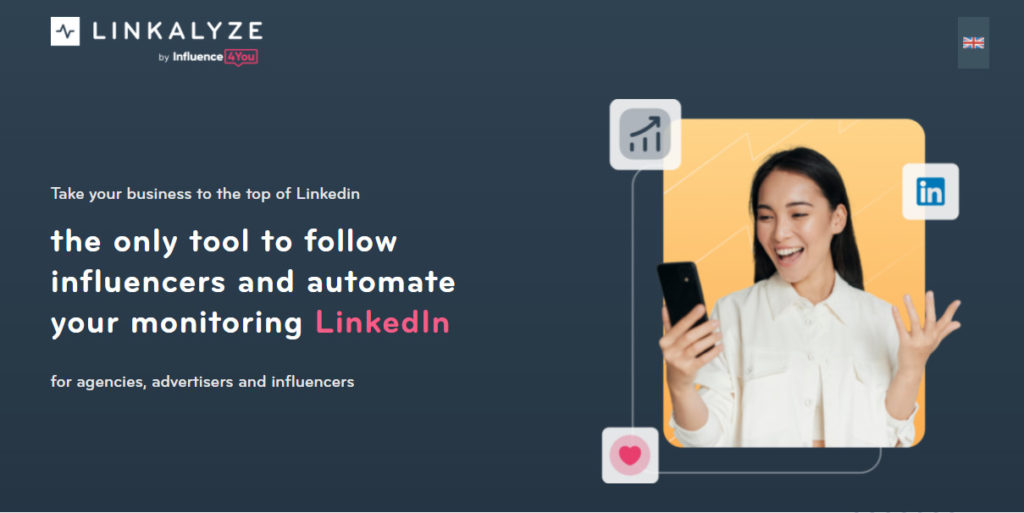 Download the Linkalyze Chrome extension for free
The Linkalyze offer has been simplified and paid plans are now free of charge. Download the new Plugin Chrome Linkalyze so you can easily (and for free):
Monitor keywords so you can react as soon as possible (like a Google Alert on LinkedIn)
Access advanced profile data from LinkedIn
The following Premium services are available with Influence4You's Influencer Relationship Management offer:
a multi-criteria search engine of 500,000 influencers
expert management of influencer campaigns on LinkedIn…
'Influence4You was the only serious player able to develop our technology. The market is huge but clients are looking for a comprehensive range of services on several platforms including Instagram, YouTube, TikTok and LinkedIn. As we knew we wanted to specialize in LinkedIn, this takeover was therefore an obvious necessity,' says Thomas PONS. 'We trained Influence4You's technical teams during the summer and results show we were right to choose a French player to accelerate Linkalyze.'
Sylvain Tillon adds, 'We are really proud of this partnership. As a LinkedIn micro-influencer, I look forward to receiving offers from Influence4You clients soon!'
Download our free Linkalyze plugin
And check out the Influence4You offers