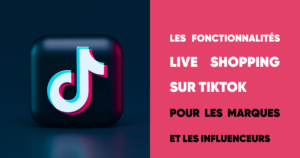 TikTok Live Shopping Features for Brands and Influencers
TikTok is the social network of the moment, coming straight from China. Its Chinese equivalent, Douyin, has long had Live Shopping features. Indeed, the Chinese market is more developed in this field than in the rest of the world.
In this article we will share with you the Live Shopping features available on TikTok, those that are in store and our influencer campaign tips with a tiktokeur.
Live features now on TikTok:
You need to have more than 1000 subscribers (depending on the country) to access the live feature. If so, you'll be able to access these features:
Notify your community in advance of the Live event to get them to sign up (under the creator's bio)
Save the Live for 90 days in the app
Enable the Q&A option during a Live event to specifically answer questions from the Live audience
Receive virtual gifts (to be converted into Diamonds) from subscribers. These gifts are added to your TikTok wallet and you can withdraw these amounts by transferring them to your bank account.
Notes:
TikTok has integrated Shopify, an e-commerce platform to create its online store as a partner service. For example, online retailers using Shopify can run ads on TikTok that include a URL link to their store. The goal is to help them boost sales… and for TikTok to benefit from revenues from retailer websites.
Live features on TikTok: what's next?
A feature tobuy tagged products without leaving the application.
The creation of a store and a catalog for brands.
The tests took place in the United States with Walmart and a TikTokeur known for live shopping. Results are not yet available.
It seems that TikTok is working on a full-fledged Live shopping function for the application which makes sense as the Chinese version already offers it.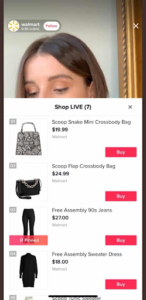 Modern influence campaign solutions:
Insert a link to a specific product in the influencer's bio
Share a promotional code in a comment during the live broadcast
Suggest to use this code at the end of the live to not lose the audience
Use the replay to generate more views and sales after the Live (visible for 90 days)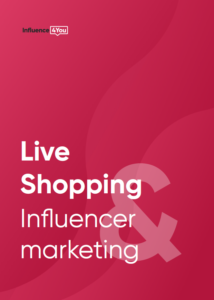 Do you want to do a live with a tiktoker ? Don't hesitate to contact us on Influence4You  and we will manage the operation with you!
Influence4You is offering a new creative guide of 50+ ideas for your influencer campaigns on TikTok, the fast-growing social network. Download your free 160 pages eBook today!
To go further with Live Shopping, check out our other dedicated articles:
Live-stream Shopping in France: Key Figures
Instagram Live Shopping Features for Brands and Influencers
YouTube Live Shopping Features for Brands and Influencers
TikTok Live Shopping Features for Brands and Influencers
Facebook Live Shopping Features for Brands and Influencers
Twitch Live Shopping Features for Brands and Influencers
Finally to supplement your knowledge, check out our TikTok articles:
The 10 most populars tiktokers
The biggest tiktokers in France in 2021