Three Simple Steps to Monetizing your Facebook Page
Facebook, a social network open to the public since September 26, 2006, is currently the most used social network with 259 million monthly active users in the United States and Canada as of 2021. That's why it's essential for any company or personality to have a presence on the platform. In this short guide, we'll discuss various strategies you can use to start monetizing your page.
Today we'll solely be discussing business pages, and not personal accounts. There are 3 simple steps to earning money with your page: creating quality content for your audience, affiliation and sponsored branding. We'll touch on all of them in this article. Let's get started!
#1: Create Quality Content
Of course, the first step to start monetizing your Facebook page in an optimal way is to ensure that you produce regular quality content. This should be content related to the theme of the page or the organization represented by the page.
There are 4 main types of posts you can utilise: photos (without links), videos, simple statuses and links. It's recommended that you switch up the type of posts on your page regularly. This is despite the fact that most recent studies since 2014 have confirmed that videos posted natively on Facebook take the crown for the best average reach.
The scheduling of your posts is also very important. A BuzzSumo study of more than 500,000 Facebook posts found that followers' news feeds are very active between 10 am and midday. It also found that Saturdays and Sundays are days when very few pages post. So it may be a good idea to post at the least busy times to get the most visibility.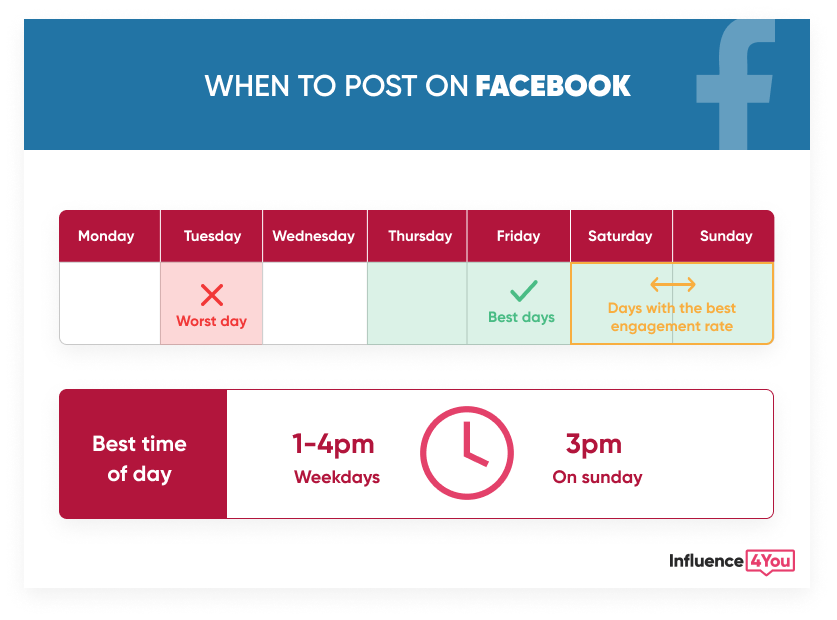 The best times to post
Publishing at these times will award you with heightened visibility and a quality audience. Remember, a qualitative audience does not necessarily mean a quantitative audience.
For example, monetizing a page that has acquired a lot of followers by purchasing them will be much trickier than on a "healthy" fan page.
Page certification may also be useful. This is seen in the form of a small blue tick to the right of the page name. It's worth noting that the benefits of this feature are admittedly limited but it does allow your page to gain credibility and professionalism.

Influence4You's advice: While certifying your page isn't essential, it can be seen as an additional guarantee of quality by your audience. You can do this by simply following the instructions available at this link: https://www.facebook.com/help/100168986860974
#2: Affiliation
The second step to start monetizing your Facebook page is affiliation. This is an indirect partnership with a brand via an affiliate platform. In general, the goal is for the brand to boost traffic on its e-commerce site, its number of followers and its online sales.
The brand, then called the advertiser, will need to register with an affiliate platform (for example Awin, Shareasale or Tradedoubler, which are major affiliate platforms, but there are many others) and establish its "affiliation program" in which the method(s) of remuneration, its amount and various conditions that must be respected will be specified. The platforms themselves generate hyperlinks called "tracking" links that will record all the actions performed by each visitor. They will allow you to compile comprehensive statistics for affiliates and advertisers. Compensation methods may be any or all of the following:
CPC (cost per click, you will be paid for each click on the tracking link).
CPL (cost per lead, you will be paid for each registration).
CPA (cost per action, the action being for example a sale, or the installation of an app, etc.).
In order to monetize your Facebook page using affiliation, you'll first have to register on an affiliation platform (or several, depending on the brands you wish to affiliate with) and subscribe to the advertisers' programs you wish to promote.
Influence4You's advice: we recommend that you choose brands that are similar to you, or that are consistent with your editorial line.
Once your registration is validated by the advertiser, the platform will provide you with a lot of elements (such as banners and tracking links) to start promoting the advertiser (the tracking link is a particular URL that will record all the clicks, registrations and sales that are made from your Facebook page). It's then up to you to create an effective post following the brand's codes to encourage the followers of your Facebook page to click on the link and buy the brand's products.
Influence4You's advice: Respect brands with excellent posts, while remaining consistent to your editorial line and your followers.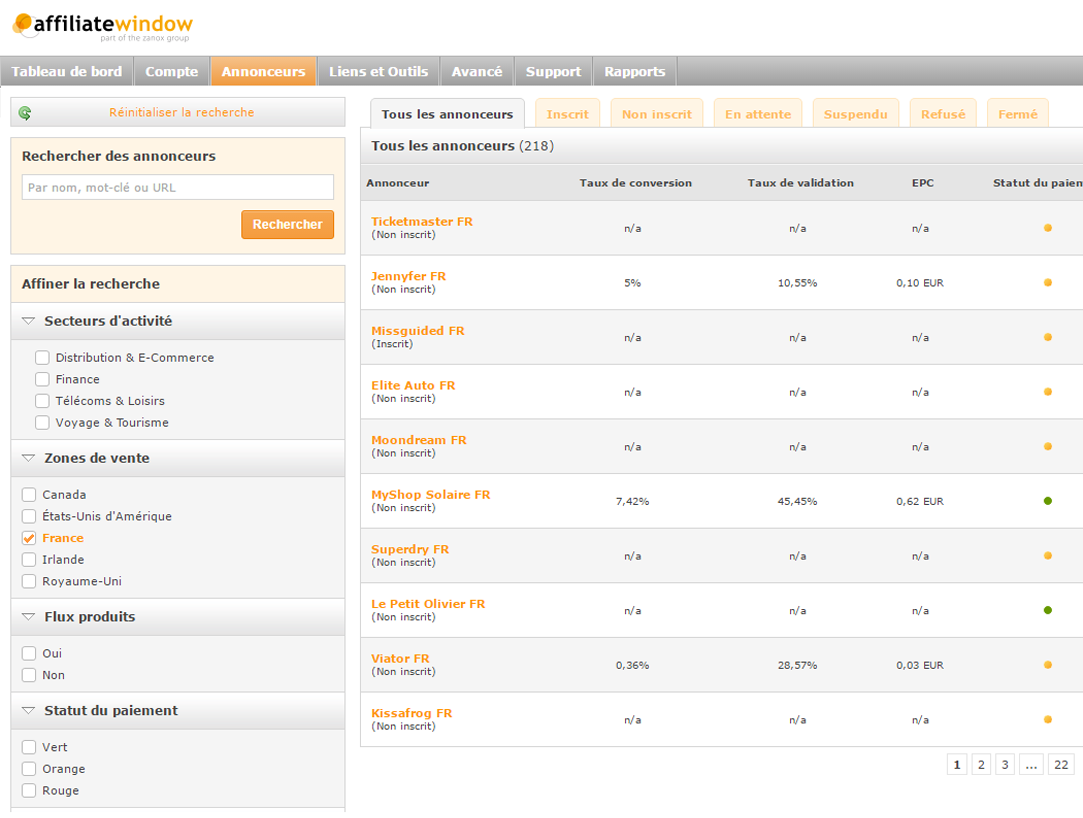 Example of Affiliate Window's (now Awin) interface.
#3: Sponsored Posts
The last step to optimizing your Facebook page is none other than influencer marketing! Brands are very interested in influencers and communities of all sizes. Increasingly, they prefer to use influencers who are less influential than the so-called 'stars'. They want to send a message that will not be "lost in the void".
Sponsoring your Facebook posts by a brand is a direct partnership between you and the brand. This could mean product testing campaigns, i.e. the brand sends you free products to be reviewed and promoted to your community, or setting up a paid operation with the brand (with photos, videos, etc.) for a fixed price.
Influence4you's advice: Always disclose your brand partnership to your community, you could lose followers who might feel "used" otherwise (and regardless it is illegal, according to article L121-1 of the consumer code).
In the past, this type of compensation was strictly for the most powerful influencers who were contacted directly by brands. In recent years, however, platforms such as Influence4You or its American counterpart, Famebit, have emerged to facilitate these partnerships. The influencer just has to register to have direct access to all the campaigns offered on the site, he/she simply applies, gets the brief from the brand and only has to create his/her publication and validate it to get paid.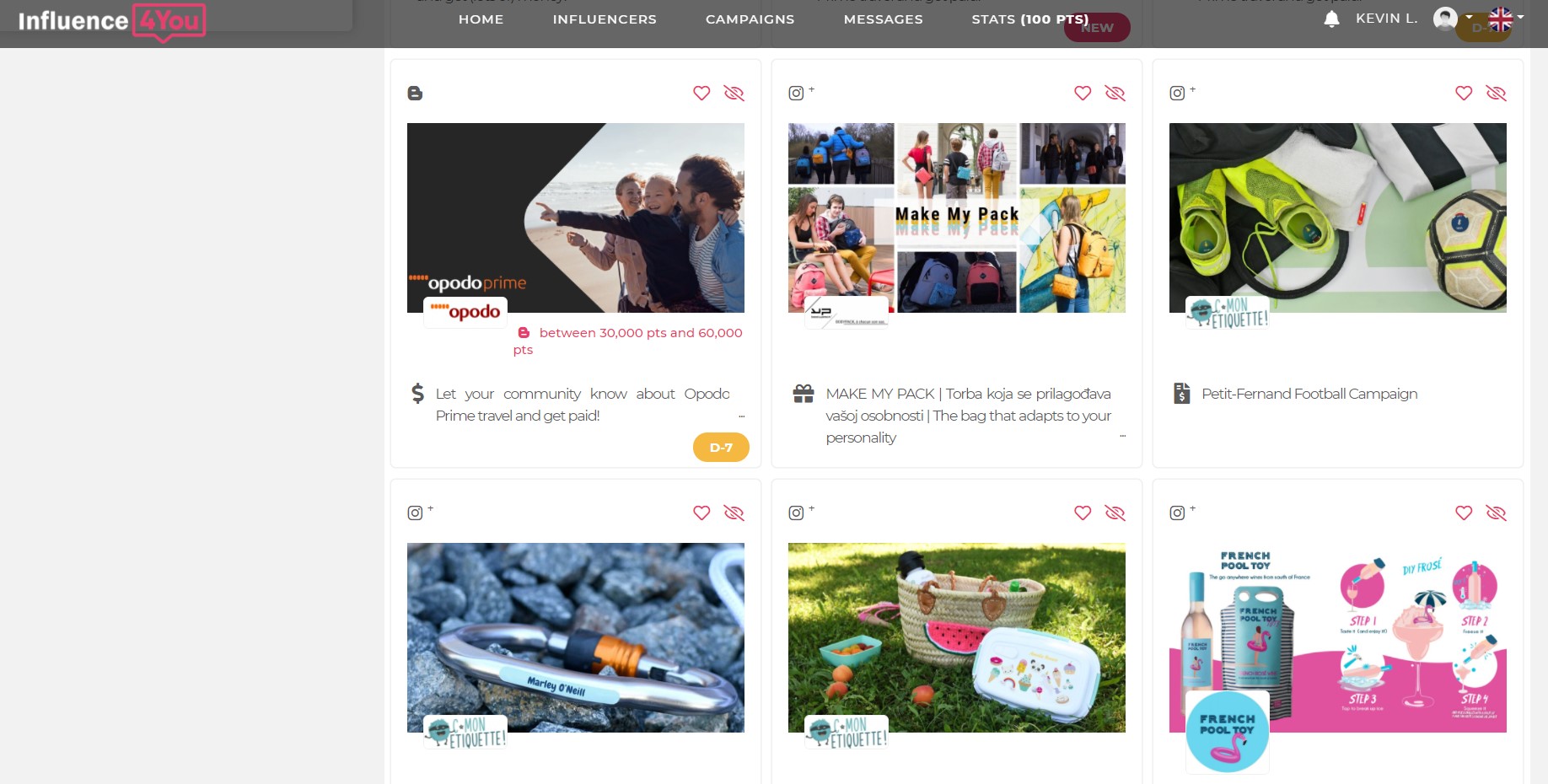 Presentation of campaigns on the Influence4You platform
This type of platform is set to revolutionize influencer marketing by easily providing compensation to influencers on their various social networks and you should certainly look into it.
Influence4You's advice: The Influence4You platform combines product placement campaigns AND affiliate campaigns. This gives you access to different monetization tools from the same interface to help you save as much time as possible. A sort of "one stop shop" for monetization.
Bonus Tips for Earning Money with Facebook:
There are yet other options available to you to take advantage of your Facebook page and earn money or visibility. Here are some methods to consider:
This is a kind of visibility exchange with other Facebook pages. By mutual agreement, you will make one or more posts to bring your followers to visit another page, which will do the same on its side or which will pay you either by publication or by the number of followers gained via this post. It's not so much monetization, but an intelligent exchange of goodwill.
A solution that's perhaps a little more radical to earn money on Facebook. If you have a large enough community on your page, you may be able to sell that page to someone who wants to get started on Facebook without going through the process of creating a page and acquiring followers. It is recommended that the buyer check that the theme of the page purchased is consistent with the community they wish to create: in any case, followers do not like this act in general and very often unsubscribe when a page changes owner, name or theme. As such, it's worth trying other options first.
Creating a Store on Facebook
This can be effective if your activity as an influencer leads you to become a creator of goods or services, like Zoella and her cosmetics brand 'Zoella Beauty', for example. Your Facebook page can become an excellent showcase to sell your products. Facebook is improving the quality of its store service for Pages regularly, and a store on Facebook is now as effective as a commercial site (but accessible directly by your entire Facebook community).
Putting the Tools Into Practice
It's clear then that if you're an influencer who regularly posts quality content at the best times of the day, at one point or another you're going to start thinking about monetization. You now have all the tools you need to approach this stage with peace of mind.
We can't wrap up this article without giving you the best Influence4You advice: the most valuable thing for you is to combine product placement and affiliation. We recommend that you talk about brands that are like you, products that you love and that you really want to recommend to your community as if they were your own friends.
You can then showcase the products directly on the merchant sites thanks to the tracking links made available to you on the affiliation platforms to be able to get a percentage of the sales that you will have accrued.
Our Influence4You platform allows you to do all this from the same interface and to manage your compensation with ease. If you would like more information on this topic, please get in touch or watch the video below!
For more information, visit our website here: Influence4You