Developing content on social networks has become essential for many companies. According to a study conducted by Hootsuite, producing original and creative content on social networks is the key challenge for more than one in two respondents. Without content, there are no posts. No posts, no profile. No profile, no presence on social networks. Not on social networks = loss of turnover.
Being present on social platforms is then a real opportunity for companies today. This presence offers them the opportunity to establish closer links with their customers, to better understand their expectations, to reach a new audience or to work on their brand image. The starting point for achieving all these objectives is content creation. But do companies know this?
Developing content, an objective for brands?
To find the answer, let's take a look at a recent study published by Statista. In this report, the team interviewed the marketing departments of many companies about their content strategy. That year, 27% of B2B companies spent less than 5% of their marketing budget on content creation.
In the B2C sector, this figure rises to 33%. While this figure may seem low, it has grown from one year to the next. The pandemic played a decisive part in this. This period prompted companies to increase their budgets. As a result, 61% of respondents indicated that they'd increased the budget allocated to this area 'somewhat' or 'significantly' in 2021. This increase concerns 57% of companies in the B2C sector.
If brands are gradually recognising the value of a good content strategy, it's because they have key objectives in mind. Statista has revealed the top five:
Strengthen the brand and its image (85% for B2B, 81% for B2C),
Acquire more customers (82% for B2B, 77% for B2C),
Build consumer loyalty (62% for B2B, 73% for B2C),
Strengthen employer brand image and recruitment (21% for B2B, 13% for B2C),
Nurture investor relations (12% for B2B, 6% for B2C).
Having a content strategy offers companies the opportunity to work on several marketing levers at the same time. For their work to have a real impact, some have decided where to focus their attention: on social networks. Ninety per cent use them. 60% of companies post content at least once a week: 14% (B2B) and 24% (B2C) of companies post daily and 39% (B2B) and 46% (B2C) post several times a week.
Develop an effective content strategy with influencers
Those who've not yet taken the leap face common problems. Perhaps they lack in-house expertise, lack the budget to employ a full-time employee for this undertaking, or the teams lack the time to plan. So, some have found an effective way to ensure a consistent posting schedule. These companies are embracing influencer marketing.
Running a campaign with an influencer doesn't just mean sending them a product to show to their followers. This marketing lever usually goes one step further and allows you to consider many different objectives. Today, content creators are the leading specialists on social networks. They've got everything that companies dream of. They know the apps and their algorithms inside out. They know how to build communities on these platforms from the ground up. They also manage to get these communities interested in all types of content, because they listen to their needs. So what are companies waiting for?
With influencer communication, you can rely on the expertise of content creators to come up with a good posting strategy. To prove this, let's take an example.
Bottled water company Evian now spends a whopping 80% of its ad budget on digital. Wanting to steer away from traditional marketing channels, they've since turned to Snapchat, Instagram and influencer marketing. One of their most famous influencer marketing campaigns? Evian x Chiara Ferragni. This Italian lifestyle influencer has over 28 million followers. In 2017 she collaborated with Evian to offer limited-edition bottles made with her designs.
These bottles showcasing her unique, playful style were certainly a hit. More recently, the brand launched their I Wanna #Liveyoung campaign. Aimed at young millennials, particularly those who are 'insatiably curious, playful and progressive', they enlisted the help of local influencers to encourage the creation of inspirational dreams and stories. An effective way to reposition themselves with this generation. Today, the brand continues to collaborate with content creators.
View this post on Instagram
View this post on Instagram
Brand content – the future of influencer marketing?
On social media, there's no shortage of examples of brands using influencer marketing to create impactful content. Even more so since the arrival of TikTok. Brands such as Fashion Nova and Canon have made this their speciality. These brands have understood the need to have a good content strategy to grow faster on social networks.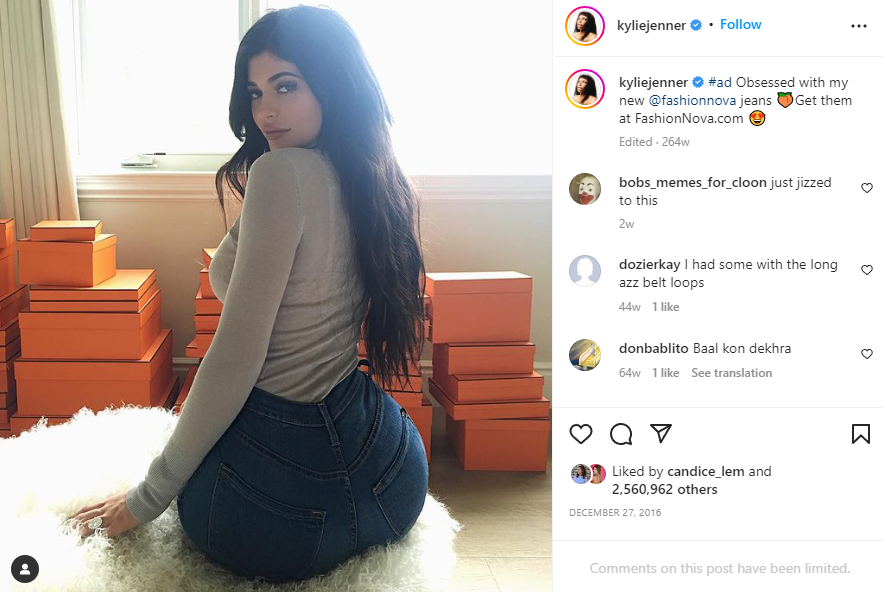 Both encourage users, consumers and influencers to use hashtags or to tag them in their posts. That way they can repost the content on their own accounts.
In the case of Canon, the posts are created by professional photographers who've become brand ambassadors. The brand regularly sends them new products which they test by taking photos. They then upload them on their profiles.
But for collaborations between brands and influencers to work well in terms of content strategy, the company must already have some visibility on social. It's of course trickier to grab the attention of content creators without content.
So, are you ready to get inspired by influencers for your content strategy?
If you'd like to create your next influencer campaigns, don't hesitate to get in touch with us
Sources: