Partnerships, Product Placements and Collaborations on LinkedIn – regulation and tips
LinkedIn works a little differently than other social networks. It is a mix between Facebook, Twitter and a blog. Users can write articles, share photos or posts and put them on the news feed. Post recommendations change according to the user's interests, and everyone is free to follow other users.
The platform is an excellent way to communicate to a target profile, B2B. While beauty, fashion, etc. brands used to Instagram and other TikToks, may not find it worthwhile, companies targeting specific professional fields or requiring expertise may find it advantageous to communicate on the platform via influencer marketing…
Collaborations have become more frequent on the social network and it is important to remain in compliance with French law on disclosing partnerships. Influence4You reveals all.
When should product placements be disclosed?
The rule is the same for all social networks in France, and LinkedIn is no different. When an influencer creates content for remuneration such as payment, invitations or gifts, then it is essential to disclose the collaboration clearly.
If there is no obligation to create content with a brand, the brand has no control over your post and you are completely free to create the content, then you are not required to disclose anything. This is the case, for example, in press relations, when the brand sends you information about a new product or project and you yourself decide to mention it because you like it. In this case, you can mention the fact that you received the product for free, if you want to be completely honest with your community, but you are not obliged to do so.
Be careful though, as in certain specific sectors there are legal regulations governing mention of the products themselves, particularly in health, financial products, gambling and cars. The 'Loi Évin' in particular, is particularly strict on cigarettes and alcohol.
What does the law say?
Article L121.1 of the Consumer Code is rather clear as it says, among other things, that the fact of "using editorial content in the media, financed by the professional themselves, to promote a product or a service, without clearly indicating it in the content or using images or sounds clearly identifiable by the consumer" is a misleading commercial practice.
The DGCCRF is looking into the matter extensively and at social networks to ensure that the law is applied. You can find here a detailed article to learn more about deceptive marketing practices.
Failing to disclose a collaboration can be punishable by up to two years imprisonment and a fine of up to 300,000 euros and may also seriously tarnish your image.
Your subscribers follow and like you for your content. You lose all credibility with your audience if you don't clearly disclose a collaboration.
How to disclose a partnership on LinkedIn?
For sponsored collaborations, disclosure must be explicit and immediate according to French law.
On LinkedIn there is the option to use hashtags on each of your posts. You can thus clearly identify the content subject to the partnership using the right hashtags. Influence4You recommends that you choose clear hashtags, in French and without abbreviation. You can use: #collaboration, #publicité, #partenariat….
You can also clearly mention in your post that the content is paid. Terms such as #ad and #sp (for advertising in English) are not recommended. Not only are they in English, they are also abbreviated. This could mislead a French Internet user.
For a summary of the best practices to adopt in an easy to understand way, check out our infographic on sponsored posts produced with the ARPP.
Linkalyze: the SAAS tool for monitoring and analyzing LinkedIn posts
Did you know that Influence4You has acquired Linkalyze, the SAAS tool for monitoring and analyzing posts and influencers on LinkedIn?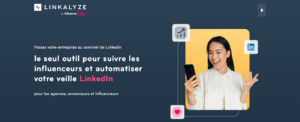 Linkalyze Chrome Plugin
Download our new Linkalyze Chrome plugin easily and for free:
– Monitor keywords so you can react as soon as possible (like a Google Alert on Linkedin)
– Receive advanced statistics on LinkedIn profiles
And discover Influence4You's offers
Are you a brand looking to carry out an effective product placement with one or more influencers on LinkedIn? Don't hesitate to get in touch to set up your next influencer campaign.