Keys to Running an Effective Influencer Marketing Campaign
An influence marketing campaign must be prepared in advance and thought through, both in terms of objectives and the influencers to be targeted. Influence4You presents the key steps that will make your influencer marketing campaign a success.
Designing your campaign
Pinning down problems and goals
Designing an influencer marketing campaign means developing a strategy to respond to a problem or to achieve a predetermined goal. Why are you considering an influence marketing campaign?
Do you need to increase your sales or bookings?
Do you need to build your reputation?
Do you want to increase your community and followers on a social network?
Would you like to change your brand image?
Do you want to promote yourself to a more niche audience?
It may be one or more of these situations, but it is essential to clearly identify why in order to clarify the project and narrow down its requirements.
Set your budget
To make an influencer marketing campaign successful, it is essential to establish a budget. Can you pay influencers for their content? Or are you planning to send your product to influencers? In any case, you'll have to budget for this.
Product gifting may seem cheap, but if you're sending hundreds of products to hope for a few unsolicited posts, you will have to cover the cost of the products themselves, the packaging and the shipping costs. This can quickly add up for a small business.
Identify your target audience
Would you like to address your usual audience with this influencer marketing campaign? Or to a new audience? What age group are you targeting? It is important to identify exactly the audience you want to reach in order to choose the right social network for your needs.
A complete influencer datasheet will allow you to properly identify influencers and their audiences!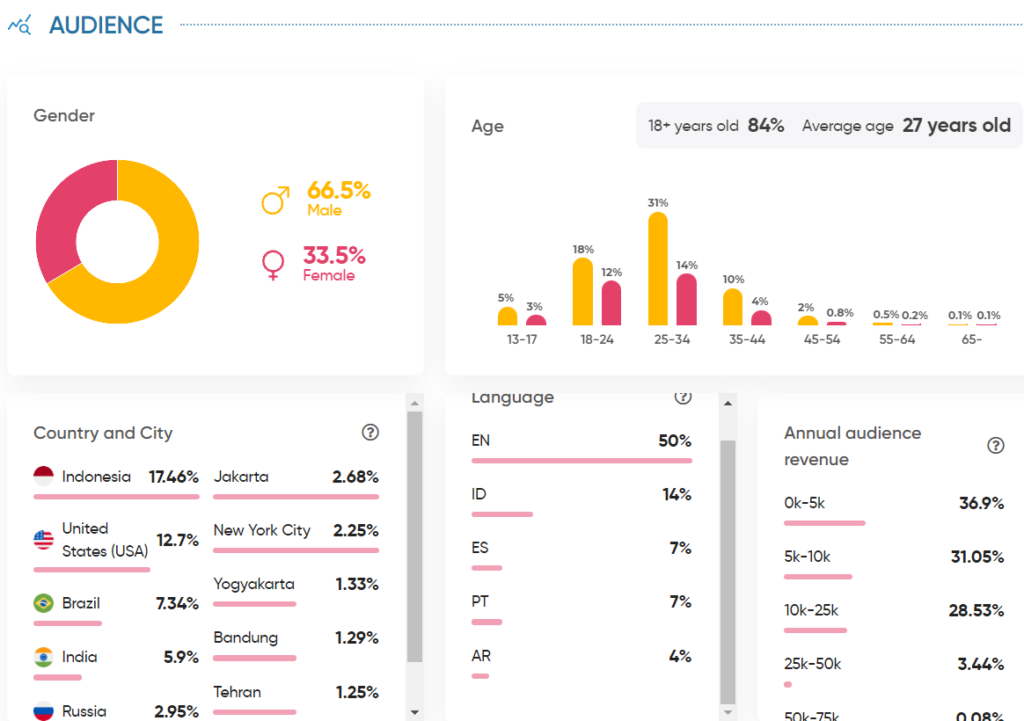 Identify influencers
Identifying the influencers who will share your message is an essential step in your influencer marketing campaign. There's no need to go for the first influencer that you come across. You'll first need to create an overview of influencers according to their engagement rate their sector, their specialisation, etc.
If you need a certain level of expertise for your product, you'll need an influencer who is qualified in their field, perhaps able to share information about a technical product. Finally, the chosen influencer must be active in your field. For example, there's no point contacting and targeting a cooking influencer for a new online shoe store.
Influence4You recommends you verify the authenticity of the chosen influencers by checking their followers, their engagement rate and the frequency of their posts. The followers of the influencer in question should match your target audience for optimal results.
Influence4You recently partnered with HypeAuditor, the world reference for detecting fake profiles and followers! This tool can assist in the decision-making process when selecting an influencer.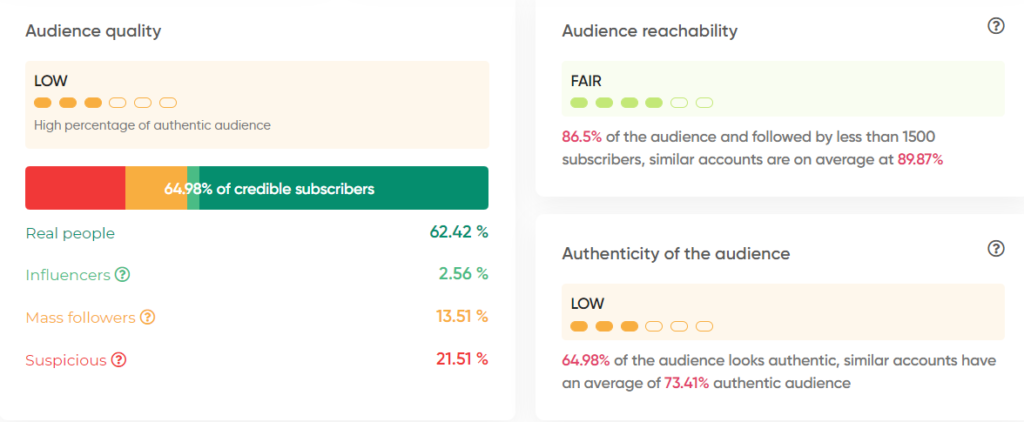 Influence4You's influencer datasheet: Detecting fake profiles and followers of an influencer
Finally, if you have important values, such as being a responsible company for example, it would be worth choosing an influencer who shares those same beliefs. Not only because they will be more likely to buy into your product and project, but also because their community will be closer to yours.
That's why having the right tool to help you make a complete decision is crucial. Our influencer datasheet is the most complete on the market, check it out!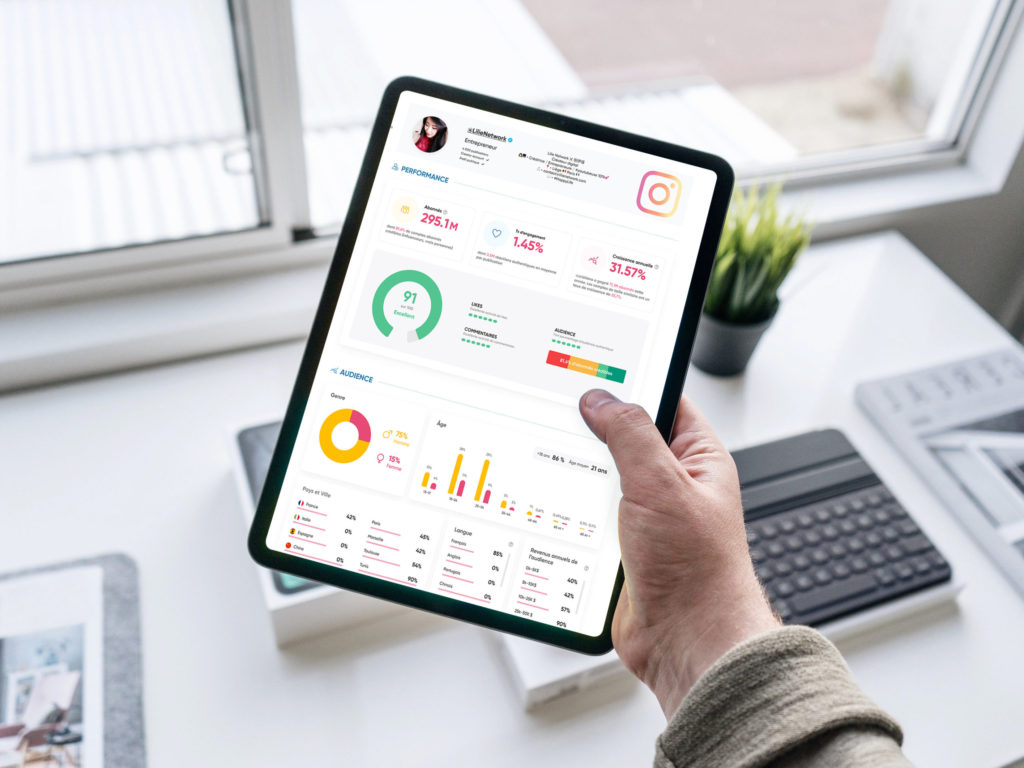 Influence4You's influencer datasheet
Contact influencers
Once the influencers have been identified, it is time to contact them, and this is not necessarily the easiest step. Because you will probably get a lot of rejections, or non-responses. To help with this, feel free to check out our article: 'How to contact influencers and get a response!'
Which social networks should you choose?
Even before choosing the influencers who will be able to share your influencer marketing campaign, you need to identify the social network(s) on which you wish to carry out your influencer marketing campaign. How do you choose? Well, it all depends on your target and the consumer audience you are aiming for.
Facebook is a broad social network, used all over the world and by all age groups. However, in recent years it has been neglected in favour of more entertainment-oriented platforms. Which ones?
Snapchat and TikTok allow you to reach a young audience, often with very creative content. These platforms can help you revitalise your brand image and target a younger audience such as Generation Z.
Instagram is ideal for reaching a younger generation as well, but also millennials aged 30-35, who are big consumers.
Instagram also has the advantage of being able to adapt to a photo or video format, stories, quizzes…
YouTube is a platform that lends itself very well to tutorials and full product reviews, as the video format can be long. Google's social network is also highly ranked in the search engine. Don't forget Twitch, because even if the platform was initially known for online video games and its famous gamers, many influencers in other fields are making their way onto this livestreaming platform.
If your format is solely focused on photography, Pinterest may be a great option. Finally, if your target is more professional you can get involved in conversations on Twitter or even on LinkedIn if your target audience is B2B.
What form will your influencer marketing campaign take?
There are many ways to be heard on social networks thanks to influencers. Influence4You shares some examples:
Product gifting
This involves sending one or more products that you want to promote to one or more influencers. This may be in exchange for remuneration. This is an example of the most common type of influencer marketing campaign. If you don't plan on paying influencers, you're not sure to get a response. However, in some cases, and especially if your influencers are well targeted, you may get an unboxing story, a post, or even a full review if the influencer has taken the time to use the product. Sending products is part of press relations and does not fall within the scope of product placement under the law. This means that the influencer is not required to disclose a partnership, as it is a gift with no obligation. You can read more about the legislation in our article 'Brand and Influencer Partnerships: All You Need to Know About Regulation in Spain, Germany, Italy, France, Belgium, UK'.
As an example, here's an interesting post by beauty/skincare blogger Iona Francis on TikTok. With 22,000 followers on TikTok, and 98,000 followers on Instagram, she receives many products every month. This means that there is very little chance of getting a dedicated post without payment. However, every week she posts a story on Instagram of what she has received as press relations.
If you pay the influencer for placing a product in a post, video, or other publication, you have a little more control over your campaign as you can decide with the influencer the day of the publication and the type of publication. However, we don't recommend that you tell the influencer what to say. It may be very different from their usual content and their followers might not find it relevant.
In both cases, you can offer a personalised promo code to the influencer you contact. This code will offer a discount to their community on products and will also allow you to the number of orders placed with the code.
Tutorials
This form of partnership is particularly popular with make-up brands. You send your product to a make-up influencer who will showcase it and explain how to use it in a video tutorial. This allows you to showcase your product and demonstrate its effectiveness. Be sure to explain to the influencer beforehand how the product works and its benefits, so that they don't get confused or the product seems too complicated.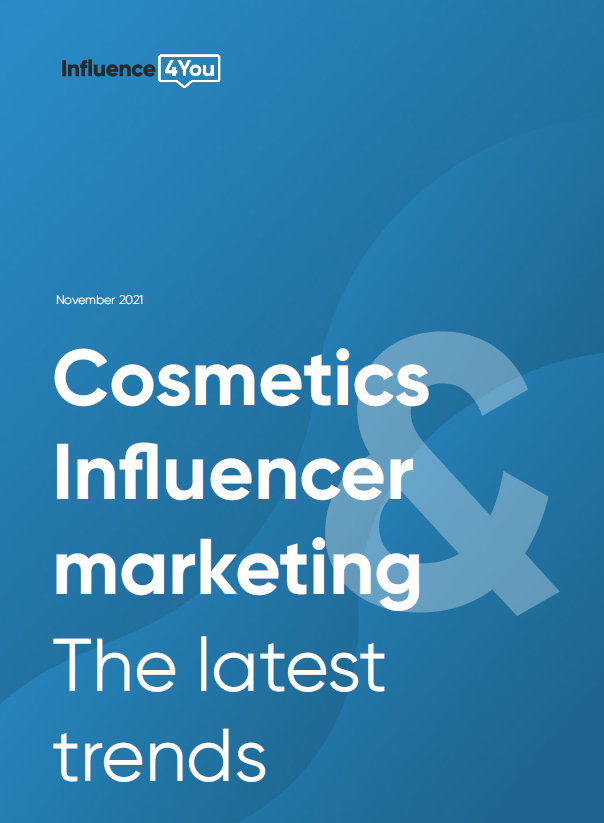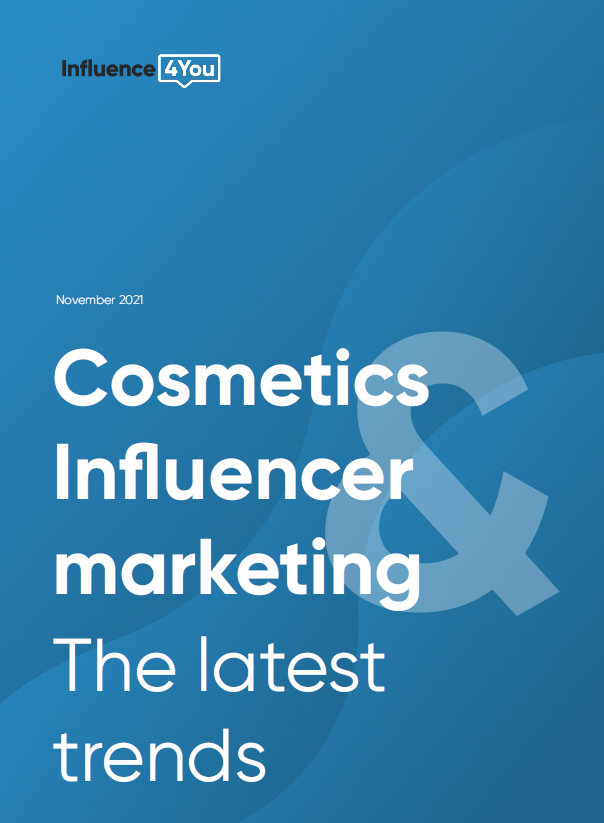 To supplement your learning, check out our Cosmetics Influencer Marketing guide: Trends in 2021/2022
Contests
Contests are a great way to increase your followers and grow your community. Very popular on Instagram, collaborating with an influencer in the form of a contest can bring many followers and profile views. Indeed, in order to participate, users often have to follow both the influencer and the brand. However, be aware that some participants may unfollow once the contest is over.
Here's an example of a giveaway with tatanisha_sankar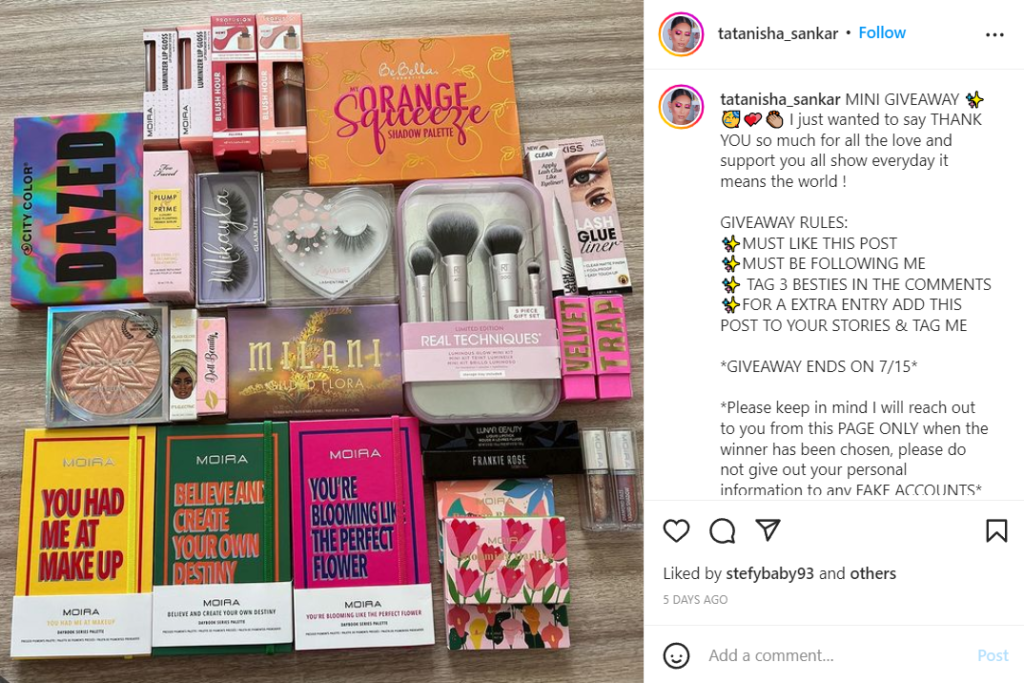 Teasing
This is a form of partnership that must be remunerated as it is often a multi-stage campaign. The concept? The influencer unveils a new product or campaign gradually over time. This is a unique format, which if done creatively, can be really effective for your brand or company.
Invitation to an event
You may want to create an event for the launch of a product or service. In this case it is a good idea to invite some influencers to share this event on social networks. Instagram lends itself particularly well to this type of campaign, as you can hold lives and make stories. For this type of campaign, you'll have to include the whole event in your budget.
Invitation to a trip
If you work for a company in the tourism sector (hotel, spa, airline or even tourist office) you may want to showcase your location or region to a group of influencers. A trip with influencers can then be organised.
Our guide 'Travel Influencer Marketing: the latest trends' is dedicated to the tourism sector and is free to download!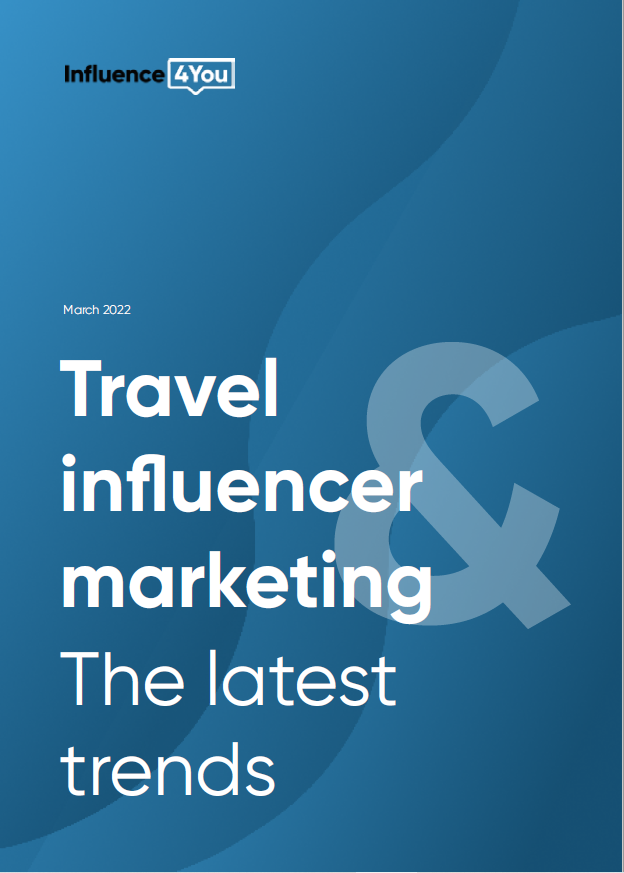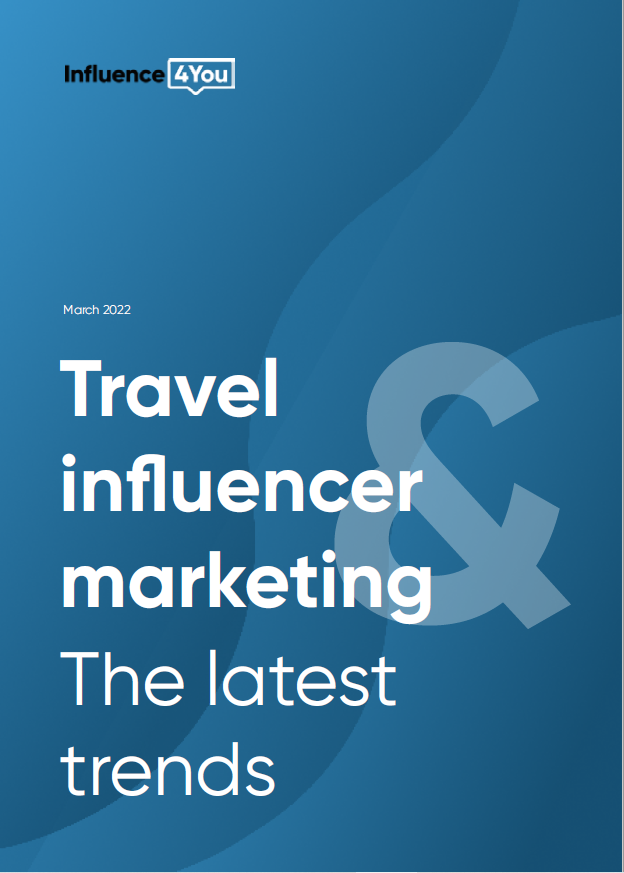 Takeover
This type of partnership is usually with a single influencer. You entrust your Instagram or other account to a well-known influencer for a day or more. You can offer a different perspective on what's going on inside your company by inviting the influencer to your premises. It's a win-win as the influencer also gains visibility.
Capsule collection
Some brands temporarily use an influencer to create a product or a capsule collection. It's a great way to rejuvenate your brand or to get a fresh look at your product.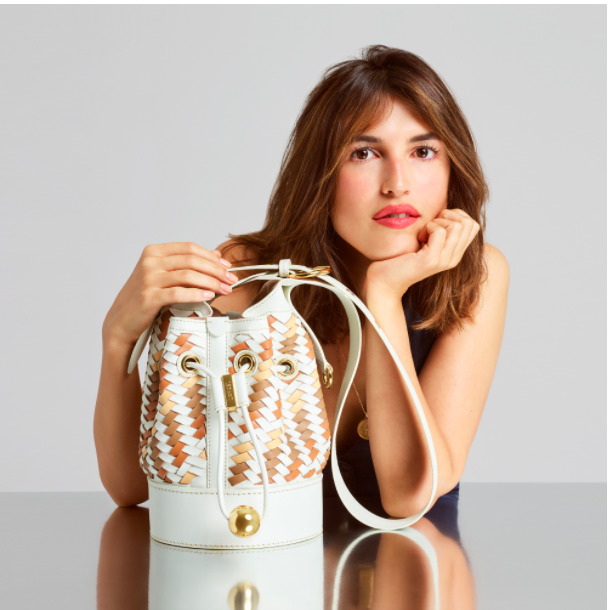 Illustrating this is French influencer and entrepreneur Jeanne Damas, who has 1.5 million followers on Instagram. She recently redesigned Lancel's "mon chéri" handbag. This is a way for a traditional leather goods brand to reach a more fashionable and younger audience.
There are a lot of possibilities for influencer marketing campaigns. To inspire you, our book '87 Ideas for Your Influencer Campaigns' is available for free download here!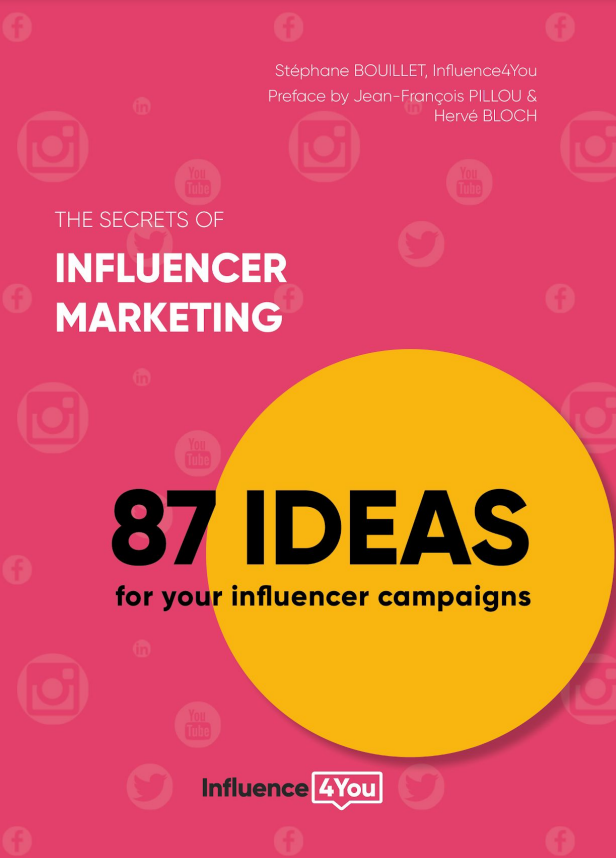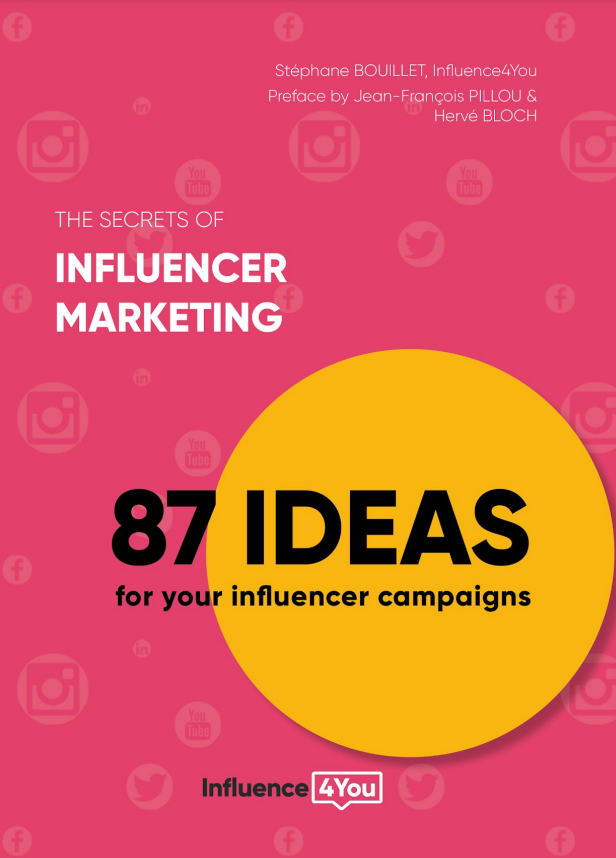 If you prefer it in paper format, order our book '87 Ideas for Your Influencer Campaigns' here
If, on the other hand, you want to become a TikTok expert, download our guide, '50 Ideas for Your Influencer Campaigns on TikTok!'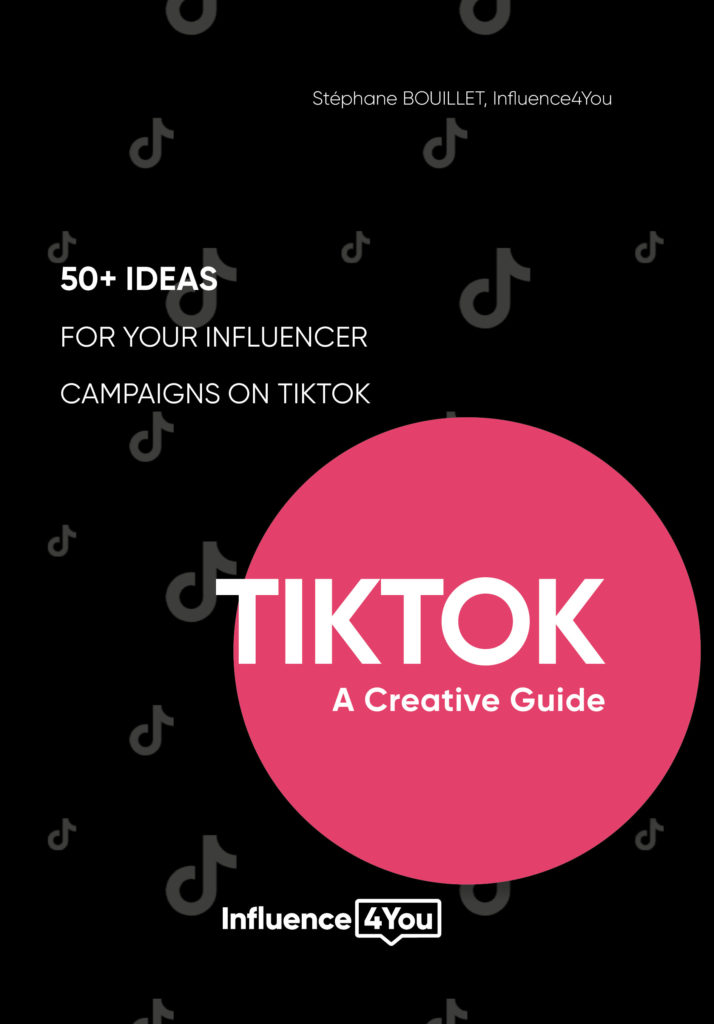 If you prefer it in paper format, order our book '50 Ideas for Your Influencer Campaigns on TikTok' here.
The big day
Your campaign has launched, influencers have received their products, or they are on a plane if it's a trip. By now you should have some posts! Monitor them! Analyse them. User reviews are excellent clues to your product or brand. They may have questions or remarks that you may not have thought of. Please feel free to comment and answer questions directly. Don't forget to share posts you are tagged in to spread the word as much as possible! The goal is to increase your visibility!
Review and results
Your campaign is over, it's time to review. Did you gain followers? Did you get more sales? Have you received relevant feedback to improve your product? What was the engagement of the influencers contacted? It is important to be able to measure the return on investment after an influencer marketing campaign. To know your mistakes if any and to be able to improve on the next one as well.
Don't forget to thank the influencers who shared your message, even if they were paid. This will make a difference and can help you build a long-term relationship of trust.
Measuring the performance of an influencer campaign is complex and there are many indicators to consider. Download our book 'Influencer Marketing for CEOs', 180 pages of expertise and advice on why influencer marketing is such an effective medium and how to measure its results from a business perspective.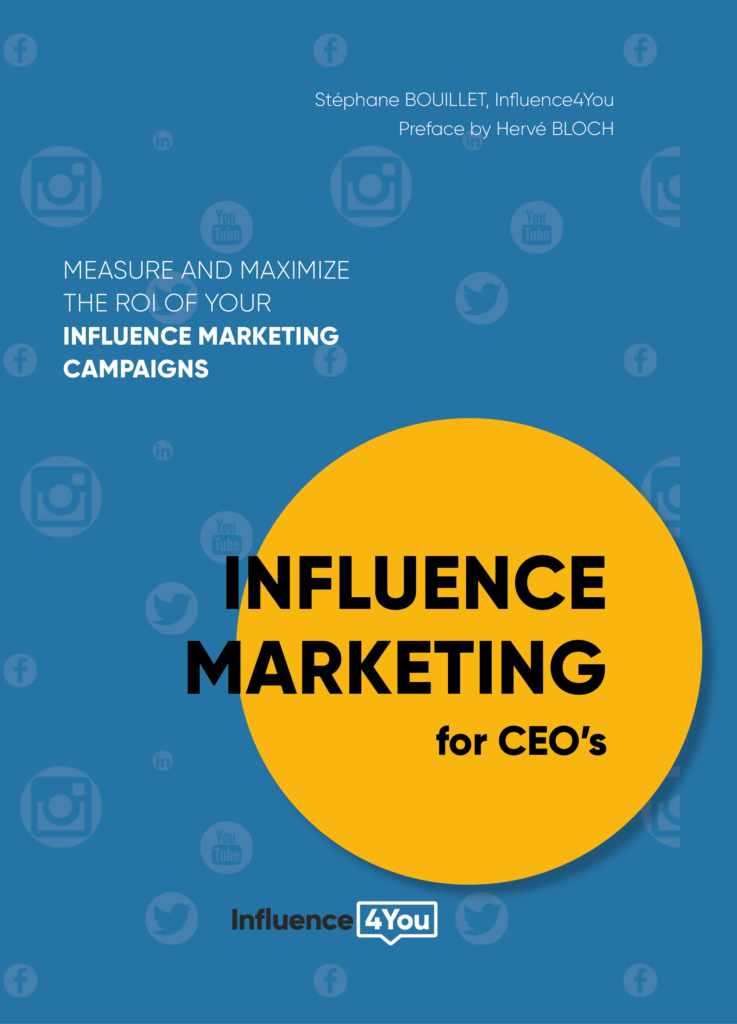 In conclusion
Successfully running an influencer marketing campaign on your own and without experience in the field can be very complicated indeed. Don't hesitate to contact Influence4You for your next campaign.
Our influencer platform and our experts will guide you in your project and find numerous influencers that align with your brand's image.
Get in touch to set up your influencer marketing campaign.

Discover Influence4You's demos:
Our Macro influence tool: