Snapchat Post: A Guide for Business
Snapchat
Snapchat is a social media platform where users can share pictures and videos. It was launched in 2011, since then it has grown to become one of the top social media platforms in the world. As of July 2021, the platform has 293 million daily active users growth of 23% year on year.
Snapchat is the first social media that released the Stories function in 2013. Nowadays, Snapchat also gives you the power to record and share live videos, locate friends on an engaging map, experience augmented reality (AR), and much more. cool, right?
These new features are at the forefront of what makes Snapchat a unique tool for business owners and regular users alike.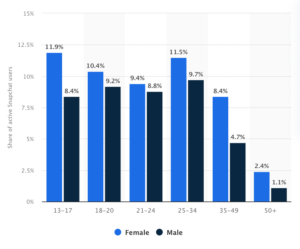 Source: Statista – Distribution of Snapchat users worldwide as of July 2021, by age and gender
As per the survey of Snapchat users worldwide as of July 2021 by age and gender, we can observe that the demographic skews more toward the Millennial and Gen-Z cohorts.
Therefore, if your target audience is under 34, Snapchat might be the perfect platform for your business especially if you operate in the direct-to-consumer market. 
Also, it is seen that a huge 60% of Snapchat users are more likely to make impulse purchases, which signals that the platform can increase your sales, drive more revenue, and translate to a positive return on investment (ROI).
Snapchat Post features and terminology
Snapchat is overflowing with features that will help you drive audience engagement and build brand awareness. But first, let's take a look at some key Snapchat terminology.
Snap
Snap is a picture or video that you send through the app to one or more of your friends. It is available to all users since its launch.
A video snap can be a maximum of one minute long (known as a Long Snap). 
Keeping in line with the app's original feature, Snapchat doesn't hold onto any photo or video content; the platform deletes content after the recipient has viewed the Snap.
Stories
Stories are Snaps that you'd like to share with all your Snapchat friends. 
Unlike Snap, Stories stay on the app for 24 hours before being deleted. 
If you want to save your Story, You can download them to your device's camera roll or save them to Memories.
Custom Stories
Custom Stories allows you to create Stories together with other people from your friends' list.
Snapstreak
A Snapstreak (or Streak) tracks how many consecutive days you and a friend share Snaps. 
You will see a flame emoji ( ) next to your friend's name, with a number indicating how many days you've kept the streak going.
Filter
Snapchat filters can change based on special events or holidays, location, or time of day.
It is a fun way to jazz up your regular Snaps by adding an overlay or other special effects. 
Lenses
Lenses are where AR comes into play. Snapchat Lenses allow you to add 3D special effects, objects, and characters to your photos or videos. Unlike filters, you use lenses while you are taking a Snap.
To bring the experience alive outside the walls of the festival, Snap developed an AR Try-On Lens that allows Snapchatters from anywhere in the world to browse, try-on & purchase items from the ComplexCon Gift Shop during designated times of the day.
Geofilter
Similar to Filters, Geofilters are unique to your current location. 
To enable Geofilters, you have to turn on your location in Snapchat. 
You can also create a custom Geofilter for as cheap as $5, which is great for building brand awareness or showcasing an event.
Snapcode
Snapcodes are unique QR-style codes that you can scan to add friends or access features and content on Snapchat. 
Each user is automatically assigned a Snapcode, and you can create additional Snapcodes that link to any website.
For example as a business, instead of entering a link, to be more creative you can create a QR code for the discounted product/ your website which will redirect the user to a certain page of the offerings. 
Chat
Chat is Snapchat's version of instant messenger for individual and group chats. The dun part here is that the messages disappear after they're viewed.
Memories
Snapchat Memories is your personal photo album that you can view anytime.
Memories are Snaps and Stories that you can save for viewing later, rather than saving them in your phone or allowing them to disappear. 
Friends
Friends are people who you've added on Snapchat (or they've added you!). You can share Snaps, Stories, and other content with your friends' list.
Discover
Discover is a Snapchat screen where brands share Stories with the app's large audience. Perfect for businesses, publishers, and content creators looking to increase engagement and build brand awareness. 
Snap Map
Snap Map shows your location and the locations of all of your friends. You can view Snaps submitted to the Snap Map from across the world. Of course, if you don't want to share your location, you can always put yourself in Ghost Mode.
Context Cards
Context Cards use information from Snapchat's partners to provide additional information about a place mentioned in a Snap or allow you to take actions like visiting the website or shopping the products online. You can access Context Cards by swiping up on a Snap or Story.
Bitmoji
A Bitmoji is a cartoon avatar that represents you. It is fully customizable in the Snapchat app, Bitmoji allows you to add personality to your profile and account.
Cameo
Not to be confused with the celebrity messaging app called Cameo of the same name, Snapchat Cameos are animated gifs that you can customize with your face and send to friends.
Snapcash
Powered by Square, Snapcash is a fast, free, and easy way to send money via the Snapchat app. It is an amazing feature for the business and its audience on Snapchat.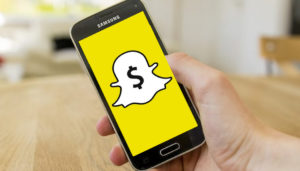 Spotlight
Snapchat's Spotlight feature is the place to share video content with a public audience. Like TikTok and Instagram Reels, Spotlight allows users to post 60-second videos to the app's Spotlight section. Think of Spotlight as a place to share your best content in the hope that it goes viral.
Introducing Spotlight

The best of Snapchat. Sit back and take it all in, or submit your video Snaps and you could earn a share of more than $1,000,000 a day. Happy Snapping!https://t.co/U7eG7VNJqk pic.twitter.com/mxGWuDSdQk

— Snapchat (@Snapchat) November 23, 2020
Snapchat Influencer Marketing Tactics to Consider
Influencer marketing on Snapchat is an organized form of word-of-mouth marketing where brands encourage influencers to promote their products to their audience who trust them.
Here are some tactics that you and your influencers can consider for your Snapchat influencer campaigns:
1. Pay an Influencer to do a Social Takeover
Nowadays, brands hand over their social media account for a limited duration to a well-known influencer to help them increase brand awareness and attract more audience by creating and sharing engaging content.
For example, MumsInTech Snapchat Takeover for Makers Academy's campaign called #DiversityInTech. We mentioned this takeover since it's great for several reasons, it featured a day of Mums in Technology. The story itself is warm and relatable, and seeing real moms at work is inspiring.
2. Use a Vanity URL for Snapchat Campaigns
Unlike Instagram, Snapchat doesn't have an option to include a clickable link in the posts. But one way to trick this out is using vanity URLs. 
Vanity URLs are easy to remember and can be used when the users can't just click on a link.
By entering this type of link in your social media posts, you and your influencers can create snaps by promoting the products, and users just need to remember the link to go and type into their browser.
For example, beauty subscription box brand Birchbox created a vanity URL "birch.ly/steals" for a Black Friday and Cyber Monday Snapchat marketing campaign.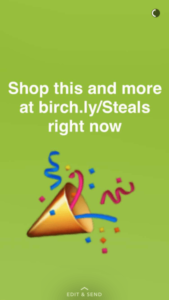 Source: Digiday
3. Use Memories for Content You Want to Stick Around
Snapchat Memories is like a photo album that you can view anytime, as the snaps and stories disappear after a certain duration rather than saving them in your phone.
Users can save photos and videos in Memories for viewing later and/or to reuse on the brand's account or those of your influencers.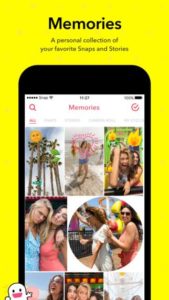 4. Create and Share Custom Filters
As we discussed earlier, Snapchat lets you create "On-Demand Geofilters." 
Businesses can use this feature to develop an On-Demand Geofilter to incorporate into their campaigns, which can be later used for influencer marketing campaigns. 
More recently, Snapchat introduced its augmented reality (AR) filters. Brands can work with AR Snapchat influencers to create branded campaigns.
For example, ​​Mobile gaming company Plato collaborated with Snapchat influencers to promote their new game called "Werewolf". Plato created a custom Snapchat lens, where a lifelike 3D werewolf attacked you as you got closer to a creaky, haunted cabin. They made a series of Snapchat countdowns with the mysterious wolf growling. On the game's launch day, the company launched their lenses (the werewolf and the haunted cabin) and distributed them to sections of the audience, encouraging people to create their own Stories.
5. Take Your Fans Behind the Scenes
Several larger firms have encouraged influencers to create and post BTS videos (behind-the-scenes videos) about what they see and experience.
For example, Irene Kim's Seoul Fashion Week Snapchat Takeover for Vogue. In this takeover, fashion model Irene Kim takes fans behind the scenes at Seoul Fashion week. The takeover was so great because Vogue let her tell the story in her own way and Irene's lovely personality; plus the cute filters and emojis she used added an awesome personal touch.
​​
Influence Marketing on Snapchat
As we observed in the statistics above, millennials and GenZ are important to marketers. There are many young influencers, particularly in niches such as food, fashion, gaming, music, culture, and tech. And while these influencers don't usually exclusively spend their social time on Snapchat, they still have a large impact on their followers on the social media platform.
Snapchatters are also highly engaged. According to Gary Vaynerchuk, "If you have 1,000 followers on Snapchat, 900 of them will watch your story." Therefore, If you sell a product that is of interest to Millennials and Generation Z, you should definitely consider advertising on Snapchat. 
Hence, Snapchat is essential for the brands targeting the youth market.
As with most types of marketing, the key is knowing your target audience on Snapchat. You have to be able to attract and engage with your potential customers. If you feel difficulty in doing this yourself, you may prefer to collaborate with a Snapchat influencer who is best in creating content and engaging an audience on social media.
To find the right influencer in your niche for this you can use influencer marketing platforms to access the overview of their social media accounts of an influencer like no. of followers, average no. of engagement, and likes on a post. The brands can also get hidden information like fake followers, fake accounts, valid influencers, and others by using some well-built influencer marketing platforms.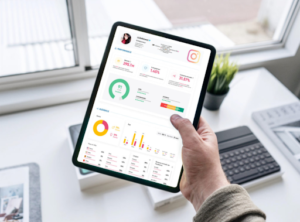 When doing an influencer campaign you must also keep a track of the engagement rate the influencer generates like the number of views, likes, comments, and shares. But this becomes easy by using an influencer marketing platform.
Since the beginning, Snapchat has been the most favorite social media for the youth. Hence it can help businesses to grow online and reach a larger set of audience. Snapchat lets you upload photos, videos, and other types of engaging content of your product and services to promote your business as we discussed earlier.  It is a powerful way to communicate with a new audience and potential customers, by allowing them to see your product or service without having to visit your physical store.
And for a high jump in your traffic and sales, you can always collaborate with the influencers to effectively increase brand awareness and engagement for your brand.
If you have any questions about influence marketing on Snapchat or questions about collaborating with an influencer who can help you grow on Snapchat, don't hesitate to contact us.