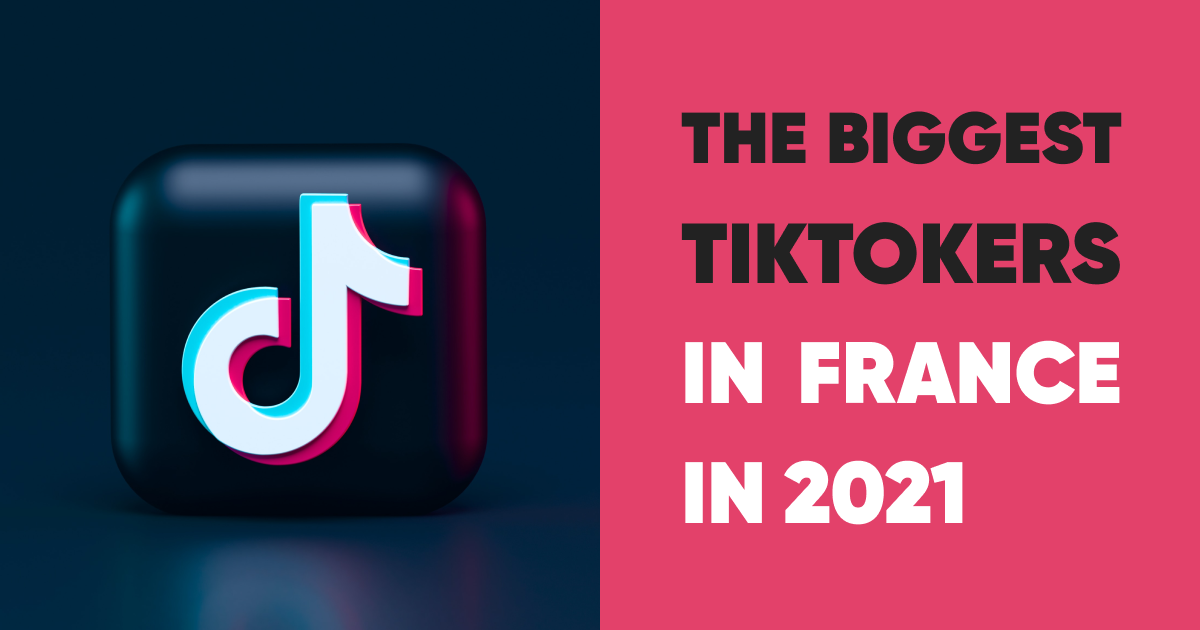 The Biggest TikTokers in France in 2021
Discover our Top 10 biggest TikTokers in France in 2021!
#1 Léa Elui Ginet
15 million followers
TikTok account: @leaelui
At just 20 years old, she's a TikTok star. Léa Elui started four years ago on this social network. She's been creating short videos of her dance pieces since 2016. Today, she has become a major influencer and even chosen as the face of Givenchy.
#2 Pierre Boo
10 million followers
TikTok account: @itspierreboo
Son of the former Antenne 2 presenter, Virginia Crespeau, and in a relationship with famous American TikToker Nicky Champa (10M subscribers), Pierre Boo started just 3 years ago on TikTok and has already became one of the figures of the LGBT movement. With humorous videos on everyday couple life and trends, his TikTok account is full of surprise.
#3 Jojo Akams
8.2 million followers
TikTok account: @akamztwenty20
With Jojo Akams, laughter is guaranteed. That means humorous videos, sketches but also dances that are perfectly executed and meticulous. A real feel good account!
#4 Angélique Boyer
7.4 million followers
TikTok account: @angeliqueboyertiktok
French-Mexican actress, Angélique Boyer is also a model in her spare time. She became famous in 2003 in a Mexican telenovela. She successfully got started on TikTok by combining humorous and everyday life content. All in French and Spanish!
#5 berywambeatbox
7.3 million followers
TikTok account: @berywambeatbox
This French beatbox group from Toulouse are a hit. They were crowned French champion of human beatbox in 2016 in Paris in the 'team' category. In 2018, they won the world beatbox team championship. They share their performances and backstage at their concerts, all in good spirit.
#6 Tibo Inshape
6.4 million followers
TikTok account: @tiboinshape
Thibaud Delapart aka Tibo Inshape is an already very popular influencer as he made himself known as a youtuber specialized in bodybuilding. His TikTok account is a little different from his YouTube channel as he shares funnier clips and take up different challenges, especially with his TikToker partner, Juju Fitcats (3.7 M subscribers)
#7 Cyrilschr
3.7 million followers
TikTok account: @cyrilschr
Cyril Schreiner is an Alsatian influencer known for his single 'Chadore Chadère Chevalide' but his specialty is impressions. His TikTok account will make you smile.
#8 Benoit Chevalier
4.9 million followers
TikTok account: @benoit_chevalier
Another figure of the LGBT community, Benoit Chevalier rose to prominence thanks to his make-up tutorials. His TikTok account also offers much lighter content.
#9 Lenna Vivas
4.8 million followers
TikTok account: @lenna.vivas
A well-known influencer on YouTube and Instagram. She took up the gauntlet to also perform on TikTok with dance challenges, videos with her little brother, Elias, and her boyfriend, trends and lip-syncs.
#10 Beckybaw777
4.5 million followers
TikTok account: @beckybaw777
Becky is a TikTok expert and these humorous videos are a staple of the genre on the social network. The staging and effects are impeccable. A real standard…
#11 Rose.thr
4.3 million followers
TikTok account: @rose.thr
Originally from Toulouse, Rose perfectly masters TikTok's codes. Her account is a mix of funny, friendly videos but she also offers more fashion-related content. In this regard, she has created a collection in collaboration with the brand Jennyfer: Rose THR x D.C.M.J
#12 wonguy
4.2 million followers
TikTok account: @wonguy
Wonguy is a professional photographer, he shares his talent on TikTok and adds spectacular special effects. A very inspiring account to follow.
To go even further:
Are you an influencer and have a TikTok account?
Register for free on our platform and add your TikTok profile to find collaborations!
Are you a brand or an agency and want to find TikTokers for your campaigns?
We can help you set up influencer campaigns on TikTok. Contact us right away!
What's more, to help you find TikTokers easily, our platform allows you to make multi-criterion searches and create your own lists of creators to choose the best ones for your collaborations:
Finally, you can boost your TikTok campaigns by amplifying (or advertising) the videos of TikTokers.
Influence4You is offering a new creative guide of 50+ ideas for your influencer campaigns on TikTok, the fast-growing social network. Download your free 160 pages eBook today!