Live-stream shopping in France: Key figures
Live-stream shopping also called live shopping is already a tremendous success in Asia and is becoming increasingly popular in Europe, especially in France. In this article, we will provide an overview of the key figures of live-stream shopping in France.
Live-stream shopping: budgets
Brands may implement different live shopping strategies and can choose to call on sellers or experts.
In this case, the budget spent will be lower compared to of a live shopping session with an influencer.
For example, Carrefour spends more than €5000 for a livestream. The company has chosen Redpill and its subsidiary Quidol to launch its live shopping campaigns.
Unlike Carrefour, Fnac, a large French retail chain, favors influencers and the cost alone of hiring an influencer can range from €5000 to €150,000 depending on the influencer and the event's media coverage.
Conversion rate and upsell
According to benchmarks from iResearch, Gartner or Deloitte, livestreams are a good way to cross-sell (+35%). Indeed, these type of events create a climate of trust with the audience and make it convenient to introduce complementary products or services in order to generate peripheral sales.
As far as conversion rates are concerned, Arick Abbou, director of e-commerce and e-retail consulting at iProspect, explains that live shopping sessions allow for a conversion rate between 10 and 20% (average e-commerce conversion rates are 3%). Promising figures…
Finally, on AliExpress, Livesellers can earn between €500 and €900 per month by broadcasting two sessions per week, each lasting 1 hour, which equals at least 8 hours per month according to some testimonies.
Current market offers
Agencies including Influence4You or iProspect offer ad hoc deals. They provide consulting and production services or offer to put you in contact with technical providers and influencers.
Meanwhile Globe is about to open a space in Paris for brands to film their livestreams and receive support.
Media agencies are also playing a part. For example, M6 Publicité (M6 channel's historical sales house) launched a specific offer at the beginning of March: Top Chef contestants perform live recipes using the advertiser's kitchen accessories.
Finally, Unify (TF1) offers to work with the influencers of its network as well as its media brands.
Current offers are quite recent and more will arrive when social media decide to give live shopping increased emphasis.
Live Shopping: software
At a technical level, many specialized service providers are emerging and marketing themselves to e-commerce brands. Examples of this include Caast.tv, Spockee, Livescale, Bambuser, Dailylive Quidol…
This software helps:
integrate livestream sessions on a website and in specific product sheets
combine movies and integrate product sheets with a URL link
manage discussions
record a replay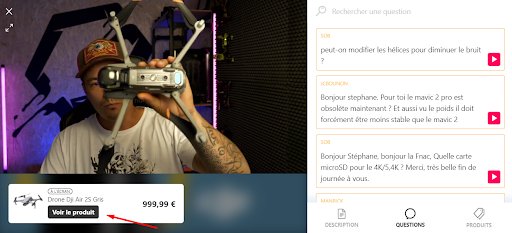 Now that we've seen how much money is spent on live-stream shopping, the current offerings and how to get started, let's see what the benefits of this new digital shopping channel are.
Live-stream shopping: perks
Integrating live-stream shopping because it's trendy is good, but understanding the stakes is better.
Here are some of the key benefits of live shopping:
engaging your audience and answering questions live
rehumanizing the customer relationship
event driven selling
offering an entertaining experience (shoppertainment)
shortening the customer path to purchase as much as possible by reducing the number of clicks (note that in France, payment on social media is not yet available)
reusing replay and video content
Live-stream shopping can put forward a brand's salespeople or experts. It allows brands to offer a new experience to their customers and prospects.
But the real potential lies in selecting of the right influencers who will bring their audience, experience, style and talent to the livestream.
The influencer, the key element of live shopping
Benefits of hiring an influencer for a live shopping session:
Proximity with the influencer's community (and the community of the brand)
Influencers will communicate with their communities before the event and will thus bring an audience to the live and to the merchant site
They will promote the product while humanizing the customer relationship
They will use the codes and language adapted to their audience
Quality because they are used to speaking, presenting products and responding to their community
The power of their recommendation will make purchasing easier
By choosing the right influencer and the right audience, you will make sure you are speaking to the right end buyers.
Usually, influencers can also share the replay of your event on several social media, to ensure for greater impact
As you can see, combining influence marketing and live-stream shopping is essential for the success of such events in terms of sales, awareness or impact on your audience.
It makes sense considering that nowadays, in order to launch a good influencer marketing campaign, choosing the right influencer is a crucial step for success.
Live shopping is the future of e-commerce and of audience engagement, for a more human marketing approach.
Get the right support to get started and you'll ensure your campaign is successful!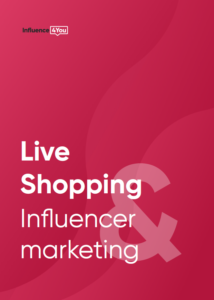 If you are interested in Live Shopping campaigns, contact us at Influence4You.