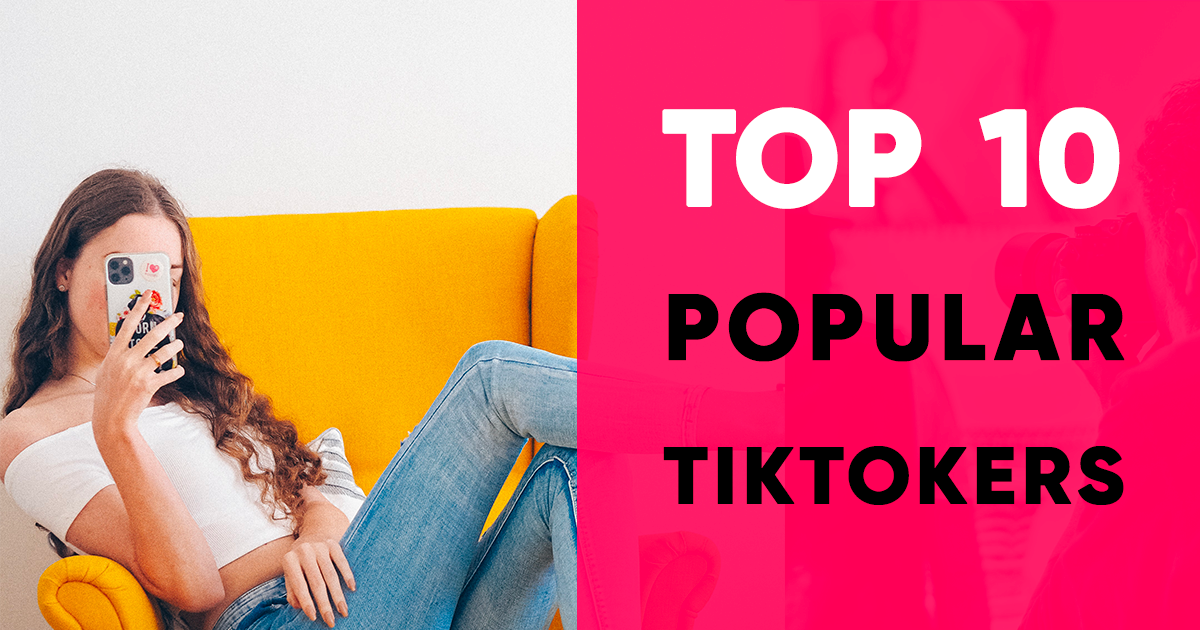 The 10 most popular TikTokers
After it was created in 2017 in China, TikTok became the most downloaded app in the US in 2018. TikTok is now the fastest growing social network, and brands are starting to watch this space more and more closely.
By bringing music to the social media game, what started off as teenagers trying themselves at lip-syncing attracted much more, quickly drawing competitive dancers, actors, and worldwide influencers… as well as brands seeing the potential of these younger and 'more authentic' digital influencers.
The platform is still young and its rankings far from set in stone. Take a look at the 10 most popular influencers on TikTok right now!
1. Charli D'Amelio
104.7M followers
16-year-old Charli found fame on TikTok in late 2019 with her dance videos. She is the first person to get over 50 million and over 100 million followers on TikTok, and became the most-followed account by March 2020. She had been dancing competitively for 10 years before starting her TikTok account, and now also has a podcast, a book, and a nail polish collection.
2. Addisonre
73.3M followers
Addison Rae started dancing aged 6 and studied at LSU where she planned to become a sports broadcaster. She opened her TikTok account in July 2019, had 1M followers in October, and became part of TikTok collaborative group The Hype House in December of the same year, to become a full-time TikToker. The American dancer and influencer has now amassed 4.7B likes and is the second most followed personality on the platform. She's partnered with brands like American Eagle, has released her own podcast, and launched a beauty line.
3. Zach King
54.3M followers
Former Vine creator Zach King was posting videos on YouTube in 2008 and was already known for his digital sleights of hand. The LA-based influencer won YouTube's NextUp Creators Contest in 2013 with his filmed optical illusions, and participated in the reality game show The Amazing Race. His tactical move to TikTok in 2016 paid off as the illusionist's magic vines earned him 3rd place on TikTok.
4. Bella Poarch
51.2M followers
Bella joined the platform in April 2020 and in just a few months rose to the heights of TikTok's top 10 with some of the most-viewed videos on the platform ever. Her creative use of the Time Warp filter and her lip-sync skills gave the American-Filipino several viral videos and currently 4th place on TikTok's ranking of the most-followed accounts.
5. Spencerx
50.7M followers
Spencer Knight is a talented American beat-boxer with a bright career ahead of him. He became famous on TikTok, and also has a high following on YouTube. He produces original tracks mixed with comedy. This "mouth music man" has collaborated with famous artists such as Alicia Keys.
@spencerx

Only know how to do these sound because I beatbox 😂
6. Loren Gray
50.4M followers
The 18-year-old American dancer, actress, and musician joined musical.ly (former TikTok) in 2015, where she grew a large following. This also allowed her to gain the visibility to start her own music career, releasing her first singles after signing a record deal with Virgin Records.
7. Dixie D'Amelio
47.6M followers
She's Charli's older sister and also a singer as well as a top TikTok personality. She began posting on the platform after her sister and quickly followed suit with her own huge popularity. Earning millions of dollars through sponsorship deals with brands, Forbes named her the third highest-earning TikTok star. Dixie recently also released a second single with Wiz Khalifa.
https://www.tiktok.com/@dixiedamelio/video/6867280538047220997?lang=en
8. Justmaiko
43.9M followers
Micheal Le is a US dancer who grabbed a spot in TikTok's top 10 thanks to his mix of dance and comedy. Most notable: his hilarious public performances on escalators that went viral.
@justmaiko

public performances will always be our fav🤣💙 @theshluvfamily
9. Riyaz.14
43.7M followers
Riyaz Aly is a 16-year-old Indian actor and fashion blogger. His lip-syncs and comedy earned him a huge following on TikTok, though he also has millions of followers on Instagram.
10. Brent Riviera
35.6M followers
Brent is the final TikToker on our list and a growing star. The American influencer decided to move his videos from YouTube onto TikTok, and the meme format is working wonders for him!
You can go ahead also read our latest published article of  The 10 most popular TikTokers in 2022.
Influence4You is offering a new creative guide of 50+ ideas for your influencer campaigns on TikTok, the fast-growing social network. Download your free 160 pages eBook today!
For more information, visit our website here: Influence4You
And if you are looking to launch your next influence campaign, contact us here.