Brands have got the message: influencer marketing is an essential part of any acquisition strategy. In this article we'll explain why.
Brands and their experience with influencer marketing
A recent study from Reech that surveyed more than 600 communications and marketing professionals reveals some very interesting figures. It includes feedback from brands and companies that are on the whole satisfied with influencer marketing. Here are their main findings:
'74% of respondents have carried out at least one influencer marketing campaign in the last two years.
86% of respondents believe that influencer marketing is an effective lever.
78% of respondents report an increase in the company's influencer marketing budget.
TikTok tops the list of social networks to include in influencer marketing campaigns in 2022.
Brands rate their satisfaction with influencer collaborations 7.1/10.
Certainly impressive figures that make you want to get started in influencer marketing, right?
Influencers – the power of recommendation
98% of consumers say they read online reviews at least 'occasionally' according to a survey from Brightlocal. Customer recommendations are then key in building and growing your business. You might think that you need to work on customer satisfaction, the shopping experience, improving your customer service or your after-sales service.
While this is a good start, these processes can be time consuming for many companies. How can you increase your visibility and sales more quickly? Make use of influencer marketing!
Credibility and authenticity
The power of recommendation is clear when paired with influencers' credibility and authenticity. A powerful tool to include in your marketing strategy. Indeed, campaigns that lean on carefully selected influencers allow you to reach your target audience in a less obvious and yet more intimate way than traditional marketing. It's not the brand speaking via a traditional advertising medium, but a real person who can share with their community. A well thought out campaign with an influencer that has an engaged community is worth more than any other acquisition lever.
The potential buyer trusts the influencer they follow on a daily basis, and will therefore pay much more attention to their recommendations than they would a traditional advertisement. Indeed, followers almost consider influencers as friends and enjoy following their daily lives. Their recommendations hold more weight. Research backs this up as consumers trust recommendations from their peers seven times more than conventional advertising.
61% of consumers interact with an influencer at least once a day
Not enough data for you? 61% of consumers interact with an influencer at least once a day and 80% of consumers have already made a purchase following a recommendation from an influencer (Source Rakuten).
Inc. Magazine goes further and states that 'influencer marketing delivers 11 times more ROI than all other forms of Digital Media'.
Types of collaborations
There's no better way to convince an influencer than to have them test your product or product range. If you've got the budget, you can go for paid collaborations. If not, don't worry, you can always use press relations! Here, you send a nicely packaged product to several preselected influencers offering a complete experience. You then wait to see if they'll create unboxing videos, a story or even a post if the product impressed them! Of course, this technique does not work 100% of the time, but it can work if you have a good product.
Using promo codes is also very effective as part of an acquisition strategy. These unique promo codes tailored to each influencer in your campaign help encourage the consumer to buy your product. All the more so if you're offering a flash or special sale, as a sense of urgency is key in marketing. According to an Ipsos survey, 44% of users who follow one or more influencers say they've already used a promo code offered by an influencer.
Setting up a promo code will also allow you as a company to effectively measure the ROI and the actual sales generated as a result of a collaboration.
Influencer marketing – a tool to support your content marketing
Have you managed to implement SEO in your customer acquisition strategy? Don't forget that influencer marketing can help you both improve your SEO and your content! Influencers' content can be easily used for your own social accounts AND on your website. An excellent way to get great images, creative videos and other content for an internal posting schedule.
Bloggers meanwhile can put together blog posts to help you acquire backlinks, and more importantly, get people talking about your brand! What's more, search engines love it! This'll help you rank higher in the search results.
Measurable results
No matter what type of influencer marketing campaign you decide on, you'll be able to quantify and really measure your impact. Whether in terms of posts, likes, engagement of influencers' posts OR your own EMV (Earned Media Value). This is the media value of influencers' posts (calculated from Ayzenberg's index). According to Influence4You, for every €1 invested as part of an influencer marketing campaign, €11 of EMV is generated.
Learn more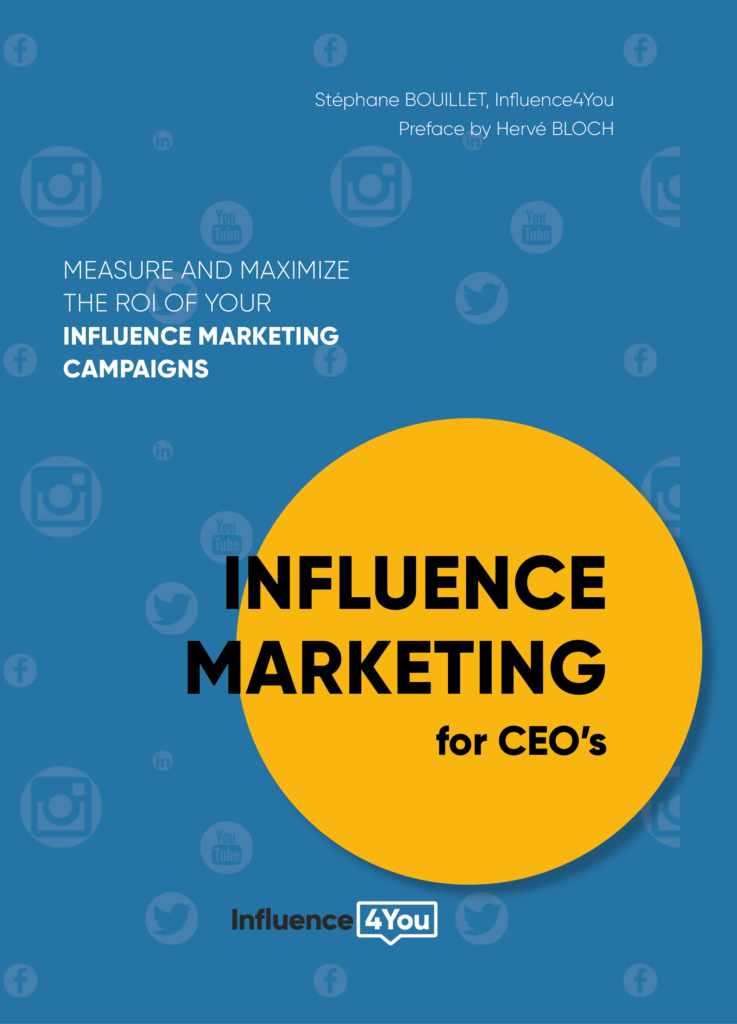 Find out more
Influence4You, an agency specialised in influencer marketing, can guide you in your acquisition strategy and the setting up of your campaigns. Simply get in touch!