Sharing stories on Instagram is a great way to showcase your content and generate engagement. If you're a brand, you'll probably want to repost stories of influencers you've collaborated with or share your customers' opinions on your products. It's quite simple to do so and Influence4You is happy to give you all the details!
How do you share a story on Instagram if you're tagged?
Here's the easiest way. If someone has tagged you in their story, you'll automatically receive an Instagram notification in your DMs. At the top tap 'Add post to my story' so you can add it to your own.
After you've clicked, the story you want to repost will be displayed in story editing mode. You can then change the size as well as add things including stickers and GIFs. It's exactly as if it were your own content, with the only difference being that the person who originally posted it will be automatically tagged and notified. Your audience will be able to click on this person's username to visit his or her profile. To learn more about how to create good stories, check out this article.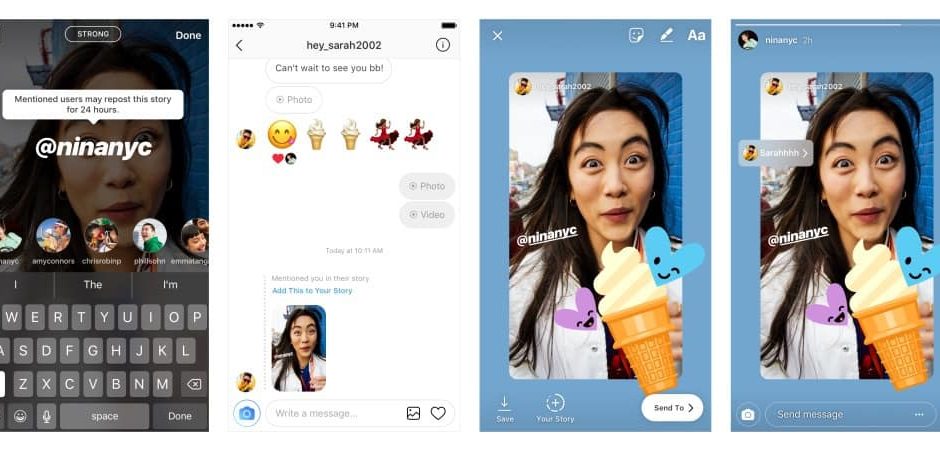 For this to work, the account of the person who created the story in the first place must be public. Even if you follow the person and they follow you, it won't work if the account is private.
How do you share a story on Instagram if you haven't been tagged or if the person's account is private?
If the account is private or if the user didn't tag you, you won't be able to automatically share the story. You then have two options:
If the account is public but they forgot to tag you: you can kindly ask them to do so if the story is about you or your brand. The user will surely be happy that his or her content was chosen and will be visible to a new audience.
The account is private and you are tagged: you can record the video on your phone's screen which is easy to do with Android phones. With an iPhone it depends on the model but you might have to download an app. You'll find detailed information in this article to help you in the process. You'll then have all the content on your device and can share it with your community by creating your own story. However, take care not to upset the user. If their content is private, it may be for a reason, so we recommend you ask for their permission before posting.
You can use the screen recorder for all the other cases. If the account is public, don't forget to tag the user who posted the story to create engagement and more importantly to notify the person that their content is being reposted.
How to prevent certain people from seeing or sharing your Instagram story?
You can prevent one or more people from seeing or sharing your story. To avoid showing your stories to certain people here are the steps to follow according to Instagram:
Tap or your profile picture in the bottom right to go to your profile.


Tap in the top right, then tap Settings.
Tap Privacy, then tap Story.
Tap the number of people next to Hide Story From.
Select the people you'd like to hide your story from, then tap Done (iPhone) or tap back in the top left (Android). To unhide your story from someone, tap to deselect them.
The people you selected won't be able to see your stories but will be able to see your posts.
Learn more
Now that you know how to do it, you can read our tips on How to Create Engaging Instagram Stories. It'll help you achieve great things with your Instagram account!
Are you an influencer? Sign up to our platform to get in touch with brands and have access to many partnerships.
Are you a brand? We can also help you get in touch with influencers to reach your target audience, so feel free to contact us!