Pros and Cons of Influencer Marketplace
Every brand aspires to have true brand fans who can fall in love with their products and can promote it if they own them, similarly, every influencer desires to partner with their personal favorite brand.
This becomes more possible with an Influencer Marketing Platform also called Influencer Marketplace. An influencer marketplace allows brands to find verified, experienced influencers without a ton of outreach.
Once registered, brands can create and submit their influencer marketing campaigns proposals over this marketplace and the influencers can search for the campaigns of similar interest and apply to them for collaborations.
With the use of Influencer Marketplace, brands can find the right influencers for their influencer marketing campaigns who can relate to the brand.
What are the Best Influencer Marketplaces?
A) Social Media Platforms
Social media platforms like Instagram and Pinterest offer resources to the influencers, but they don't have true influencer marketplaces. On the other hand, TikTok and Snapchat, have their own influencer marketplaces, to get started this is a great place.
While these are the only two social platforms that have their own influencer marketplaces, meanwhile other social media are also planning to come up with similar offerings soon to help connect brands with the right influencers. Similarly, LinkedIn has also decided to come up with the creation of a marketplace to help brands find LinkedIn creators.
B) Influencer Marketing Platforms
Even though some social media platforms have their own influencer marketplaces, the most comprehensive influencer marketplaces are on influencer marketing platforms.
Influence4You is the only influencer marketing platform that has a well-built Influencer marketplace. It's a platform for brands to easily connect with active influencers and a space for creators to earn money by collaborating with brands sharing a similar interest.
Many brands choose to use influencer marketing platforms because it simplifies the process of finding the right influencer among 100M+ profiles on social media, the communication, contract creation, and tracking of influencer campaigns.
Plus, Influence4You has a built-in feature that detects fake followers of an influencer, thanks to the integrated tool called HypeAuditor; with this brands can identify the fake influencers who have purchased likes and followers for their social media accounts.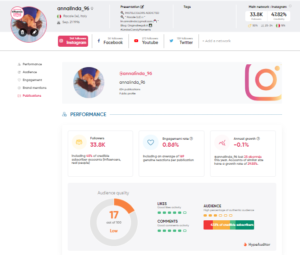 The Benefits of an Influencer Marketplace
1. Influencers in the marketplace are evaluated
To be a part of an influencer marketplace, influencers are evaluated to make sure they have good engagement metrics and authentic practices. These eligibility requirements, like providing proof of their identity and follower count, ensure brands that they can expect high-quality influencer relationships.
2. Brands gain quick and easy collaboration processes.
Influencers who are registered in the marketplace are familiar with managing relationships through the platform. They are eager for new partnerships and have existing experience in co-creating with brands because are typically the ones who want to build their own personal brands.
The collaboration process should be quick and reliable, for both parties hence Influence4You, has a contract that is already prepared for businesses that want to collaborate with influencers. This contract is to be signed by both the brand and the influencer. The terms and conditions are entered as per negotiations done between the influencer and the brand, for instance, few influencers don't allow the brands to reuse their content for other marketing purposes.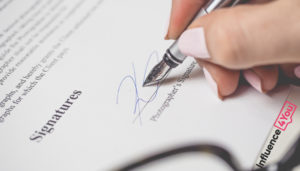 3. Quickly Builds Trust
Influencers have built relationships, trust, and credibility with their audience; hence their audience trusts them and respects their content and recommendations. When influencers will publish your brand's products on their social media account by putting your message in front of their actively engaged audience, you'll soon gain their attention.
Plus, some influencers share their real-time data with the brands on the platform which allows you to make the best-informed decision prior to a partnership. On influencer marketing platforms like Influence4You, you can like the reviews and the ratings the influencers have received based on their previous collaborations and the percentage of fake followers one may have.
4. Access to affordable influencers.
In a marketplace, there are many new content creators who have just begun their journey as an influencer whom we segment based on the number of followers they have like, nano-influencers (1k – 5k followers), micro-influencers (5k – 20k followers), and mid-size influencers(20k – 100k followers).
These influencers are affordable because influencer pricing varies based on several factors, one of them being the number of followers. Typically influencers with smaller following are more affordable. This is especially helpful for emerging brands with tight budgets that may not be able to afford to work with popular influencers.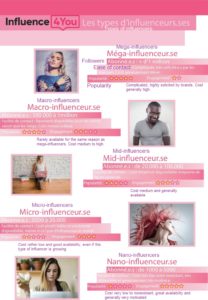 5. You're can find specific influencers for very niche campaigns.
To run a variety of different influencer marketing campaigns, brands require a distinct group of content creators. Because of advanced search capabilities, influencer marketplaces are a great tool for finding niche influencers.
For example, ZARA wants to run an influencer campaign for women's clothing and accessories, other campaigns for men's clothing and accessories, and another campaign for ZARA home. In this case, ZARA needs to find Top influencers in Fashion (female), Top Male Fashion Influencers, and Top Home Influencers, and searching influencers on social media among 100M+ profiles manually is a hectic job and you will spend hours. This is where the marketplace comes in where you can easily search by demographic, audience interests, keywords, and more.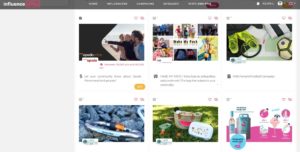 The Drawbacks of an Influencer Marketplace
1. Offering mediocre campaign incentives
In the influencer marketplace, influencers can see obviously see other brands' campaigns. If you don't have good incentives for influencers to join your influencer marketing campaign, you could lose a good influencer to another brand with a more appealing offer.
If you're not getting any influencers applying to your campaigns, consider reworking your reward model. For instance, if you're only offering free products, it's possible you may need to offer payment or reduce the amount of content you're asking for — especially if your products aren't of high value. Remember, influencers want to be compensated fairly.
2. Investing in a platform with additional fees
Some influencer marketing platforms act as a "middleman" and charge fees or take commissions when a brand and influencer collaboration is done. This not only costs more but also takes away from your influencer's hard-earned wages.
We recommend doing your research and subscribing to those platforms that don't allow you to own your right to influencer relationships. For instance, once the brands have subscribed to the Influence4You marketplace, we neither take a commission from influencers' earnings nor apply any other additional fees, which means your influencers get their full paychecks.
Take Advantage of an Influencer Marketing Platform for Multi-Channel Discovery
Influencer marketplaces are an excellent way to find the right influencers for your brand, and using an influencer marketing platform is the best way to reach influencers on all social media platforms.
Just like when you do research about the influencers, it's also important to do the same in-depth research of each platform before you subscribe to it. Look for an influencer marketing platform that has:
Advanced influencer discovery tools
A true influencer marketplace, where influencers and brands can find each other.
Ongoing relationship and campaign management
ROI and conversion measurement tools
Variety of FREE chrome plugins/ extensions.
Fake influencer detection
To get started with Influencer marketing you can begin with Influencer Platform which will provide you with key insights and support on your way.
You can also watch the video on how to use our platform:
And if you want to collaborate with big or star influencers, don't forget to get advice from an influencer agency!
Now you know how to launch an influencer campaign! Don't hesitate to contact us.