5 TikTok Trends to Keep an Eye on in 2022
For the past two years, TikTok has been the centre of attention for a lot of people. Agencies, governments, influencers and social media experts are all looking at this new phenomenon that has come from China and broken all records. If you thought that in 2022, TikTok was going to give up its spot, you were wrong. The app still plans to make a buzz.
Let's take a quick look at the history of the application to see what it's all about. Bytedance launched this new platform in 2016, then called Musical.ly. Its winning formula? Encourage users to make short videos with background music. The first users danced and lip synced before giving way to a new generation of TikTokers ready to make this new environment a social network for everyone. Throughout the successive lockdowns, the number of users has continued to grow. Brands have also found it worthwhile to be on TikTok. Recently, Starbucks and LinkedIn tried their luck, which proved to be more than conclusive.
In terms of numbers, TikTok is second to none. In September 2021, ByteDance announced that it had reached the milestone of one billion monthly active users worldwide. For comparison, Instagram reached that same milestone eight years after its launch, six years after Facebook bought it. According to a study conducted at the end of 2021 by Cloudflare, TikTok was the most visited site in the U.S. over the past 12 months. In 2020, AppAnnie revealed that the application is the most downloaded worldwide.
To learn more about how the platform works, feel free to download our guide '50 creative ideas for your influencer campaigns on TikTok' which is available free of charge!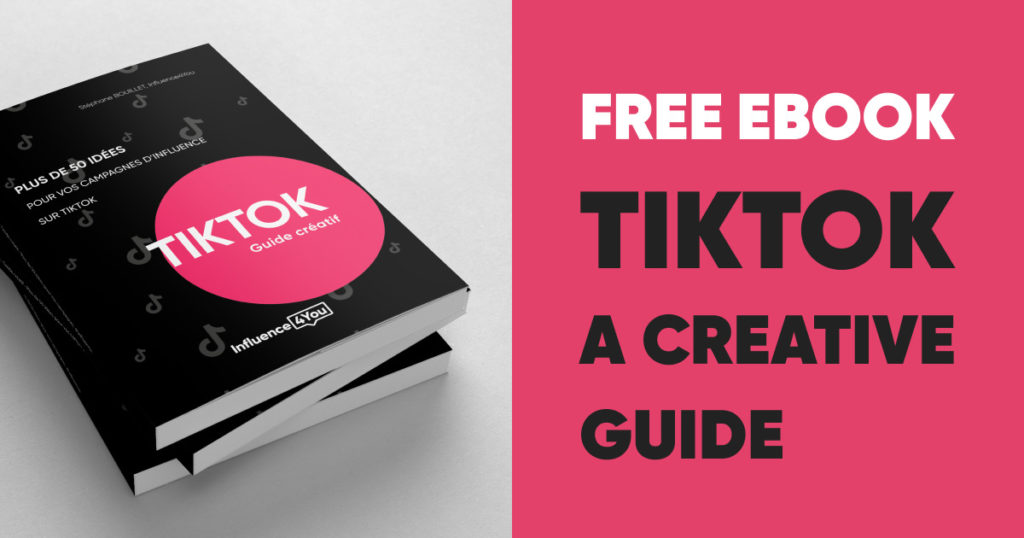 And in 2022, what can we expect? While it is difficult to say at the beginning of this year if TikTok will once again break records, we can at least share with you the main trends that'll emerge on the social network in the coming months. We've chosen to share five that we feel are the most important.
Top 5 trends on TikTok in 2022
E-commerce on TikTok, a new challenge for brands
With the number of users and video views continuing to climb, TikTok has attracted in recent months a whole new profile: advertisers. By marketing on the platform, they can reach a young target that is difficult to reach for many companies. To make their job easier, the ByteDance team has developed a whole range of tools to create impactful ads. Brands rolled with it by creating videos with lots of effects or by launching challenges with influencers.
While all this strategy seemed to be paying off, TikTok quickly understood that it was missing an key element for its development: e-commerce. Since 2020, social commerce has become a priority for many social networks. Instagram, for example, launched its Shopping feature to encourage Instagram stores to promote their products on the platform. And what about TikTok?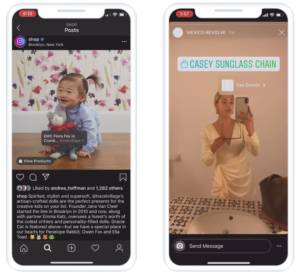 In the summer of 2021, the app announced TikTok Shopping. This allows businesses collaborating with Shopify (who TikTok has been in partnership with since October 2020) to create online stores on the social network and refer users to an external page. This is good news for brands that want to run marketing campaigns to sell more to Generation Z.
These users have already become accustomed to going on TikTok to look for products. The hashtag #TikTokMadeMeBuyIt, which lists videos where people share their latest purchases, has over 7 billion views. According to data shared with American companies and obtained by the New York Times, 18-24 year-olds consume an average of 233 TikTok videos per day and spend 14% more time on the app than Millennials.
The parents of these children are also interested in the platform. 48% of Generation Z mums are on TikTok. Women between 25 and 34 years old spend an average of an hour per day on the app. These figures should interest a lot of companies and prompt them to think about e-commerce strategies.
To learn more about e-commerce, download our special guide Live Shopping and Influencer Marketing for free.
TikTok Livestreams
The second trend to keep in mind is that of livesteams. Late last year, the application announced the development of TikTok Live. Users can now hold livestreams on the app. ByteDance also added 'Live intro', a way for users to briefly outline what they'll talk about during their livestreams via a short description.
With its livestreams, TikTok also wants to compete with already well-established platforms like Twitch. The application announced the creation of TikTok Live Studio, still in test phase. Once downloaded to your desktop, this Windows programme allows you to log-in to your account and hold a livestream. Users can chat with their viewers via a chat feature and stream content from their computers or phones. According to a report by TechCrunch the global launch of this trial is not certain.
However, TikTok knows how much this live feature needs to be further developed. Since the lockdowns, many companies have become accustomed to livestreaming to discuss or share unedited content.
This is the case of AquariumofthePacific. Each week, the team holds a livestream to share what goes on behind the scenes at the aquarium.
Another example is Netflix. For the release of The Kissing Booth 3, actor Joel Courtney watched the trailer live on TikTok and reacted to the comments.
Livestreams on TikTok are a way to get a little closer to your community and create original content.
TikTok's algorithm always wants more videos
The development of these two features highlights TikTok's ambitions. The team is increasingly encouraging its users to share more. To satisfy the algorithm, content creators make sure to post several pieces of content per day. It can be hard for them to take holidays and see their statistics drop. To prevent this problem, some have come up with strategies.
Even though TikTok now offers the ability to create 3-minute long videos, users prefer to focus on short videos. If they have a long story to tell, they break it into parts. That way, they can post in stages, gaining three pieces of content from one. This strategy also encourages those who come across these videos to watch all three, to visit their profiles to find out more and perhaps to begin following them.
A second strategy that proves that the more content the better is the reposting of a video. A few weeks ago, TikTok began to offer its users this new feature.
Some TikTokers have begun to experiment with this feature. For example, by re-posting videos that were put online the previous year. Many followers don't notice, as they've either not seen all the videos, or have just forgotten some of them. But there's no point in reposting recently published content, for example.
Always having content ideas can become difficult as the months go by. Don't forget these techniques if you're in need of inspiration.
How to create engaging videos on TikTok?
While TikTok's algorithm loves to have more and more content to consume, it also enjoys seeing engaging videos. This means that the more people comment or react, the more likely that content will be promoted.
Frequently asked questions
To help content creators and brands develop ties with their community, TikTok has designed different tools. For example, there is the frequently asked questions feature. Followers can ask questions in the comments and influencers respond by video.
Duets
Tools such as duets also allow users to communicate with their followers in a few clicks. This concept consists in taking a video from another creator and commenting on it or making different content from it.
Editing
Another method: use editing to encourage your followers to leave comments.
These different ways of communicating with your community are important to TikTok. "The TikTok community is an endless source of inspiration and creativity," said the team at the end of last year. Over the next few months, the application wants to create more ties between those who create and those who watch.
The challenges launched by brands over the years exemplify this desire for participation. Companies think up a scene and users recreate it.
Niche content not to overlook
Finally, we want to talk about niche content. There's more on TikTok than on any other application. You just have to know where to find it. In 2021, some of this content experienced a quick and sudden surge of interest on the app, which helped users to come across it.
WitchTok and ArTikTok/TikTokArt were two niche hashtags that are no longer niche. The former has more than 22 billion views and the latter 11 billion. They talk about witches, books, drawings and make-up. Content creators from other platforms such as Instagram or YouTube have come to discuss these themes to make themselves known.
Even more surprisingly, topics like the stock market have found an audience on TikTok. The StockTok hashtag has gathered 1.7 billion views around this theme, as has FinTok which has over 500 million. Content creators have made it their specialty, such as Queenie Tan who shares tips and popular content about marketplaces. She has more than 100,000 followers on her account.
Nevertheless, while TikTok appreciates seeing many interests find their place on the platform, the team is holding back some of them. For example, the platform has banned users from posting sponsored content about cryptocurrencies and investment services.
Conclusion on TikTok trends in 2022
With these five trends, you can understand a little better TikTok's strategy in 2022. However, there is an essential element missing in what we've shared with you: monetisation. While a little more than a year ago, ByteDance was happy to have created a fund for influencers, today, the team is less generous.
This monetary fund of 60 million euros pays very little to content creators.
To prevent them from focusing on other, more lucrative platforms, TikTok has announced the rollout of Creator Next in December 2021. It's a "range of tools to reward the creativity and passion of creators that make TikTok the global community it is: a unique place where culture begins and creativity knows no bounds."
Here, users can find a tip feature. Followers have the opportunity to reward creators for their "service". 100% of the amount goes to the recipient. An expansion of live gifts is also planned.
Finally, the TikTok Creator Marketplace has expanded to profiles with more than 10,000 subscribers. "In addition, ByteDance took an interest in NFTs very early on when it came up with TikTok Top Moments. TikTok NFTs allow creators to be recognized and rewarded for their content, and for fans to own a culturally significant moment on TikTok. NFTs will be available on Ethereum and will be powered by Immutable X, which uses StarkWare's innovative technology to create the first carbon-neutral Layer 2 scaling solution for Ethereum," the application states.
In any case, even if it's always reassuring to know the next developments, TikTok will undoubtedly have many surprises in store for 2022.
To supplement your reading, check out our article '20 influencer marketing trends for 2022′!
Are you an influencer? A Tiktoker? Sign-up to our platform for free to find your next collaboration!
Are you a brand or an agency? Get in touch to launch your TikTok influencer campaign.