How to Run a Successful Instagram Contest
You probably see new contests popping up on your Instagram feed every day. How can you organise one as a brand or influencer? Influence4You reveals all!
Why bother running Instagram contests?
Before you find out how, we'll explain why you should run contests on Instagram! Most brands or influencers who run contests on Instagram do so not just for the pleasure of treating their followers but for other strategic reasons:
Boost your visibility and gain new followers. In fact, according to a study conducted in 2021 by the app Tailwind, Instagram accounts that regularly hold contests increase their audiences 70% faster than those that do not. A great opportunity to get new followers!
Increase your engagement rate on Instagram. We can't emphasise this enough: engagement is key to the photo-based social network. Instagram's algorithm promotes profiles and posts with the most engagement (likes, shares, comments, saves…) because it means that your content is interesting and will be of interest to other users. According to the same Tailwind study, 91% of Instagram posts with more than 1,000 comments are those related to a giveaway or contest! Contest or giveaway posts receive on average 3.5 times more likes and 64 more comments than regular posts. Great for beating the Instagram algorithm!
Thank your most loyal followers and re-engage inactive ones. Contests are always seen as a great way to reward your most loyal followers. Those who've not reacted to your most recent posts, as they no longer see them because of the algorithm, or because they follow too many accounts, may want to interact with you again by entering the contest.
So have we piqued your interest? Then let's get started with the key steps for successful Instagram contests.
Decide on the prizes to be won
This is obviously an essential step! You need to choose the prize you'll award the winner of your contest, even before determining the rules. The larger and more valuable the prize, the more followers and visibility you'll gain. It also allows you to ask your current followers or potential followers to take more steps to participate. If you're a brand, you can offer to win your latest addition, or a gift voucher to be spent on your e-shop or in store to create an event. You can also offer to win an invitation to an event. For tourism and hotel industry players, it can be a great idea to offer a stay at your destination or hotel nights, for example.
The good thing is, you can choose whatever prize you want. If this is your very first contest, perhaps go for a 'small' prize so that you can get a feel for it before you try something more elaborate.
You can collaborate with several influencers, or brands or both to maximise the possibilities in terms of audience. For instance, two mega YouTubers, ZHC and James Charles collaborated to offer custom iPhones to win in a giveaway. These "custom" iPhones were nothing elaborate, simply decorated and customised by hand. All viewers had to do to win them was follow both of them on Instagram.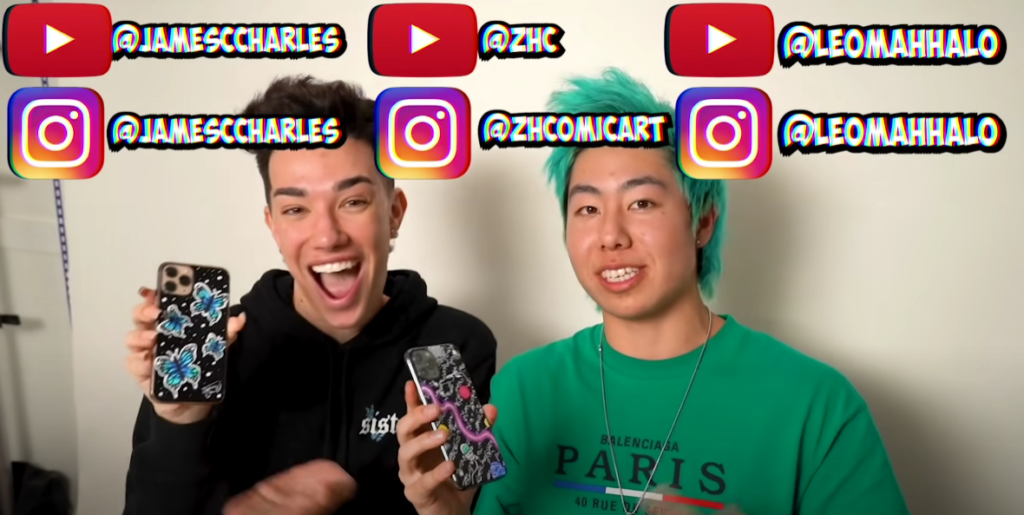 The idea of this giveaway was very simple but no less effective! A great way to boost your engagement that shows you don't need to offer the moon to earn followers.
If you don't want to make things by hand, some products or services can also work very well! Do as you can, and don't hesitate to check out what others in your sector are doing.
Decide on the aims of your contest
Why are you running an Instagram contest? Would you like to gain lots of new followers? Do you want to focus on the engagement of your account? To say thank you to your most loyal followers? A combination of these? It's important to know why from the outset as there are lots of types of contests, and your choice will largely depend on your objectives.
We'll now look at the most popular Instagram contest types, but feel free to choose whatever works best for you. With contests you'll ask your followers to take one or more steps to participate and have a chance to win! The clearer the rules are, the more likely your contest will succeed.
Like and tag friends
The most popular type of contest for both brands and influencers. Here you ask users to like the post and follow your account (if they are not yet following) and that of any partners to participate. Brands/influencers often also ask the user to tag one or more friends in the comments. Users find this type of contest very simple and easy. However, this type of contest does not always guarantee a lot of engagement.
As a bonus, you can ask users to share the contest in their story to get an extra chance to win. We recommend you keep this optional, as some users might not wish to share their contest entries.
Better comments?
If you want more interaction with your audience, you can include all the previous steps (like + follow + comment) and add a little extra. Instead of tagging a friend to participate, ask them to say what they like about your brand, what they like about your account, or what product they like best. Ask them why they'd like to win the contest. These open-ended questions will further increase your engagement.
Want a little tip on how to boost the engagement on other posts on your Instagram?
Ask users to like the last 3 posts or comment on their favourite post in your feed for an extra chance to win! This'll allow you to increase the likes and comments across your profile!
Creative contests
Here you ask people to do something creative for you. This may be taking a picture of themselves with their favourite product or under a given theme. For this, we recommend that you create and share a hashtag. This type of contest allows you not just to generate engagement, but also content for your brand or page! By asking participants to tag your page, the photos will appear in the dedicated tab on your account. This can provide you with lots of content.
As this type of contest is more time-consuming than a simple comment, we recommend you pick a prize of slightly higher than average value. Indeed, users aren't likely to spend a lot of time creating content for a prize worth ten pounds!
Contest rules
Have you decided on what you want to offer and what you want to achieve in terms of engagement and content from users? Here are some rules to follow for a successful contest and to comply with regulations.
Clearly state the conditions for participation:
In your post you'll need to include clear step-by-step instructions for participants.
The time frame of your contest: you need to specify a start and end date.
The date of the draw and the date the winners will be announced: to be transparent with your community, we recommend that you include the date of the draw or winner selection and the date the winner will be contacted and announced.
The geographical area covered by your contest: does the contest include the whole country? Or just a particular region? You need to make this clear in the rules for participation.
Age of participation: even if it seems obvious you should include it. Just a line that you must be of age to participate!
Legal notices
Since 2014, it is no longer necessary to file the rules and regulations of your contest officially. However, they must be freely available for consultation by users. You can post it as a comment, or make a dedicated page on your website with a link to consult the rules for participation. You can easily find rule templates on the Internet.
Instagram is not liable for your contest
Your post must include "acknowledgement that the promotion is in no way sponsored, endorsed or administered by, or associated with, Instagram". You can find Instagram's promotion guidelines here.
Warn participants about the creation of fake accounts
Many scammers closely watch ongoing contests to deceive other users. The scam? They copy your account, your photos and your posts and contact participants telling them that they've won your contest. To receive their winnings, they just have to pay a part of the shipping costs, or so they think. Many users are aware of this now widespread scam, but not everyone. A statement that only your page will announce the winner can prevent this problem.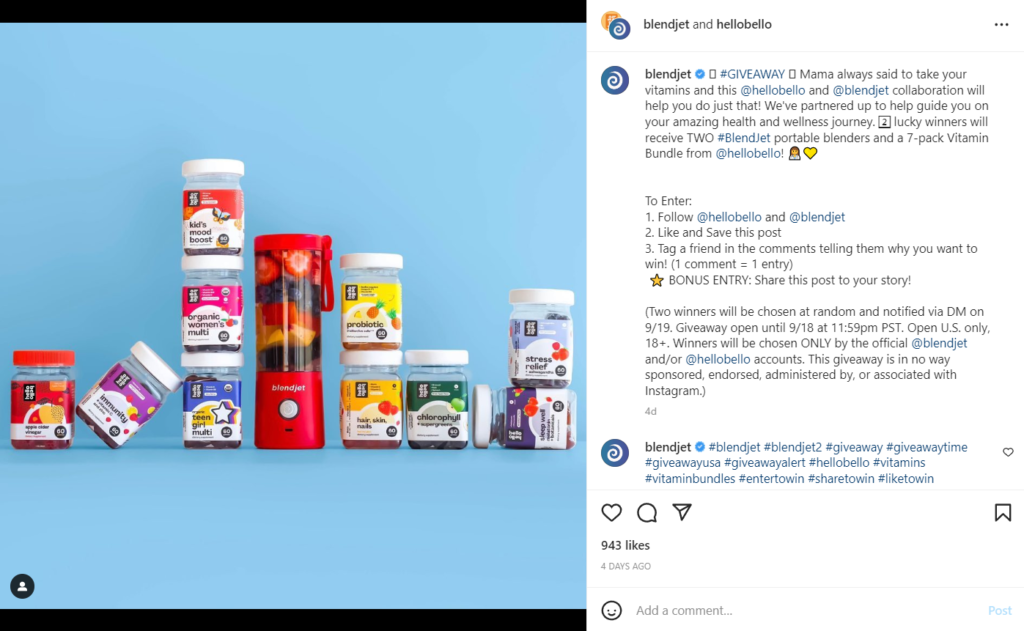 Choose how you'll decide the winner
There are three ways of naming the winner(s) of a contest: voting, jury or draw.
Voting: The post with the highest number of likes will be rewarded. This is ideal for creative contests, where people have to post a photo to win.
A jury: Choosing a panel of judges to decide on a winner works brilliantly for creative contests as this way, you can ensure impartiality.
The draw: This is the most common way of determining the winner. It is quick and easy to set up and can be done with a free app or web tool. However, if the prize has a high commercial value, we recommend that you go through a bailiff to avoid any potential disputes or claims from participants.
We recommend that you state your chosen selection method directly in your contest rules and regulations.
Promote your contest to maximise visibility
Use of hashtags
Using the right hashtags is essential to get the best visibility. Many users follow contest hashtags, to participate in lots of them. On Instagram the hashtags that get the most posts are predictable, for example: #giveaway #giveawaytime #giveawayalert #instagiveaway #contest #contestalert #instacomp #competition #prize #win #sweepstakes etc.
Boosting your post with advertising
If you've never used the sponsored post feature, now is the time! You can decide to pay Instagram to "boost your post". This'll give you much greater reach and visibility from just a few pounds. In the ad settings, Instagram lets you choose both the duration of the ad and also the size of the target audience. Obviously, the longer the duration and the larger the audience, the more you'll pay. You can start with a small amount to see if it works, before increasing your budget if needed.
Promote your contest
Do you have other social networks? Now is the time to use them to promote your contest! Don't hesitate to use your website as well. Sending out an email to your customer database might also be a good idea if you have one. Finally, if you have a point of sale, don't hesitate to invite your customers to take part in your Instagram contest!
For influencers, a daily story reminder can be a great way to get people to participate! Remember that your goal is to have as many participants as possible for maximum engagement!
Wrapping up your contest
Announcing the winner
Has your contest finished? Announce the winner on Instagram, in a story or post. This'll allow people to see when a winner has been decided! Indeed, there is often controversy around social media contests, as many users suspect influencers of organising fake contests without winners or with fake winners to avoid having to pay for a prize.
If you choose an app-based draw, feel free to share the video of the draw directly with your followers, to show you've done things legitimately. This'll help you avoid potential problems and gain the trust of your followers, both old and new.
Performance
Your contest is over, it's time to take stock! Did you reach your goals? Go to your account statistics to find out exactly how many likes, comments, shares, and new followers you gained! If you've followed all of our tips, you're probably very happy with your contest and are keen to organise another one soon!
Retain your new followers
If all went well, you have lots of new followers and you're feeling great about it. The bad news is that you'll lose a lot of them. Indeed, many accounts participate in contests and do nothing more! They follow, play the game, and when the winner's announced, unfollow to participate in other contests. Don't be too worried though as not many do this.
For the other followers gained, you'll need to make them want to stay! That's up to you! Create your best content, welcome them, ask them what they'd like to see more of and try to keep them.
Organise a contest with a specialised agency
If you'd like to create amazing campaigns and get help in creating contests for example, don't hesitate to get in touch with Influence4You, a specialist in influencer marketing and connecting brands and influencers.