How to Become an Instagram Influencer
Many influencers began by simply creating an account on Instagram one day. Some have been around for years and have millions in terms of both followers and income, others are more discreet but earn their living working as influencers on the social network. Are you thinking "why not me too" and want to get started? Influence4You tells you all you need to know on how to become an Instagram influencer.
Why do you want to become an Instagram influencer?
This is the first question you'll need to ask yourself if you want to get started on Instagram. Even before you buy a powerful camera or a ring light for good lighting. Do you dream of being an influencer so you can have a millionaire's lifestyle like the famous Chiara Ferragni? Or is it to receive free gifts? There's nothing wrong with that.
Perhaps you are also motivated by sharing knowledge, tips, and interaction with a community? or do you secretly dream of being famous? It may even be a mix of all this.
It's important that you're clear on this so you can set goals and understand your desires. Indeed, there are many people that want to be influencers on Instagram. Unless you're from a successful reality TV show like many others, you're going to have to develop strategies and think hard about where you want to go and who you want to be to succeed.
What is your goal?
Would you be satisfied with a few thousand followers and recognition in your field? Do you plan on making a living from it? Would you be frustrated if you only have a few thousand followers on Instagram and not millions like the biggest social network stars? It is important to have a clear goal.
Let's take the example of ablondeinbristol on Instagram. This influencer has nearly 5.8 k followers, but her community is very active. She shares beauty and style tips and her daily life… Her posts inspire her community on Instagram, who leave likes and comments. Does she make a living from her Instagram? Probably not. However, she appears happy to receive products for review and seems to be very satisfied with them.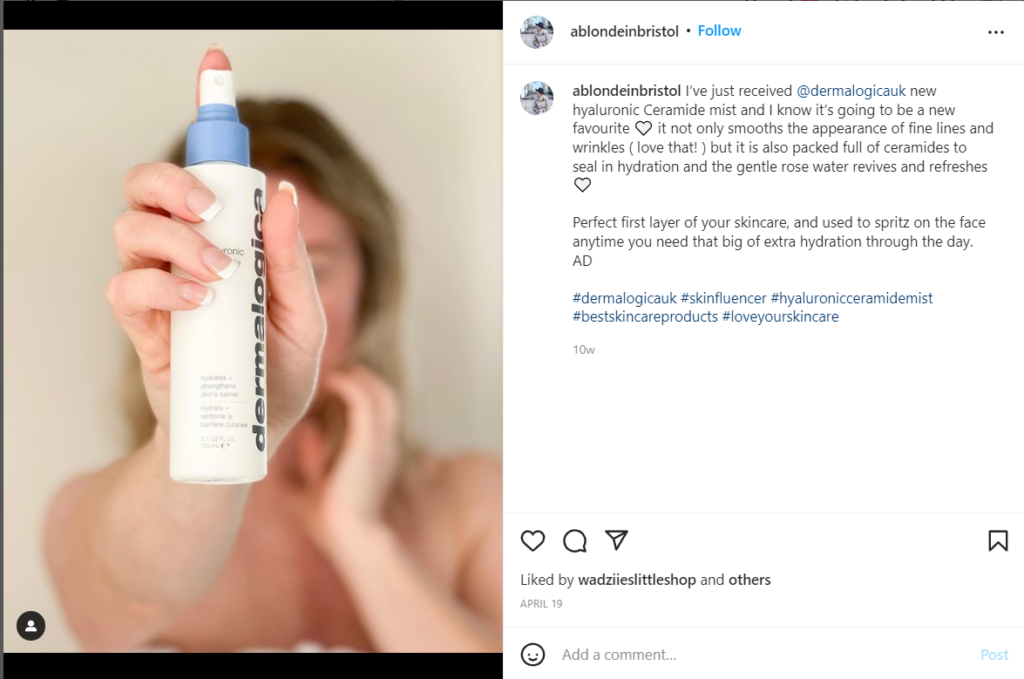 Many influencers have small communities. These are called nano influencers, or micro influencers and contrary to popular belief, they are increasingly sought after by brands, who find it difficult to reach out to the more famous influencers and target little communities. Indeed, nano or micro-influencers often have a much higher engagement rate. They have time to talk to their followers, to interact, and this proximity makes a big difference. They don't earn millions, but brands offer them many products and sometimes paid posts.
So be aware that you can be a real influencer on Instagram, without millions of followers.
What are you specialised in and what is your target audience?
Are you an expert in a particular field? Or passionate about a sector? For example, you may be a professional in the skincare industry and want to create content to share tips and advice to a community you'll create. No matter what field you choose, it is best to select a precise niche. This way the content you create will offer real added value to your target audience. One of the keys to being a successful influencer is persistence.
If you don't like what you post, you probably won't be able to post content regularly for months or even years before you are successful. There's no point in starting a car account if you don't know much about cars… It's regular, quality content that will get followers to engage and like you.
Who are the competition and what do they do?
Once you have an idea of the niche you want to focus on, don't hesitate to carry out an analysis, even a quick one, of what influencers in the sector are doing. Which posts are the most successful? Do they have a high engagement rate? What hashtags do they use? Who do they follow? This will give you a broader idea of what works. Don't hesitate to message them, you might not get an answer but it's always worth a try.
Are you OK with criticism?
Unfortunately, the more exposure you get on Instagram, the more criticism you will receive. This is part of being an influencer even if they very often speak out against it. Do you want to share everything about your life, or do you want to keep some of it to yourself to prevent people judging? You can decide to be yourself on Instagram or create a persona. In this case, it allows you to have a sort of protective barrier. "It's not me who is being criticised, but my persona" can be your mantra, preventing you from being hurt in the event of harsh criticism.
Putting it into practice
Did you manage to answer, however briefly, all the previous questions? Great, let's get to work and develop a plan for success and becoming a recognised influencer. Influence4You shares the best practices in the sector.
Learn!
No one is born an influencer and there is still no formal education available in influencing, so don't hesitate to take matters into your own hands! You can find a lot of great tutorials on the secrets of Instagram on YouTube, for example. Influence4You also shares many articles in the field that can help you.
There is no need to spend a fortune on training, there is quality content available for free on the net. One example is the young entrepreneur Jade Beason, who provides many valuable videos on YouTube about content strategy and social networks. The young woman has racked up more than 2 million channel views, which shows people's enthusiasm!
To attract people to your profile and encourage them to follow you, you'll need to have a clean and attractive feed. How do you go about this? There's no need to invest in the latest phone, a phone with a good camera will do. Perfect your photos and lighting. You can invest in a ring light for a 20–30 dollars. If you often take selfies and make tutorials, these can be really useful. You may want to do this later as it is by no means the key to success.
Taking your own photos and making your own content is essential. Don't use a stock photo that people may have seen before. Your content should offer real value. You also need to be authentic in your posts, which continues to attract Instagram users. Don't praise a product if you don't think it deserves it, and don't share opinions if you are not sure of their value. If your audience thinks you aren't genuine, you'll lose all their trust.
You can use applications like Canva to make professional-looking posts without too much difficulty. So you won't need to hire a graphic designer to create nice infographics.

How often should I post on Instagram?
To beat the algorithm on Instagram and boost your visibility, and therefore followers, you need to post at least twice per week. That's without including stories, which Instagram users are very fond of. Most experts say that two stories a day is the minimum. It may seem like a lot, but being present in stories on a regular basis AND via posts will allow you to reach a much larger number of people.
Plan your content
You don't need to plan ahead several months. But you could, for example, make a list of the topics you want to cover and schedule them on a weekly basis. This allows you to have an overview of your content. You can then adapt it if you get feedback from users, and choose to include other topics. We recommend you plan posts in advance with the help of applications or programs. For Instagram, the Preview application is convenient and easy to use.
There are many tools to make life easier for influencers. Influence4You recently shared 10 of them here.
Instagram, a social network above all
Be active on Instagram
If you want to succeed, you're going to have to spend some time on Instagram, perhaps even a lot of time at first! Find out about the latest trends and look at what other influencers are doing in the same niche as you. Be reactive if a trend emerges. Why not get in touch with other influencers and try some collabs. You can share another influencer you like's story, for example. They will be notified and you can then interact.

Maybe they'll want to do the same and share your story, which will expose you to their followers. Don't hesitate to like content from other influencers in your field!
Interact with your audience!
Respond to comments, even if they are negative. And reply to your messages if you receive them. Get users involved in your posts by asking open-ended questions or asking for their opinions, for example.

This is essential! People tend to forget that Instagram is a social network. The algorithm emphasises exchange and interaction above all else.
Be patient and persistent!
Building a healthy community on Instagram takes time. Don't be discouraged and keep going. If your content is consistent, attractive, authentic and you have a real voice, you'll make it. It's a lot of work to become an influencer, but persistence is key.
Do it with passion, self-belief and creativity. Get involved, spread positivity, and interact! Your efforts may pay off!
If this is the case, and you want to be put in touch with brands for partnerships and campaigns, don't hesitate to sign up to the Influence4You platform!