Grow your Business using Facebook Post
Facebook completes its 17 years in 2021 as the world's most popular social media. Facebook has 2.74 billion monthly active users and reaches 59% of the world's social networking population. On Facebook, 32.4% of the audience is aged 25-34.
Today, Facebook is one of the most popular social media platforms worldwide with over 2 billion active users, which is now used by brands to promote their products and services.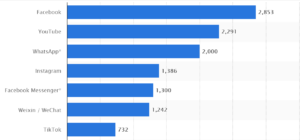 fig: Statista 2021 (in millions)
If your business is still not on Facebook, you are missing many opportunities like growing your brand awareness and reaching a wide range of audiences. Advertising on Facebook with a marketing strategy can be relatively easy with enough time and effort. You can also collaborate with Facebook influencers and launch an influencer campaign.
However, if you've never used this platform, the first question likely to cross your mind would be — How to post on Facebook?
We will now see the process of posting on Facebook, ensuring that your post attracts the attention of your audience.
Facebook Post
Brands have used Facebook posts to promote their business and reach a wide range of audiences online, it has helped them to grow brands awareness and sales. Facebook provides the largest set of audiences for your content. 
On Facebook, there are lots of different types of posts like the text and visual ones that include photos or videos are used a lot. These types of posts are free! You can use the photos or videos that you take on your mobile. 
Before we get started on how to create a memorable Facebook post with a photo or video? You must know that you should not post your business-related content on your personal account, though you can share it on your personal feed. As a brand, you must have a business account, a business page, and a business group (optional) where you can promote your products and services which will help you grow as a brand.
1. Log in to your Facebook Business account and go to the page where you want to post, it can be your business account and/or business page.
2. Click on the "post box". This box is at the top of your home page or the news feed. This post box generally has the phrase "What's on your mind?" as shown in the image below.

3. To upload a photo or a video, click on "Photo/Video" then select a photo or a video to upload and tap done, following this step will add the photo or video to your post. 
You can add multiple photos or videos to upload them all at once.

You can even skip this step if you want to post only a text post.
4. To add text to your post, tap on the "text field" to type in the text for your post. This step is important for your business if you enter text, for example, product description or your promotion details it will attract audiences and increase engagement with your post and your brand.
5. Tap

. This will bring up the following post options:-
Photo/Video

– Add more photos or videos.

Check-In

– This allows you to add an address or location to your post and a business you must add your address unless your business is limited to online.

Feeling/Activity/Sticker

– Let's you add emotion, activity, or emoji.

Tag People – This allows you to add a person or tag your brands to this post because this will put the post on their page as well.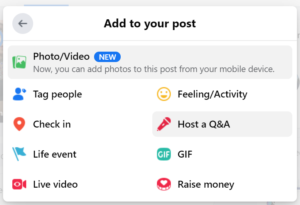 6. Visibility, As a business you should always keep all your posts "Public" since your main objective on social media is to increase brand awareness and reach a large number of people.
7. Tap on "Post" and voilà! Your post is published. Now you can share on your business pages or groups.
As we discussed earlier, posting on social media can help your brand grow online but for that, you need to be dedicated and keep posting consistently at regular intervals. You should upload engaging content which is liked by your audience. Hence, you must do your own research and understand want your audience likes; you can also spy on your competitor's content or look for content inspiration online and create various types of images or videos for your Facebook post.
But, if you think you aren't good at optimizing your social media account or if you lack ideas; You must hire an employee/ freelancer for this job or preferably collaborate with an influencer who is best in creating and posting content and engaging an audience on social media.
To find the right influencer in your niche for this you can use influencer marketing platforms to access the overview of their social media accounts of an influencer like no. of followers, average no. of engagement, and likes on a post. The brands can also get hidden information like fake followers, fake accounts, valid influencers, and others by using some well-built influencer marketing platforms.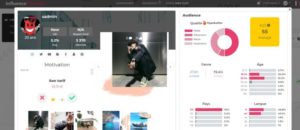 After you select the right influencer, you need to send your product and/or a promo code to the Influencer to track your expenses and to follow if everything is working well.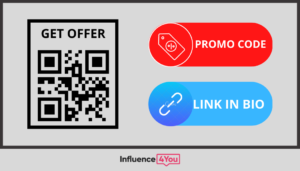 The influencer creates a publication once the product is received by them, you can validate by checking the quality of the publication and whether all points mentioned in the brief are being followed, if not, you can ask to modify or change it.
Tracking the performance is most important when you are dealing with more than two influencers. You must share different UTM tracker links to different influencers to see which influencers bring you the most traffic and help you increase sales.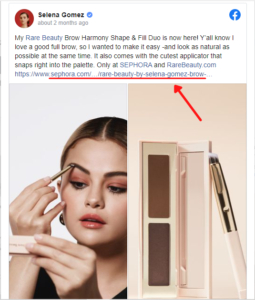 When doing an influencer campaign you must also keep a track of the engagement rate the influencer generates like the number of views, likes, comments, and shares. But this becomes easy by using an influencer marketing platform.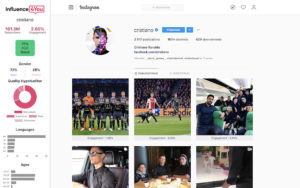 Since the beginning, Facebook has been helping businesses to grow online and reach a larger set of audience. Facebook lets you upload photos and videos of your product and services to promote your business.  It is a powerful way to communicate with a new audience and potential customers, allowing them to see your product or service without having to visit your physical store.
And for a high jump in your traffic and sales, you can always collaborate with the influencers to effectively increase brand awareness and engagement for your brand.
If you have any questions, regarding hiring an influencer who can help you grow on social media by posting on Facebook, don't hesitate to contact us.