Today, digitalisation remains a key objective for most companies. In recent years, they've had no choice but to take an active interest in their online presence. While not long ago, they weren't very interested in the web, they've since had a change of heart.
For the majority, the benefit of capitalising on the Internet, blogs and social media is clear. 63% of companies with more than 20 employees see digitalisation as an opportunity. According to a study by ACSEL published in June 2022, 96% of retailers with more than 20 employees have adopted a digital strategy and they're more than happy with the results. 69% of their turnover comes from this new activity. As of 2021, 41% of marketers believe that digital is making up an increasing large part of their turnover.
Entering the digital space offers companies the opportunity to work on new strategies, but that's not all. For 50% of them, it is a matter of securing or safeguarding their activity. This is a 2% increase compared to 2020.
While the figures speak for themselves, digitalising isn't as easy as clicking your fingers. Companies need to come up with digital strategies to achieve their goals. And today there's something else to take into account. If everyone's racing to get on the web, how do you stand out?
Influencer marketing and digital strategy – the perfect combo
There are several ways to go about this. One of the most popular ways that draws in lots of advertisers is influencer marketing. This strategy has been around for over 10 years, but hasn't won over everyone just yet.
For these types of campaign, companies leverage the reputation of content creators and their know-how to reach their target audiences. This could be an age group, a more specific target or a group that likes the same kinds of activities. The ways in which influencer marketing can be used have grown over the years. Far broader than just Instagram, you can now use TikTok, YouTube, Twitch or even Pinterest to appeal to an increasingly wide range of communities. The formats are also numerous, whether photo, video or live.
While not all companies have yet jumped on the influencer marketing bandwagon, those that have seem to be happy with their decision. 90% of those surveyed for the AFFDE study are fully satisfied, meaning that budgets continue to grow. Between 2021 and 2022, 66% of marketers decided to increase their share and place more trust in influencers.
Why do companies make use of influencer marketing for their digital strategy?
Influencer marketing objectives can vary, but most often remain the same. Why do companies make use of influencer marketing for their digital strategy? Because launching on social networks and more broadly on the Web clearly meets very specific needs for companies. The first of these appears to be related to brand image. For half, influencer marketing is a tool for working on their image. 42% want to generate more sales and 39% want to reach a wider audience, and become better known.  In general, acquiring new customers is the primary objective.
Leveraging the right influencer marketing tools
By using these digital strategies coupled with influencer marketing, marketers can get data on each of their activities. A lot of data is freely available on social networks for them to analyse their performance. Engagement rate, conversion rate, click-through rate, number of new followers, coverage… The list grows as social platforms evolve and offer new opportunities.
To get a better grasp of this data, companies are getting outside help. According to ACSEL, 40% have turned to platforms like this to get verified data and analytics. That's 12% more than last year. 12% have invested a larger budget in these tools.
On the one hand, companies save valuable time on their reporting, which is generated almost instantaneously and automatically. On the other, these features give them quite a lot of scope for development. This allows them to focus fully on the form and content of their partnerships. These tools also allow them to better understand their customers and how they interact with the brand. 76% of companies believe that digital tools are essential for in-depth knowledge in this area.
By leveraging influencer marketing campaigns, all their main goals can be reached. Thanks to the interactions between influencers and their communities, brands have a clear idea of the questions their target consumers have about a product.
Moreover, having a complete influencer marketing platform is a real asset for companies. Influencer marketing is a time-consuming affair that requires a dedicated organisation for a worthwhile ROI.
Influence4You offers a complete influencer marketing platform to help you manage your campaigns!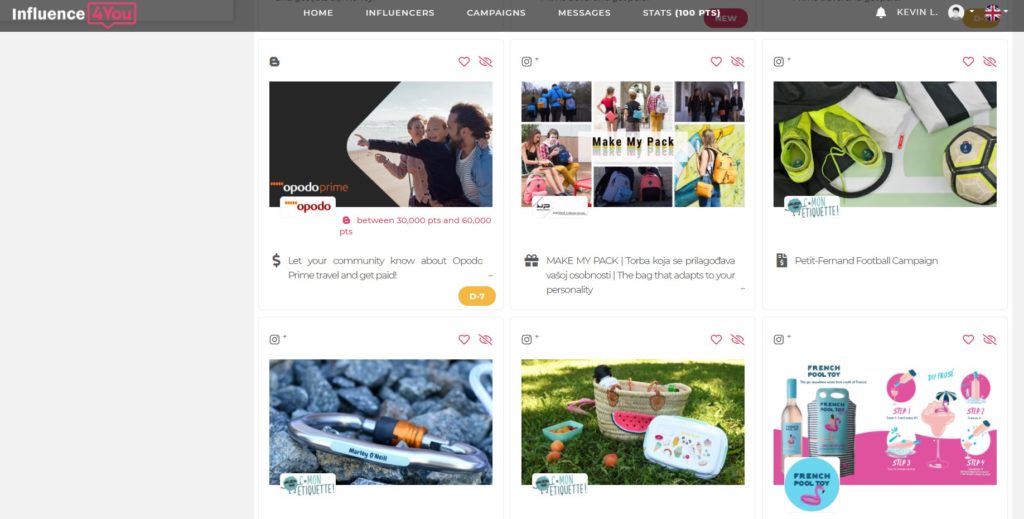 Companies have all the information they need to sell more thanks to our tools. As for social commerce, each social network is developing and working on its own offer. With content creators, companies have the opportunity to give their product even more visibility. Influencer marketing is gradually becoming an essential part of any digital strategy, and it's no surprise!
Well, what are you waiting for?
If you'd like to create your next influencer campaigns , don't hesitate to get in touch with us

Sources: