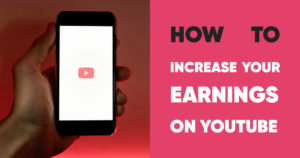 How to Increase your Earnings on YouTube?
On YouTube there is not just monetization through advertising, collaboration with brands as an influencer or affiliation to earn money. There are many monetization drivers you can put in place to increase your revenue. Here's our overview.
Sell your own products
You may have already promoted another brand's product, either as part of a collaboration or on an affiliate system. Why not create your own products so you can directly control the margins and profits generated?
Many of the top YouTubers have already launched their own product line, for example makeup for beauty experts, but you don't have to go that far to begin with. For example, you can come up with simple printed t-shirts, mugs, or other gadgets that you like and that suit your branding. You'll be able to promote them directly in your videos and sell them. Some specialized sites like Spreadshop offer blank online products to customize, and already ready to integrate.
Some YouTubers also use dropshipping to sell a product without having any stock. However, be wary of this technique, which is currently being criticized by many Internet users. If one of your loyal subscribers buys a product from you, it means they trust you. If they receive a package from a Chinese supplier that's easily found on Chinese trading platforms, you'll lose all credibility with your audience. Choose items that are already available in France or in Europe and work with serious suppliers.
To make a real difference, you could create your own handcrafted products if you feel like a designer or choose to have them made by specialists.
Example of the YouTuber Magnus Ronning
Let's take the example of the YouTuber Magnus Ronning on his YouTube channel. With his 230k subscribers on YouTube, he also has an online store where he sells several products related to his activity.
How to create a store on YouTube?
In any case, to create a store on your YouTube channel and sell your products you'll need to create a YouTube shopping store or "merchandising section".
Use crowdfunding for financing
Crowdfunding is a great way to bring your idea to life. If you have an audience of fans, you can rely on their support to get your projects off the ground. Crowdfunding is very often used by YouTubers who travel around the world, for example. This allows them to continue to travel and offer videos of far away places to their audience, fond of adventures. You don't need to travel around the world in a van to get financed either, you can talk about your plan to create a clothing line or the need to buy more efficient equipment. The important thing is that your idea generates enough excitement and engagement for your community.
The most successful crowdfunding projects are often those that include original videos in their presentation. Take advantage of your content creation expertise to get noticed on crowdfunding platforms! You can use the funding platforms Kickstarter or Indiegogo for example, although there are many others.
Receive donations from your audience
A bit like crowdfunding, rely on the support of your community and your audience to receive donations and support your projects!
Some people are skeptical of this idea, but think of it more as a fair way to get a return from your subscribers. If you publish a lot of content, and if it's useful to your community, wouldn't they be willing to pay you to keep it going? Some YouTube viewers no longer watch television or pay for cable channels but follow YouTube or social networks as their only source of entertainment. So a viewer might be willing to support his favorite channel, right?
Don't hesitate to thank your supporters by namedropping them at the beginning or at the end of the videos, this will make them feel valued and give meaning to their participation. Here are some tools to help you receive donations from your audience:
Tipeee: It's a platform for influencers and content creators like you. People can discover your work on your Tipee page and give you one-time or recurring tips, by content or by month, as they wish. The platform boasts more than 25 million dollars collected and 16 dollar "tips" on average. Enough to make your income take off! 
Patreon: A subscription platform. Unlike Tipeee seen above, Patreon allows content creators to live off of their fans' subscriptions, and therefore not necessarily depend on advertising or partnerships. The platform offers the chance to provide your subscribers with exclusive content or personalized interactions based on their level of engagement and subscription. What better way to excite your community!
YouTube Super Chat: YouTube Super Chat is a tool that allows you to collect donations from your audience during your live broadcasts. They can send you money by choosing an amount of their choice with the "buy a Super Chat message" feature and highlight their comments and contributions during the live broadcasts.
License your videos
If you are a talented video creator, you can certainly consider licensing your videos to online media. TV or online media or even other websites and content creators might be interested in buying a license from you to distribute your content.
Note that no one will buy your vlog videos, where you talk on camera. This source of income is more for creators of documentaries, humorous videos. Videos featuring animals are also very often appreciated.
Don't hesitate to check out marketplaces such as Juken Media to publish your content and get potential customers willing to pay to broadcast your videos.
Promote your content on other platforms
To increase your visibility and consequently your income, don't hesitate to publish your YouTube videos on all social networks. Facebook, but also Twitter are excellent tools to make a publication go viral. And that's what you need to increase the reach of your content, gain subscribers and therefore increase your revenue from advertising but also from partnerships. Remember, the more subscribers, interactions, and level of engagement you have, the more you will be able to charge the brand partners in a collaboration. The more money you earn from advertising revenue, the more you will earn from affiliate marketing if that is a compensation technique you have enabled.
To be assisted in all your activities as an influencer, to be put in touch with brands, to have access to interesting campaigns and to discover all the development drivers for your YouTube channel, don't hesitate to join the Influence4You platform.