How to Collaborate with Brands on Instagram, TikTok and YouTube
As a content creator, whether you're a beginner or experienced, it's always worthwhile collaborating with brands. Whether that's to get free products to test in your field or to get paid. So how do you go about getting collabs with brands on social media? Influence4You reveals all.
Content is king
We can't emphasise this enough. If you want to collaborate with brands, you'll need to perfect your content. Post very regularly and be active with your community! We talked to you about how to become an Instagram influencer in this article. This is true for all platforms: if your content's good you'll attract good followers. And once you get good followers, you attract brands for collabs!
Types of collabs between brands and influencers
There are many types of collabs between brands and influencers! Let's check out a few of them.
Brands often have products that they're ready to send as part of public relations. This is very often the case in sectors like beauty, fashion, food and video games. This is one of the most common types of influencer marketing campaigns. In addition, sending products is part of press relations and so does not fall within the scope of product placement under the law. This means that the influencer is not required to disclose the partnership, as it is a gift with no obligation. Brands do, however, often appreciate unboxing stories or a post if the product is worth talking about.
You can read more about the legislation in our article 'Brand and Influencer Partnerships: All You Need to Know About Regulation in Spain, Germany, Italy, France, Belgium, UK'.
Brands can also pay influencers to talk about a product in a post, video, or other publication. In this case, the date and type of publication should be agreed on in advance. Brands also often offer personalised promo codes for influencers and their communities. These codes allow you to offer discounts to your followers whilst measuring your performance.
This form of partnership is particularly popular with make-up brands. The influencer receives a new product to test with their community. They'll then showcase it and demonstrate its effectiveness. Brands will often provide you with all the details to show your audience how to use the product correctly.
Very popular on Instagram, collaborating with an influencer in the form of a contest can bring many followers and profile views. For both the influencer and the brand. Indeed, in order to participate, users often have to follow both the influencer and the brand. However, be aware that some participants may unfollow once the contest is over.
Here's an example of a giveaway with the blogger tatanisha_sankar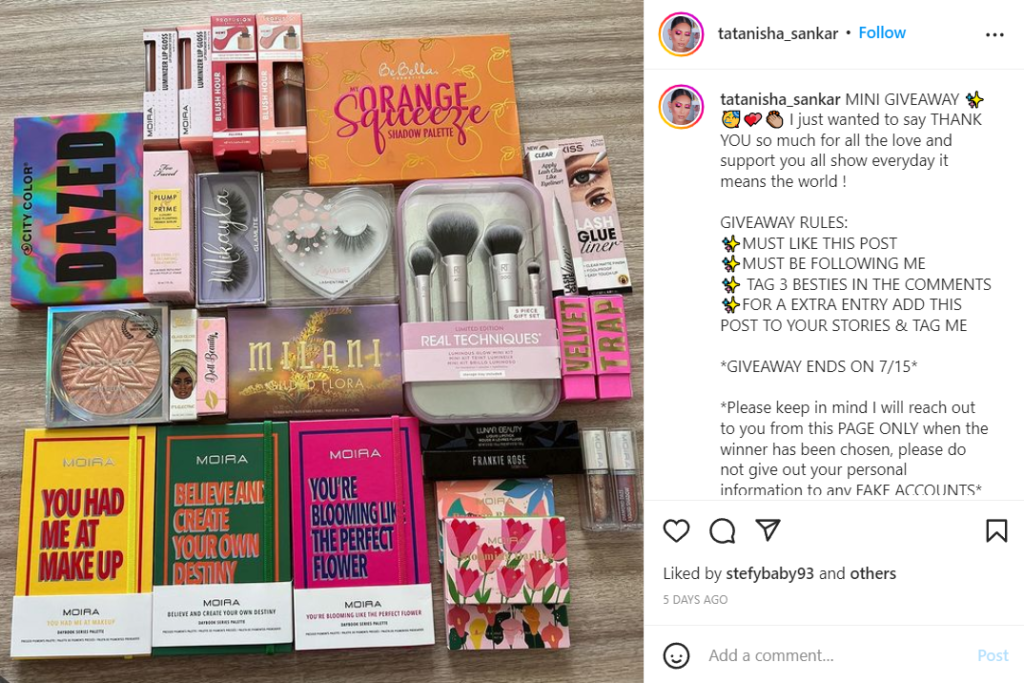 This is a form of partnership that must be remunerated as it is often a multi-stage campaign. The concept? The influencer unveils a new product or campaign gradually over time. This is a unique format, which if done creatively, can be really effective.
Brands may want to create an event for the launch of a product or service. Here they invite some influencers to share this event on social media. Instagram lends itself particularly well to this type of campaign, as you can hold lives and make stories. Events are often held in big cities, but more and more, local shops and brands decide to use local influencers for their events.
You don't have to be a travel influencer to have the opportunity to be invited on a PR trip. Brands may want to invite a few influencers on a trip to introduce a new product in a beautiful setting. A chance to pack your bags, get a change of scenery and meet new people!
Lastly, for the biggest influencers with millions of followers there are account takeovers (where brands hand over their accounts to influencers temporarily) and capsule collections. This involves creating an entire product or collection for the brand.
To learn more, feel free to download our free ebook "The Secrets of Influencer Marketing: 87 ideas for your influencer marketing campaigns".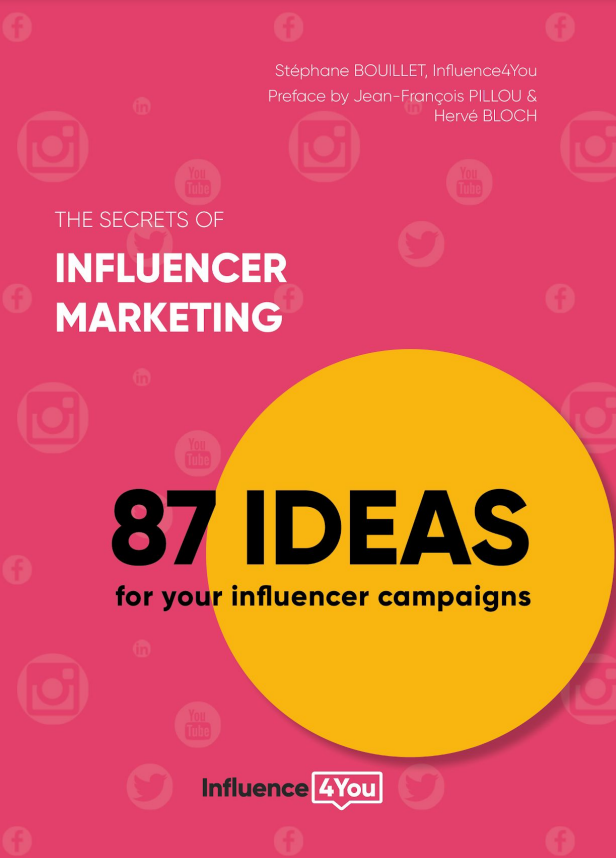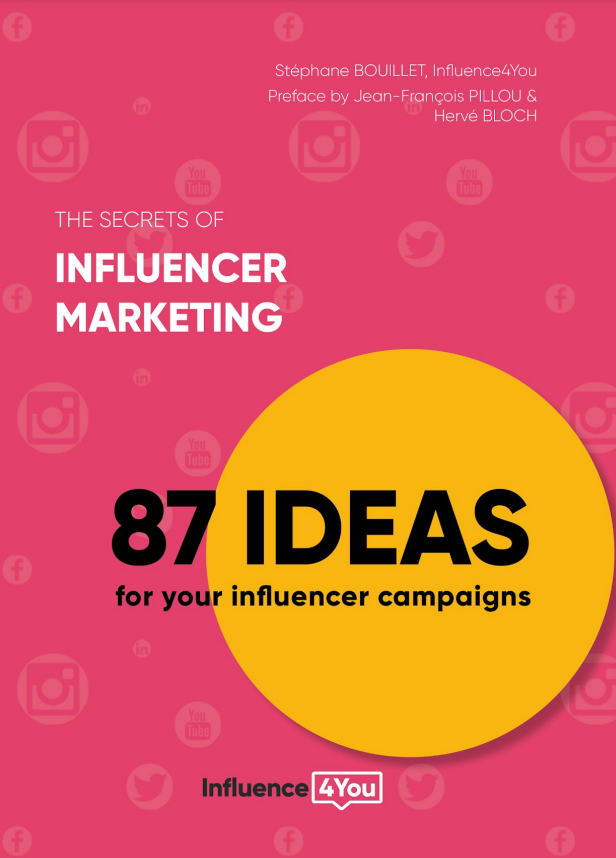 Identify the brands you like
There are sure to be brands you like and would like to collaborate with on social networks. Start by checking out their accounts, and see which influencers they collaborate with. Are they only mega-influencers with millions of followers? Or does the brand opt for influencers with similar communities to yours?
It's also worth looking at how many followers the brand has on the social network you are active on. If a brand only has a few thousand followers, they may be more open to working with influencers to gain exposure and followers and/or sales.
Look at what your "competitors" are doing
Have you found several influencers in your niche? Follow them, look at their stories and posts and see who they're collaborating with. If a brand has sent them a product and you have more or less the same number of followers, chances are that the brand has not noticed you and by sending a quick message they'll add you to their PR campaign!
Contact brands directly!
Either way, don't hesitate to send a message straight to the brand you're interested in, or to one that is already collaborating with other influencers similar to you. Hopefully you'll get a positive response!
Look at your followers
There may already be a small brand ready to work with you that follows you but hasn't yet reached out, so don't hesitate to send a nice message introducing yourself.
Use the services of an influencer marketing agency or platform
As you can see, contacting brands directly can be very time-consuming, which isn't ideal when you have content to create and perhaps another activity on the side.
Influence4You allows you to be put in touch with brands for campaigns with ease … all you have to do is sign up to the platform!. No need to go looking for collabs, they're just a click away.