How to Include Influencers in Your Marketing Mix
Including influencer marketing in your overall marketing strategy is a great way to promote a product or a service. In this article we'll tell you all you need to know!
Quick communication
So your product and positioning strategy are ready and your target properly defined. Now all you need is to quickly gain customers as products must be profitable in order not to endanger the financial health of the company. There is one key element every marketing mix must include: It's marketing communication, of course!
In the age of the Internet, everything is available at a click of a button, even if it is on the other side of the world. Making your product, your service or your company known to your target is therefore crucial. What better than social media and influencers to achieve that goal?
The power of social media
On average, web users worldwide spend 2 hours and 27 minutes per day on social media. While Nigerians and Filipinos spend more than 4 hours on average per day, Brits and Americans are not far behind at nearly two hours. In the UK, there are 57.6 million active social media users, making up 84.3% of the UK's entire population.
Facebook, Facebook Messenger, WhatsApp, Instagram and YouTube respectively are among the top 5 most used social networks in terms of monthly traffic. Instagram is the number one mobile application among 15-49-year-olds in the UK. Social networks have a very wide reach and are popular among all age groups but also all genders. Thanks to your well thought out marketing strategy, you already know your target! Therefore it won't be hard for you to choose the right social media platform for your prospective clients which in turn will help you boost your website's traffic or increase your sales.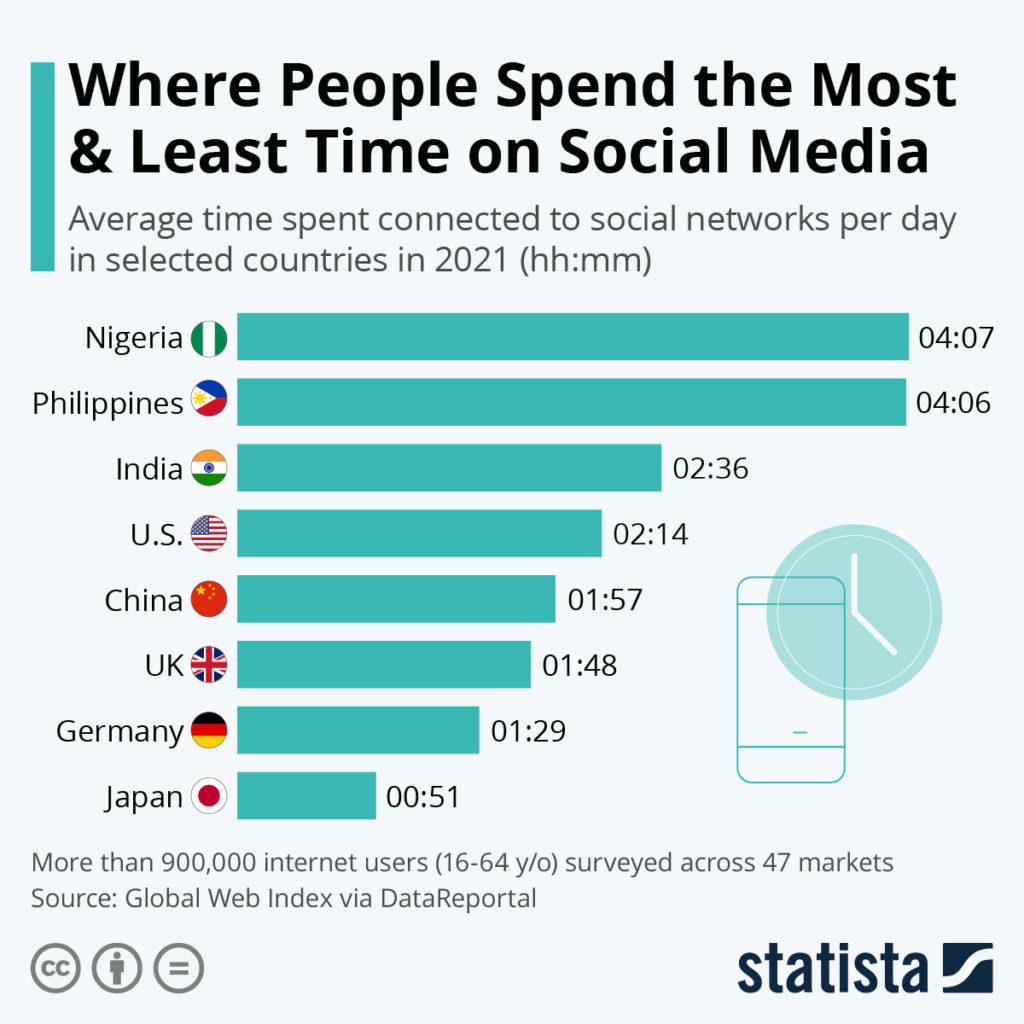 The power of influencers
The popularity of social media is undeniable. In 2023, influence marketing is THE customer acquisition channel to focus on.
According to The Social Shepherd, 61% of consumers trust influencers' recommendations. People who follow influencers tend to use social media more than people who don't. For instance, 79.9% of them have enabled notifications compared to 51.8% among all web users. This audience, otherwise known as "followers", is very active online. They share opinions on products and look up a lot of information on product launches, for example. Eight out of 10 consumers have purchased something after seeing it recommended by an influencer.
A large audience at low cost
Influencers can be divided into several categories: from nano-influencers (fewer than 10,000 followers) to mega influencers (millions of followers). Contrary to popular belief, it can be very worthwhile for start-ups to work with several nano or micro influencers. Their communites are loyal and established as they can interact more easily and the influencer often responds to private messages and comments. Their engagement rate is therefore higher than bigger influencers. On Instagram for example, the engagement rate of nano-influencers is usually above 10%, while influencers with very large communities have engagement rates of around 2%.
Calling on them is a clever choice if you're looking to promote your product as widely as possible. In addition, most nano influencers are willing to test your product or service for free and without any sort of compensation.
Be guided in your campaigns
With the help of an agency like Influence4You, you'll be able to select the influencers best suited to your company so they can share your message and talk about your product. You'll also be able to choose the right social networks depending on your offer. For example, LinkedIn is the most effective social network for targeting and reaching a B2B audience. Carefully choosing influencers based on your target customers increase the chances of a purchase as their community is more likely to be interested in your product.
If you have a B2B product or service, it is in your best interest to hire an influencer who uses LinkedIn, for example. Indeed, 40% of B2B marketers consider LinkedIn as the most effective channel for driving high-quality leads. If your company is targeting young people, it's time to turn to TikTok, where the engagement rate is skyrocketing. Young people are particularly influenced by their favourite influencer(s). With an average engagement rate of 6.72%, TikTok is the social network with the highest engagement levels in 2022.
Quantifiable results
One of the perks of working with influencers is that results are quantifiable and measurable. You'll be able to perfectly measure your return on investment (ROI) but also your media visibility (also called Earned Media Value). This is the media value of influencers' posts (calculated from Ayzenberg's index). According to Influence4You for every €1 invested, €11 of EMV are generated through influencer marketing campaigns.
Find out more
The importance of influencer marketing in your marketing mix is no longer debatable. To be effective and successful, campaigns need to be comprehensive and marketers must think ahead. For a successful marketing campaign, choose to work with an agency specialising in influencer marketing such as Influence4You.
Do you wish to integrate influencer marketing into your marketing mix? Get in touch here.
Are you an influencer looking for brand collaborations? Sign up to our platform for free.