How to Grow Your Instagram Community
Influence4You shares some key steps you can take to build and grow your community on Instagram and improve your reach.
Find your niche and your speciality
Unless you're a star of the small screen or in cinema, it'll be difficult to gain followers and therefore success by simply taking selfies in front of the mirror. You're going to need a real niche, something that sets you apart from others to succeed on Instagram. Do you have a speciality? A passion? A unique characteristic? Excellent! Talking about it will help you find your audience organically, as you'll need to offer real value to stand out among the many new accounts made every day on Instagram.
Quality content with high added value
To increase your follower count you'll need to be consistent with your content. This is why Influence4You strongly recommends that you make your Instagram account about your speciality or passion. If you don't often travel, it'll be difficult to just upload travel and hotel pictures. Consistency is key – aim for 2 posts per week, plus several stories each day, Reels and Lives.
Your photos should be original and not from an image library, for example. Ideally, your photos should make it easy for people to connect with you. If they've never seen the photos you post, they're more likely to be surprised and like them.
Add an inspiring caption to your photo, with a clear call to action to leave a comment. Feel free to ask open-ended questions, share your opinion and ask your community for theirs. This will create conversation and therefore engagement.
Make stories! This is one of the best ways to retain your followers and attract new ones. Posting at least 4 stories a day, with your story, your favorites, your views, and interesting topics, allows users to be a part of your daily life. They'll feel that they know you better, and will follow the story until the end if you're good at grabbing attention.
Engagement: the key to Instagram's algorithm. The more likes and comments you get on your posts, the more you'll be promoted on the social network, especially when people search for hashtags.
Optimizing hashtags
Instagram has its own search tool. Highly effective, it allows users to find content that they can enjoy and relate to. For this reason, using hashtags is essential to organically boost your visibility on Instagram. The more you use hashtags, especially those that are relevant, related to your account and content, the more likely others will find you. There are automated hashtag management tools out there that are very efficient and automatically generate hashtags related to your post.
Feel free to read our article on the topic: 'The Best Instagram Hashtags in 2022 (By Topic)'.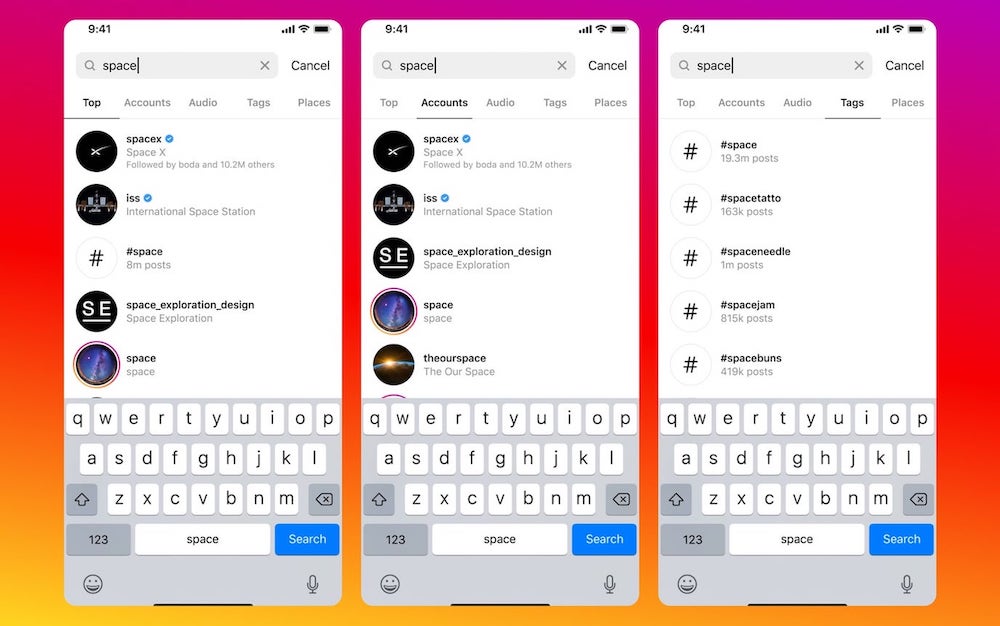 Who is your target audience? Who are you addressing?
Be sure to figure out the typical profile of a user that might follow you and do some research. Do you do make-up tutorials? Why not look for hashtags in your field to find posts of potential followers? For example, you could search the hashtags #makeup, #eyemakeup, #makeuptips. These are fairly broad hashtags, but they can give you an idea of the posts out there already.
Look at the accounts of other influencers in your field, and check out their followers to get an idea of the types of people who follow them. You can also check out who they're following, you might find some inspiring and interesting new accounts to follow.
Interaction is key
In terms of your already existing community, it is also very important to encourage interaction, by making posts with open-ended questions, leaving room for debate, exchange, leaving comments, etc. You also need to know your audience. Who are your most loyal followers? Those who always like your posts, send you DMs or leave comments. Feel free to take a moment to look at their accounts, so you can perhaps understand who they are and what content they like. Make sure to respond to them! It is they who'll be able to share your profile, spread the word, and help you grow your community!
If you interact often by replying to DMs, comments as well as watching others Stories and commenting, then the Instagram algorithm will understand that you foster engagement, that people are interacting with you, that your account is active and that you are active among your community. Your account will then be put forward and you can gain visibility, build your community and gain followers.
Doing collabs
If you have an account with few followers, it can be a great idea to do collabs with influencers, with the same target audience, in order to benefit from their audience.
Choosing who to collaborate with: Ideally, you should go for influencers who are within 50% of your follower count (more or less). If you have 800 followers, the ideal influencer will have between 400 and 1200 followers. Targeting an influencer with fewer followers than you lessens the chances of being rejected and can be useful. If after the collaboration you manage to gain even 10% of the audience of the 1200 follower influencer, that's 120 more followers or 15% of your total audience. It's certainly not negligible.
Choose topics: Let's say you're a beauty influencer and you're used to doing beauty tutorials, product tests, etc. What would be the broad topics that would interest your audience? Aesthetic medicine, facials, a natural approach to beauty, perhaps even face yoga? The idea is to interest your audience with another expert's approach and try to draw their audience to your content.
Contact potential collaborators: they should not be competitors but those who are "complementary" to your business. Ideally, they'll have the same target audience. Let's take the example of the beauty influencer again. Collaborating with a specialist in aesthetic medicine for example, who talks about Botox or other professional treatments, might help you to gain followers interested in this subject, and in beauty in general. They'll then want to check out your beauty tutorials and your product tests!
Collab types
There are many possible collaborations: you can share the story of an influencer for example, or they can do the same for you. You can also mention them in a story and vice versa. Even better, are collabs in person, i.e. a photo together or a live interview. But this is not always attainable in terms of organisation. In any case, it's worth knowing that there are many options and that you can easily approach other influencers. It'll also allow you to chat with other Instagrammers and share techniques and your challenges. It's a win-win.
Put together a contest
Organising a contest on Instagram is a great way to boost engagement but above all to increase your follower count very quickly. You can decide to offer a product or service. All you need to do is to set out the conditions in your post. The most popular way to go about it is to ask for a follow to your account to participate. If you use the right hashtags and lots of people tag their friends to have more chances to win, your follow count can increase very quickly. The bigger the reward, the larger the number of followers in general.
Be careful, however, as this technique has a catch: some Instagram contest addicts only use the platform for that and tend to unfollow as soon as you announce the winner. So you might end up losing lots of followers. Otherwise, it's up to you to draw them in with your content!
What about buying followers on Instagram?
Some tutorials or guides online recommend this, but Influence4You strongly advises against it. Why is that? Because the key to developing your community on Instagram and getting partnerships with interesting brands is engagement! So yes, buying followers by the thousands will increase your follower count very quickly, but these "people" are bots who'll never engage with your posts. Having 1,000 followers but 4 likes will not really help you and will instead arouse suspicion. Your credibility will then be seriously jeopardised and it'll be difficult for you to grow on the social network.
Finally, it's worth noting that that most platforms have fake profile and follower detectors like at Influence4You!
What about automation tools?
There are many tools for influencers. We shared some of them in our article '10 Tools for Influencers'. But automation was not included. Many sites make huge claims and guaranteed results with organic growth and real followers. This is via automatic likes, follows/unfollows and comments. Instagram has strengthened its security policy against automated software and usually detects it. Your account may even end up blocked or deleted for using these services. Nothing beats spending time on the platform, commenting, sharing, and liking posts with other users and your community. It may seem time consuming at first, but your efforts will pay off eventually.
In short, be active on the platform, interact with other influencers, collaborate! Be disciplined and consistent in your content, and don't fall for the temptation of easy followers. Becoming an influencer is a long process. Take a long-term perspective and do things with passion! You'll have fun if you're passionate about the subject, you'll probably meet some great people and you'll organically grow a loyal, committed community that's there for you!
For more, don't hesitate to check out our articles and to sign up to the Influence4You platform to get in touch with brands and have great partnerships.