Still unsure whether content creators are useful for your brand? We're here to change your mind!
The influencer marketing industry exceeded $13 billion of investment in 2021. This year, the figure is expected to reach $15 billion. By 2025, the sector is estimated to be worth over $22 billion. And that's not all! 75% of companies with a sizeable marketing budget spent some of that money on influencer marketing campaigns in 2021. There's a good reason why they're turning to this new strategy. 90% of marketers consider it effective!
Agencies, a key player in influencer marketing
If you're not familiar with the influencer marketing sector, you're probably wondering what these ever-increasing sums are being spent on. You don't have to look far to get an idea: brands are investing more in the work of content creators. They create partnerships with them to achieve all kinds of objectives, from visibility to sales, not to mention brand image. These collaborations take various and increasingly sophisticated forms: co-creation, events, live performances, etc.
If budgets are growing, it's clear then that the market is also growing. There are more content creators, platforms where influencer marketing campaigns can be carried out and formats… The market is better structured for companies looking to get started in influencer marketing. This includes agencies and/or platforms.
The former provide strategic support in the development of a campaign. The latter offer comprehensive data on the profiles of influencers or the impact of each project. These services are increasingly numerous. Indeed, in 2021, more than 320 new influencer marketing agencies were founded.
Influencers and their relationships with brands
Having agencies/platforms to support companies in their strategy is good, but at the centre of all this work are influencers. Campaigns wouldn't have the same impact without them. So then, it's worth choosing them well and building good relationships for the longevity of the collaboration. The majority of brands use the same content creators from one campaign to the next. For others, finding the right ambassador is the first challenge.
Sometimes choosing poorly can set a campaign back. So taking an active interest and analysing an influencer's profile is the best option if you want to stay on track. Unfortunately, even today, this stage can be very tricky for companies. Influencers are well aware of this and this is why many of them turn down partnership offers almost daily.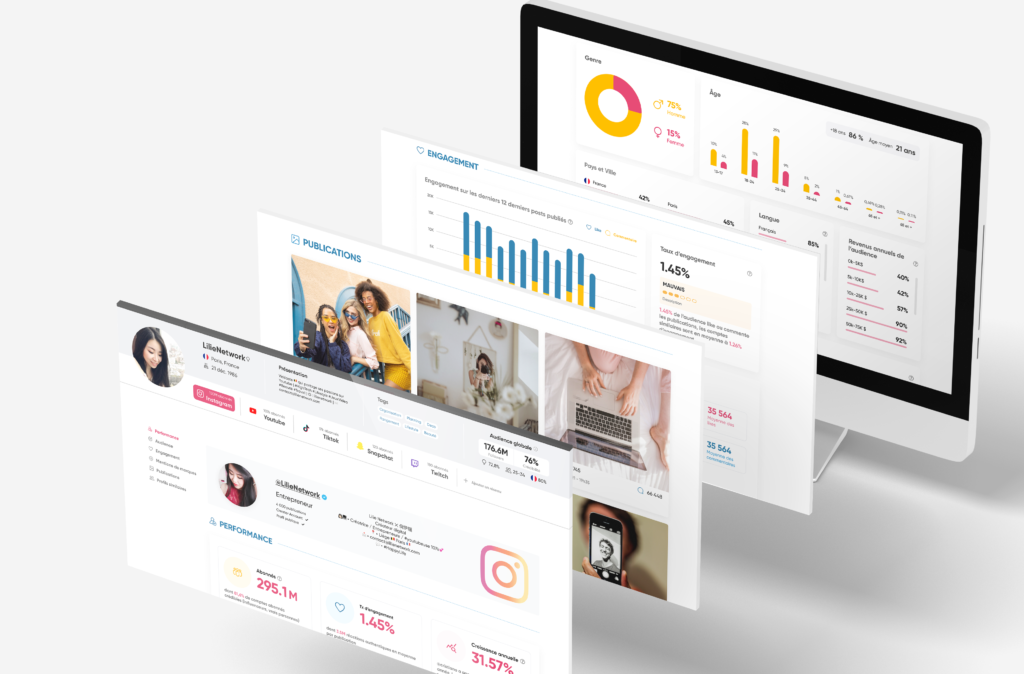 What are the main reasons for declining? According to a recent study by HypeAuditor, there are a few. For half of them, this refusal most often means that the brand does not match their values or their content. Or worse, they don't like it. So there's no chance of them accepting a collab that does not fit them, even if the client is prestigious.
Second, the budget can be an issue. 42.2% have turned down a collaboration because the rate offered by the company was far too low. Creating content as an influencer is sometimes a full-time job. Their earnings allow them to live off their work.
And the last main reason for declining is they already have an ongoing collaboration with a competing brand. This counts for 38.1% of them. Indeed, nothing is gained in partnering with an ambassador who is already partnering with one of your competitors, whether for the influencer or the brand. Why would they promote similar products from two different brands at the same time? Even their followers would be a bit confused.
These three reasons prove that analysis of an influencer profile is an essential step in the creation of influencer marketing campaigns. Another point raised by influencers was the lack of personalisation in partnership requests. 43% of them systematically turn down requests when the brand does not take the time to tailor its message. Sometimes they get first names wrong or congratulate them on content that wasn't posted by them, etc. These errors are big red flags. The influencer loses trust in the brand and quickly realises that they were not specially chosen for their content.
To help with this step, you can check out our dedicated article: 'How to Contact Influencers and Get Responses!'
Influencer pricing on Instagram, YouTube and TikTok
Another thing that can get in the way of any collaboration is the lack of budget. Generally, if they like the brand and they find the campaign interesting, influencers will adjust their pricing. But how do you determine the cost of a collaboration? Influencer pricing is still a somewhat vague subject, as the price depends on many factors: the platform (Instagram, YouTube, TikTok…), the number of followers, the type of collaboration, the brand, the duration of the partnership, the content produced, the hours of work for the influencer (a full-length YouTube video is not the same amount of work as an Instagram post).
Influencer pricing should be considered on a case-by-case basis, as the amount can quickly vary depending on what's needed by the company. Generally, content creators have a detailed pricing structure that can be requested before collaborating.
What about you? Have you ever asked for an influencer's rate?
If you'd like to create amazing campaigns with influencers, don't hesitate to get in touch with Influence4You, a specialist in influencer marketing and connecting brands and influencers.
Sources: