5 Types of YouTube Post
YouTube is the second most popular and most visited website after Google. YouTube has become a home to more than 2B+ active monthly users globally. It has become a way to live for many people. Since one can easily watch videos on YouTube millennials prefer to use YouTube to consume online video content.
Nowadays, YouTube is in competition with Netflix, but it ignores the fact that one can watch videos on YouTube without ever logging in.
So, what are the different types of posts one can do on YouTube? Let's find it out.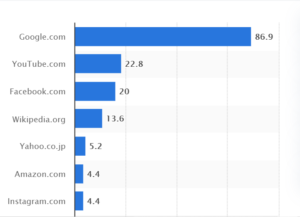 Source: Statista 2021 – Most Popular Websites
The 5 common kinds of YouTube Posts:-
To get started you need to create a YouTube channel, your business will have no public presence on YouTube.
Once you create a channel you can upload videos, make comments, and get access to a free tool – YouTube analytics to analyze and optimize your content to keep your audience engaged.
1) YouTube video
Unlike other platforms which are mostly for sharing images, YouTube is about recording and uploading videos.
Businesses can record videos of their product review, product demo, DIY videos, and many different types of videos and upload them to get the attention of their target audience.
Later you can start promoting your YouTube channel by:-
Engaging with the YouTube community

Create content based on what your audience is looking for

Encourage your views to subscribe to your channel 

Share your video on your social media business accounts

Cross-promote your videos on related YouTube channels

Run a Contest or Giveaway

Collaborate with known creators or brands using

influence marketing platforms.
Note: YouTube recommends uploading your cover photo at 2560 x 1440 pixels with a maximum file size of 4MB. 
2) YouTube Live Streaming 
YouTube Live streaming has become much more common in recent times.
In the first six months of 2020, the daily YouTube Live stream increased by 45% and hit a viewing peak with 871,420 concurrent viewers.
Youtube Gaming is the best example of YouTube Live streaming. It is one of the most-used platforms for live streaming games. PewDiePie is one of the most popular YouTube channels with +96 million subscribers started in the gaming industry.
Businesses can also benefit from Live Streaming on YouTube by building their brand online, increasing their online presence by reaching out to the new audience, and by doing video collaboration with Youtubers.
Facts: It's Free! Yes, you heard us right. The YouTube Live Streaming feature is free.
3) YouTube Live Shopping
YouTube Live Shopping is where businesses collaborate with influencers and ask them to demonstrate their product on YouTube to sell in real-time as part of Influence marketing.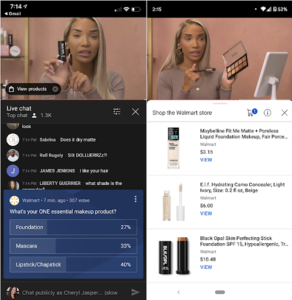 Many businesses found that live streams can bring new marketing opportunities and can be an integral part of a product launch, virtual event, showcasing a special guest, or even just an educational tutorial on your product's features. 
Live Streams can be much more interactive than standard YouTube videos as you can involve your audience and include activities like live Q&As.
To get started, All you need is to do a live stream on about any topic related to your business and be careful not to violate YouTube's terms and conditions. 
Know more about YouTube Live Shopping Features for Brands and Influencers.
Note: This feature is currently available only in the USA but soon you will be able to benefit from it.
4) Shorts 
In 2016, TikTok took the world becoming the fastest-growing social media platform among the younger generation for creating short entertaining videos.
Later Instagram reacted by launching a new feature for creating short videos called "Reels". 
Now YouTube is getting in on the action with their latest offering, YouTube Shorts. During its beta run in India, YouTube Shorts received 3.5 billion views a day. Also, YouTube has more than 2 billion users while TikTok has nearly 700 million users.
YouTube shorts are videos up to 1 min long that users can share on the YouTube app. They can include multiple video recordings, audio, music, and special effects.
The simplicity of creation sets YouTube Shorts apart from regular YouTube videos, it allows users to film a short video on the go and post it immediately straight from their mobile device.
YouTube Shorts has huge growth potential. So how can you use this new platform to benefit your business?
Start by creating unique content that connects to your target audience it can be a product demo, tutorial video, training video, testimonial video, and others. 

Reach a younger generation that prefers shorter videos to longer marketing content.

Show off your brand through fun, engaging videos.

Tap into a large audience and gain a following early to start building brand awareness.
Note: 
YouTube Shorts features are currently limited as it's still in beta testing, but soon you can expect more editing options.

YouTube Shorts aren't monetized which means neither businesses can run YouTube Ads on other people's videos nor you and YouTube creators will earn by allowing Ads on their videos.
5) Posts
Community posts can include images, videos, text, GIFs, and polls. Community posts allow you to be in touch with your audience outside of video uploads. 
Once you cross 500 subscribers, it will take up to one week for the community tab to appear on your portal for you to access it.
The community post always appears on the Community tab and may appear in the Home or the Subscriptions feed. 
Businesses/ Creators with access to the Community posts can interact with viewers using rich media. 
Note: If your channel's audience is set as "made for kids," the Community tab is turned off. You neither can create nor view posts.
As we discussed earlier, posting on YouTube can help your brand grow online but for that, you need to be dedicated and keep posting consistently at regular intervals. You should upload engaging content which is liked by your audience. Hence, you must do your own research and understand want your audience likes; you can also spy on your competitor's content or look for content inspiration online and create various types of YouTube Posts.
But, if you think you aren't good at creating content, or if you lack ideas, or if you are busy with other work of your business; You must hire an employee/ freelancer who is dedicated to this job only or preferably collaborate with an influencer who is best in creating and posting content, and engaging an audience on social media.
Go further and take inspiration from Influence4You platform, you can discover our ranking of the best YouTubers.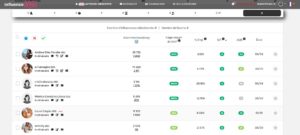 To find the right influencer in your niche, you can use influencer marketing platforms to access the overview of their social media accounts of an influencer like no. of followers, average no. of engagement, and subscribers. The brands can also get hidden information like fake followers, fake accounts, valid influencers, and others by using some well-built influencer marketing platforms.
YouTube has been helping businesses to grow online and reach a larger set of audience. YouTube lets you upload videos of your product and services to promote your business.  It is a powerful way to communicate with a new audience and potential customers, allowing them to see your product or service without having to visit your physical store.
And for a high jump in your traffic and sales, you can always collaborate with the influencers to effectively increase brand awareness and engagement for your brand.
If you have any questions, regarding hiring an influencer who can help you grow on YouTube by posting engaging videos on Youtube, don't hesitate to contact us.