When Is the Best Time to Post on TikTok?
If you want to increase your TikTok content's visibility, and therefore your engagement and your number of followers, you'll have to post at times when your audience is most likely to be on the social media platform! Influence4You will show you how to find out when.
Internet users' habits
Several international studies analyzed the social media usage behavior of users, particularly on TikTok. Internet users are the most numerous on social media at these times (EST time zone):
Monday: 6am, 10am, 10pm
Tuesday: 2am, 4am, 9am
Wednesday 7am, 8am, 11pm
Thursday: 9am, 12pm, 7pm
Friday: 5am, 1pm, 3pm
Saturday 11am, 7pm, 8pm
Sunday: 7am, 8am, 4pm
If you are targeting an international audience, you should consider following this schedule. You'll need to use a free time conversion tool like TimeZone Converter to know when to post according to your geographical location.
This can be a bit hard to do which is why it's better to try to find out when your audience is most active. To do so, there's nothing simpler!
Create a business account on TikTok
Upgrading to a Business or Creator account on TikTok will allow you to access TikTok analytics for your account. This data will provide you with excellent information about your audience.
Here are the steps to follow to switch to a pro account:
Go in Settings and tap on the three dots at the top right of the page.
Then tap on Manage my account
And Switch to Pro Account
Tap Continue and select your account category.
There you have it! It's that simple! You now have a professional account.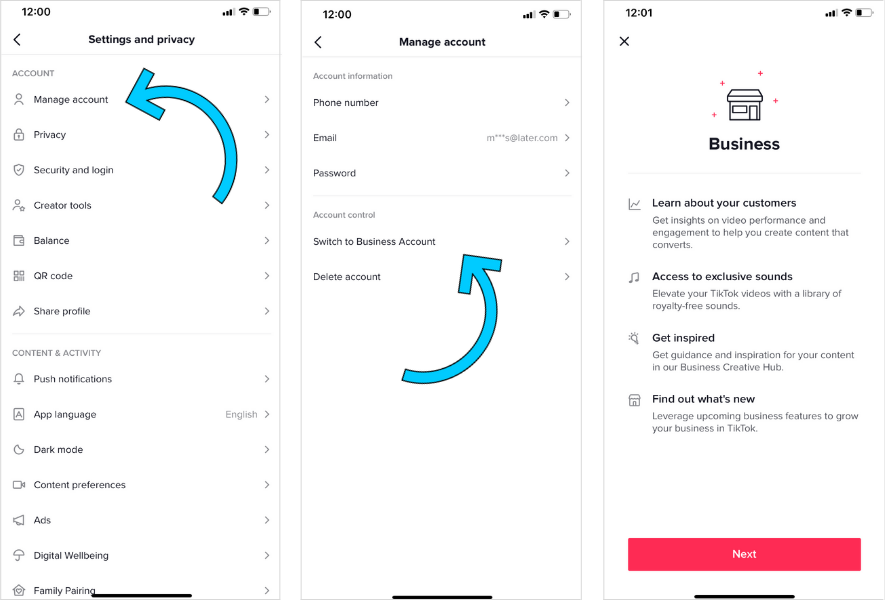 Source Later
To access the data, it's very simple, you just have to click on Settings, then, depending on your profile, tap Business suite or Creator tools and finally access your analytics.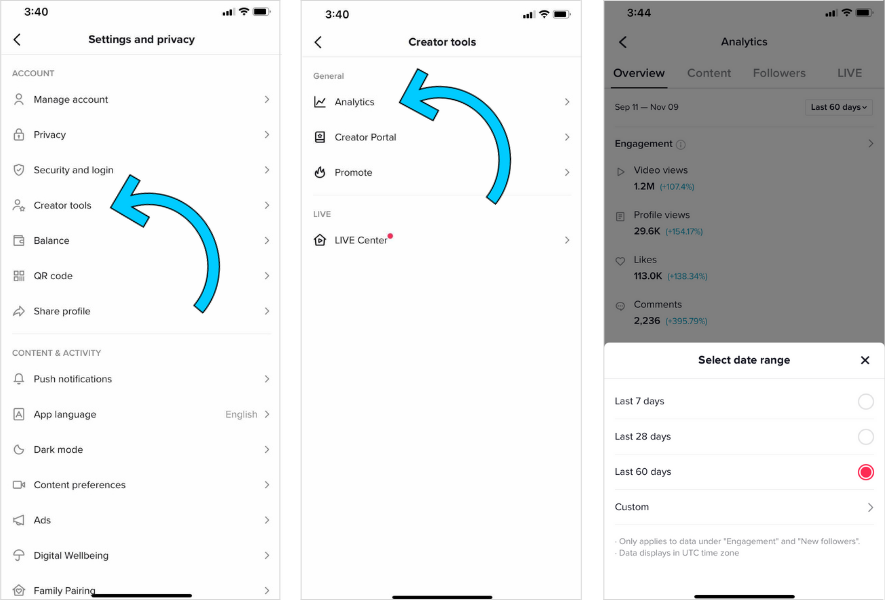 In your TikTok analysis section you'll find
several categories
: Overview, Content, and Followers. You can also set any custom time window between 7 and 60 days. Thanks to this valuable information you'll know
where your audience is located, when they use the platform….etc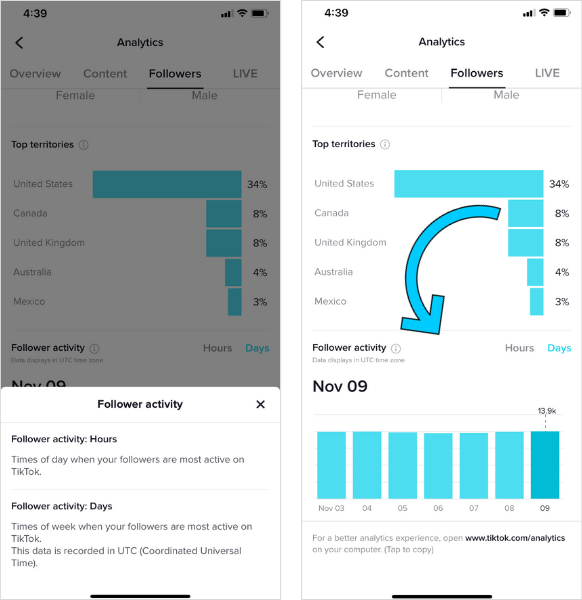 It'll help you to choose
the best time to post for your audience.
Please note that TikTok uses the UTC time zone. You'll need to
convert times
into your geographical area you are in order to make sure you don't miss anything.
Use tools to schedule your posts
Many tools can make the lives of influencers and content creators a lot easier. You can find a list of the best ones in our article 10 Tools for Influencers. Tools like Later are very helpful for scheduling your TikTok content in advance so you always upload content at the perfect time!
Don't forget to use our platform Influence4You to get in touch with brands and influencers!