Twitch: The Record-breaking Streaming Platform
Twitch saw record numbers throughout 2020. Thriving for years, the platform came out unscathed from the pandemic and lockdowns in several countries.
The general public has turned to streaming or live videos to pass the time and has discovered its many varied and quality channels.
By the way, did we mention that Influence4You integrates Twitch in its influence platform?
Let's take a look at this platform, which has long been reserved for gamers or geeks and which is becoming increasingly diversified!
Twitch's record numbers in 2020:
5 billion hours of viewing time, an increase of 83. 1% compared to last year
62.7% increase in viewing time to 2 hours per day
A 67.6% market share for live music
17.5 million unique visitors per day worldwide
1 million unique visitors per day in France
On the competition side, the increase is also significant, confirming the public's enthusiasm with streaming platforms.
YouTube Gaming also increased its viewing hours by 39.6% in the second quarter of the year to 1.5 billion hours.
For Facebook Gaming, which bought and integrated Mixer, Twitch's main competitor, it is no different. Viewing hours increased by 48.5% from the first quarter to the second quarter reaching 822 million hours.
Record audience for a streamer
On January 11, 2021, the record number of simultaneous viewers during a stream skyrocketed.
2.5 million people tuned in to watch Spanish streamer The Grefg during an unveiling of a new character in his likeness in the game Fortnite! His video even reached more than 25 million views in total.
¡Vamos!@TheGrefg now holds the record for most concurrent viewers ever on Twitch. pic.twitter.com/26VceVSJyS

— Twitch (@Twitch) January 11, 2021
To compare, the previous record was held by American streamer Ninja in 2018 with 628,000 viewers.
This confirms the explosion of Twitch's audience and the growing public interest in the platform.
By the way, check out our article "Lockdown and influence: a good opportunity for your influence campaign?" where we discuss the record-breaking audience of the Z Event 2020, which raised over €3,700,000 for Amnesty International! As well as the live stream of American politician Alexandria Ocasio-Cortez, who had made more than 700,000 views including 440,000 people live while playing Among Us.
Diversification of channel categories
The streaming platform has long been used exclusively by gamers and perceived as a video game streaming platform for geeks only.
This is well and truly over!
Now new categories of channels have appeared and today we can find all types of channels: cooking, music, fitness, DIY, advice, esports, meditation..
Recently, radio stations and television channels have also taken to Twitch to complement their programs and reach a new audience that no longer watches traditional media.
A good example of this is France 3 and France Info presenter Samuel Etienne's daily show, "La Matinée Est Tienne" which brings together more than 10,000 viewers on the theme of current affairs.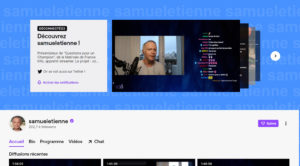 Screenshot of Samuel Etienne's profile on Twitch
Twitch Audience
The platform has a growing community with the following breakdown:
55% are between the ages of 18 and 34
14% are between the ages of 13 and 17
81.5% of users are male
This distribution is changing at an ever increasing pace and is becoming more diversified thanks to the media exposure of the platform.
There are many opportunities for collaboration:
A real marketing opportunity for brands, Twitch allows them to develop numerous collaborations with streamers:
Sponsor a tournament
Make a promotional offer based on the streamer's performance for their audience
Offer products during a live stream
Preview a game, product or service
Offer promo codes or coupons to share during a live event
…
As you can see, there are many possibilities for collaboration! Twitch will allow you to reach an interesting and engaged audience, so go for it!
Want to find influencers on Twitch and launch your campaign? Contact us here!
Visit our website for more information.
Sources:
https://viuz.com/2021/01/21/twitch-en-2020-4-campagnes-innovantes/
https://twitchtracker.com/statistics
https://siecledigital.fr/2020/07/06/twitch-continue-son-ascension-et-bat-de-nouveaux-des-records-avec-5-milliards-dheures-de-visionnage/
https://www.dexerto.fr/divertissement/france-tv-se-lance-sur-twitch-avec-une-emission-de-samuel-etienne-1431521/
https://twitchadvertising.tv/audience/