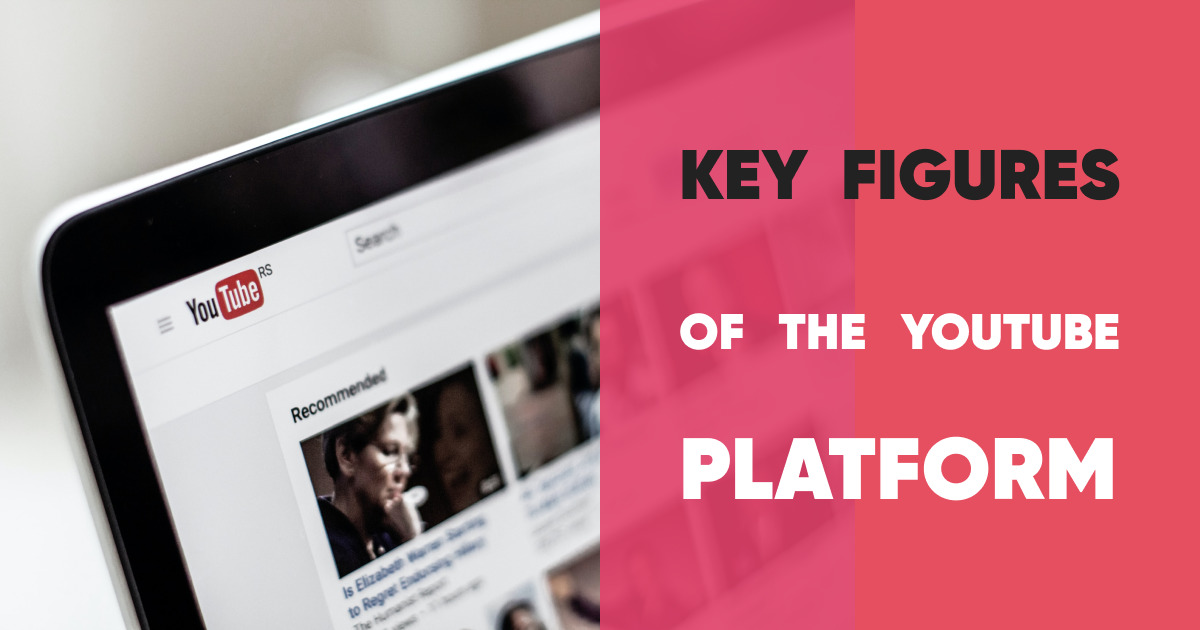 Key Figures of the YouTube Platform in 2021
YouTube is a Google video platform created in 2005 by Steve Chen, Chad Hurley and Jawed Karim and bought in 2006 by Google for 1.6 billion dollars. The first video that was shared was "Me at the Zoo" by Jawed Karim which now has over 82 million views. Since then, the platform has grown a lot and its current figures are impressive.
YouTube in the US/UK/Canada in 2021:
There are around 197 million users on YouTube in the US. The UK isn't far behind in global rankings with 35.6 million users.
In terms of demographics, 77% of US internet users aged 15-35, use YouTube. In the UK, those aged between 25 – 44 are the most active. And as for Canada, the most popular age group is between 18 – 24, spending on average 360 minutes per month.
Music videos are a big hit, with 76 million videos viewed every day.
There are over 22,000 YouTube channels with more than a million subscribers. Nearly half of all channels with over 10M+ subscribers are from the US.
The most popular English-speaking channels in the world are:
Pewdiepie is number 1 (after Indian production company, T-Series) in terms of subscribers as he has 110M with over 4,300 videos posted and a total of 27 billion views.
MrBeast who has 65.2 million subscribers with 707 videos posted and 11.58 billion views.
Dude Perfect which has 56.4 million subscribers with 227 videos posted and 13.2 billion views.
A more complete ranking is available here.
YouTube around the world in 2021:
YouTube is the second most popular social network in the world after Facebook as 79% of internet users claim to have an account on the platform. There are approximately 2 billion users using YouTube each month worldwide and several billion views per day (more than 82,000 videos viewed in one second), 70% of which are on mobile.
A total of 720,000 hours of video are added every day, or 30,000 hours of video every hour.
The platform is available in over 90 countries and translated into 80 languages, so it is accessible to 95% of the world's Internet users. Thanks to YouTube's wide reach, 62% of companies use a channel to post videos and gain greater visibility. 90% of users have discovered a new brand thanks to the platform, especially since the visibility of ads has reached 95%.
Many people are getting started on this platform by creating their own content. The number of channels generating six-figure revenues has increased by 40% in one year and the number of channels with more than one million subscribers has increased by more than 75% in one year.
The most popular in the world in 2021 (excluding those who have not acquired their success on the platform) are:
–PewDiePie who has been on the platform since 2010 is number 1 in terms of subscribers as he has 110 million with a total of 4300 posted videos and 27 billion views.
– ✿ Kids Diana Show which has 82M subscribers with 900 videos posted and over 59 billion views. This channel hit over 1M views in just one year.
– Like Nastya who has been registered since 2016 has 74.3 million subscribers with 598 videos posted as of July 2021 and over 60 billion views.
The most viewed video is the clip "Despacito" by Luis Fonsi and Daddy Yankee which has 7.4 billion views. It was uploaded on January 12, 2017 and 97 days later, it had already reached 1 billion views.
For more information, visit our website here: Influence4You
And if you are looking to launch your next influence campaign, contact us here
Sources:
–https://backlinko.com/youtube-users#monthly-active-users
–https://www.socialfilms.co.uk/blog/youtube-uk-statistics
–https://www.algonquincollege.com/ac-social-media/youtube-stats/
–https://www.tubics.com/blog/number-of-youtube-channels/
–https://www.oberlo.com/blog/youtube-statistics