Influence4You has cooked up something special for you.
Tasty snacks, fancy dinners, vegan food, gluten free baking: our list of the top 15 cooking blogs has something for everyone. Be prepared to get hungry!
1. Pick Up Limes
First up in our list is Sadia from Pick Up Limes, a vegan blog and YouTube channel. This Canadian dietitian wants to help people eat more fruits and vegetables. The recipes are simple, easy and tasty with lots of smoothies and mocktails! Sadia loves to share her tutorials with her 3.89 M followers on YouTube, so if you like simple and fresh meals, go check it out here!
2. Brian Lagerstrom
Brian is a professional chef from Illinois turned YouTube sensation. After working in a bank, he decided to pursue his dream of working as a chef and started out as a busboy before climbing the kitchen ladder. He shares classic American recipes including cheese cakes, New Jersey style pizza and Buffalo chicken sandwiches on his YouTube channel where he has 562k followers and on his blog.
3. Minimalist Baker
On this blog all eaters are welcome: gluten free, vegan, meat lovers, there is something for everyone. And as a bonus, the food is easy to make. Their goal is to share recipes that require 10 ingredients or less which is why (you guessed it!) they are called the minimalist bakers! The filters on the site are really well designed and you can sort by type of cuisine, ingredients, special diet and more.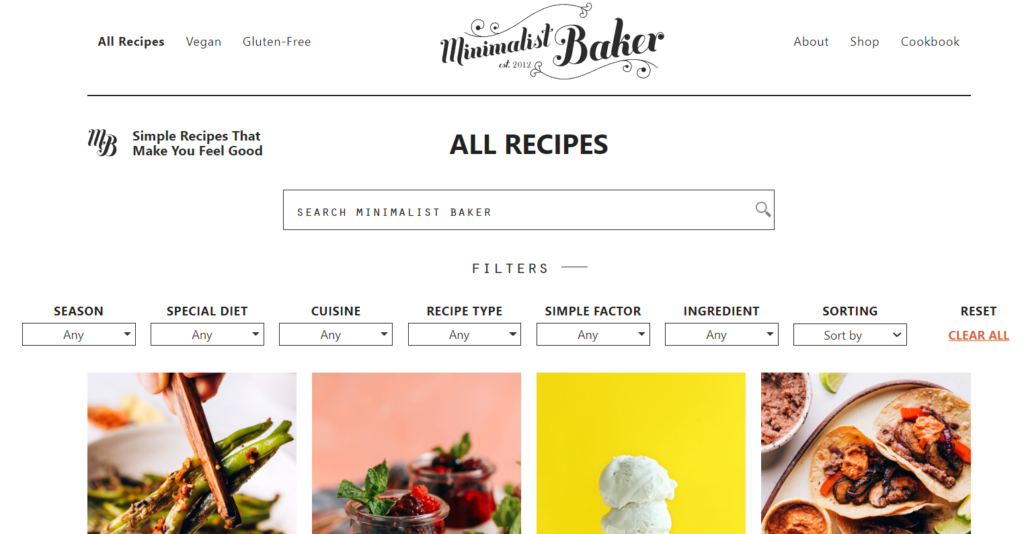 4. Pailin's Kitchen
Pai is a native Thai with a mission: to demystify Thai cuisine with easy-to-follow, authentic recipes. She is a professional chef and has lots of great tips to get stated in cooking authentic Thai food. She has over 1M of subscribers on YouTube and you can buy her cookbook Hot Thai Kitchen on Amazon. On her blog and on YouTube channel you'll find step by step recipes that are easy to follow for all skill levels. Thai food has never been this easy!
5. A German Girl in America
Do you love German cuisine? Do you dream of beers, pretzels and schnitzels? Then Karen's blog is for you. Born in the US, her parents emigrated from Germany in the 60s. Writing her blog and sharing her culture helps her remember her roots. On her blog you'll find more than just food: travel advice for visiting Germany, posts about the differences between her two countries and much more!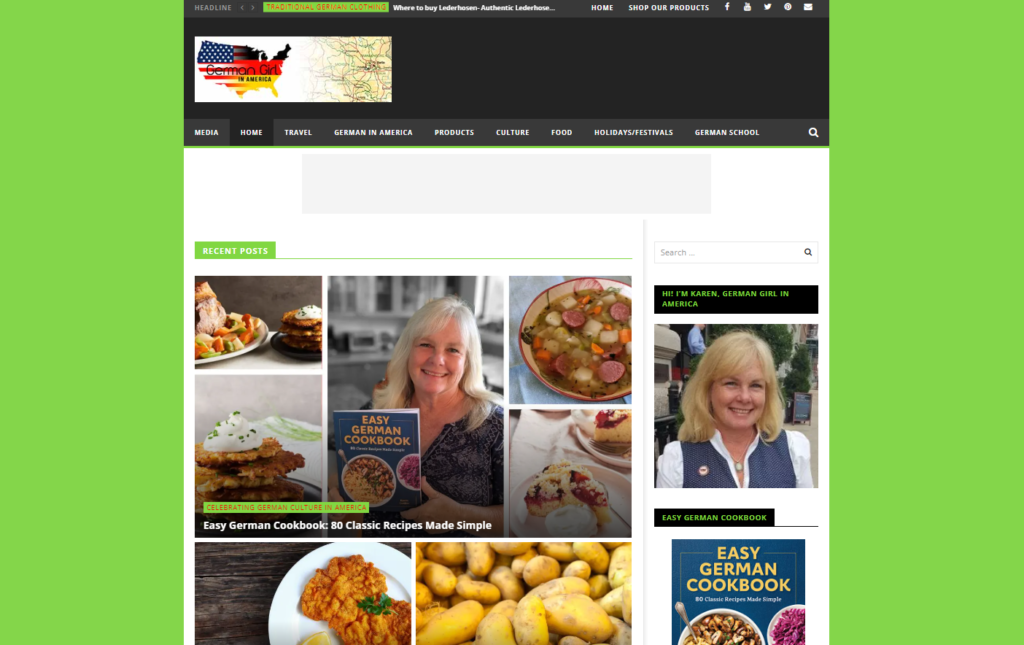 6. HeyItsMeSalty
Nick is a Twitch streamer and chef. You can see him live on the platform or check out his Instagram account. He likes simple food like pizza but also cooks his own more elaborate (and often spicy) recipes including this beautiful grilled salmon with fennel and blood orange.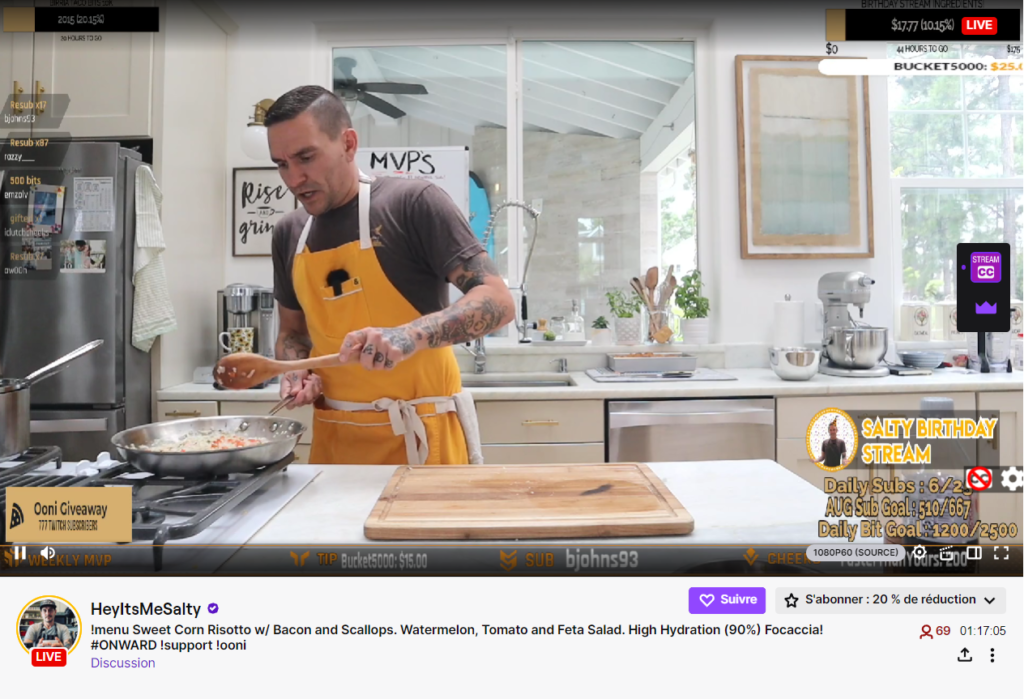 7. Cookingwithshereen
Shereen Pavlides is a cookbook author and a Social Media Chef Influencer. With a big following (4.6M on TikTok, 652K on Instagram and 454K on YouTube) she teaches you to cook everything from scratch! From sauce, buns, and stocks: you can learn to cook all the basics with her as well as full-fledged dishes.
8. the_pastaqueen
The pasta queen is, you guessed it, passionate about Italian cuisine. Her name is Nadia Caterina Munno and she was born in Rome. Her family even own a pasta factory, so with her you're in good hands. If you want to learn how to make simple and fresh dishes with quality ingredients go check out her TikTok, Blog or YouTube.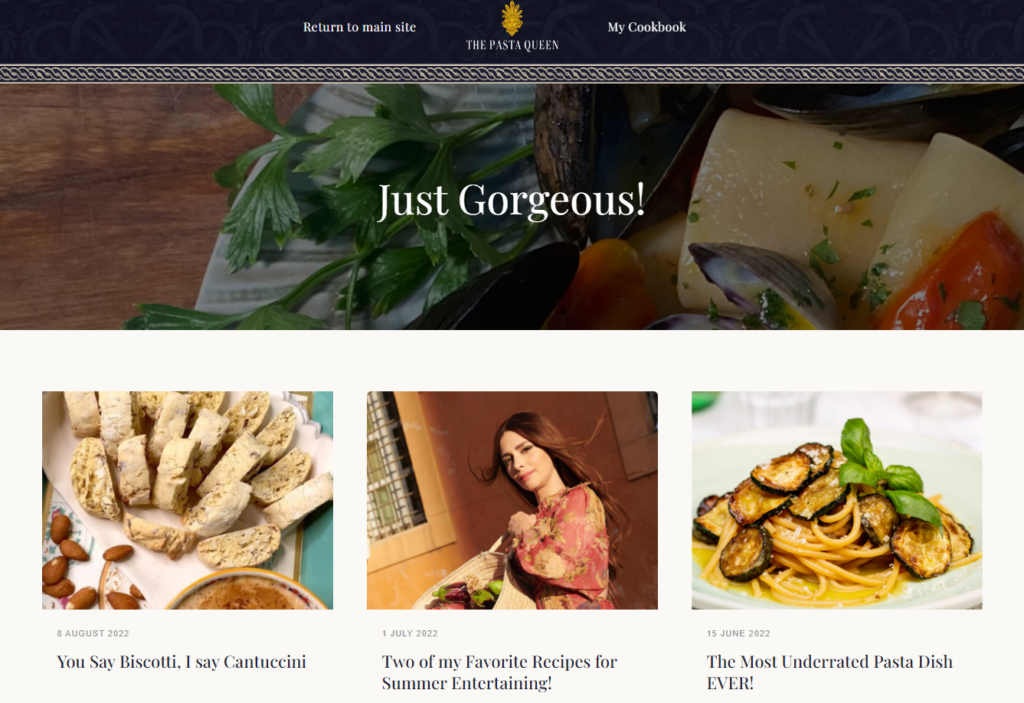 9. doobydobap
Tina is a Korean woman who came to the US at 14 years old to a boarding school in Connecticut. Hours away from the nearest Korean restaurants, she had to learn to cook to satisfy her cravings and have a taste of home. Unable to buy most of the ingredients needed, she had to adapt and find substitutes. Her recipes are therefore not the most traditional, nor the most authentic, but they are delicious and easy to shop for! You can find them on her blog and on YouTube.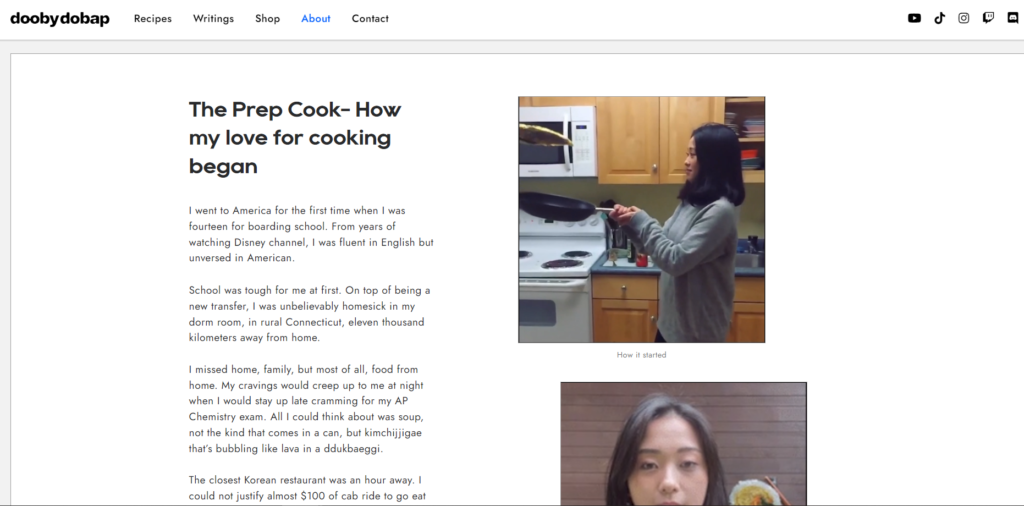 10. Budget Bytes
Formerly a Microbiologist, Beth has a knack for cooking delicious food on a budget. She believes food doesn't have to be expensive or complicated and that you can make great dishes without spending a fortune. Her blog covers everything from meal prep, meal plans, recipes, how-tos and even some fun challenges.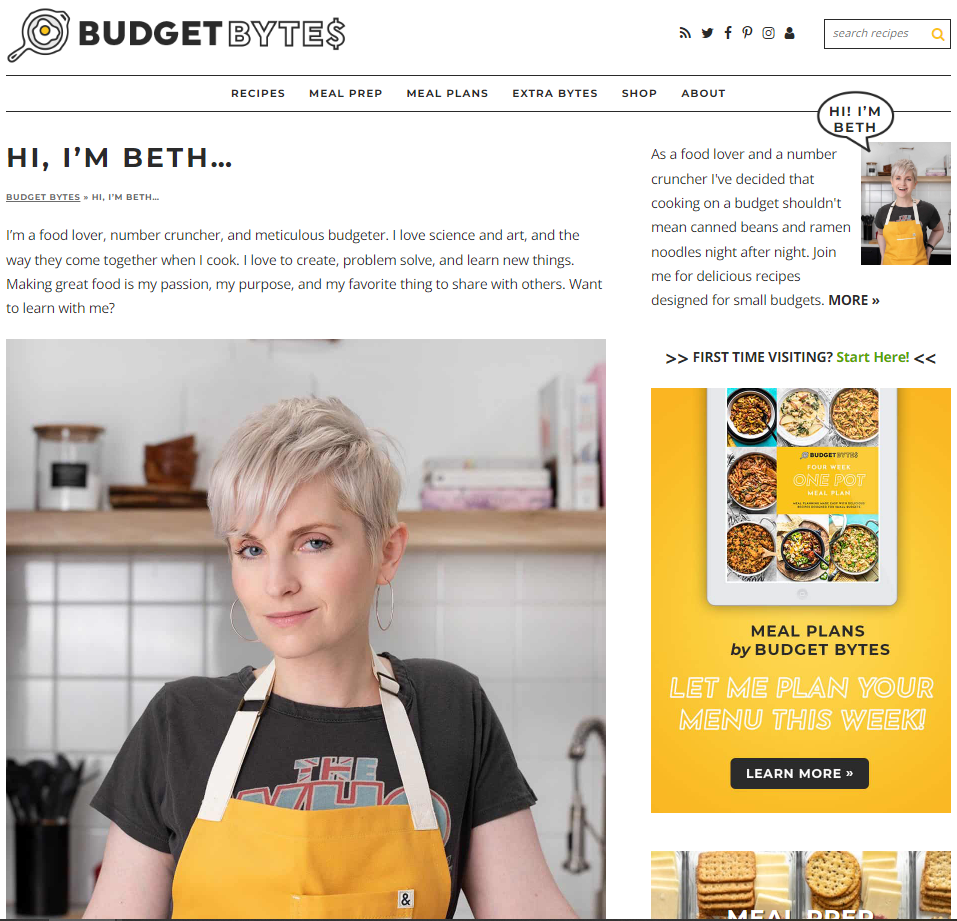 11. My Baking Addiction
This one is for all the home bakers out there! Jamie is a former middle school teacher who got into baking as a way to relax after a day at work. Thanks to her blog you'll learn to cook all sorts of cakes including an original S'mores Pie!
Her Instagram is also full of mouth-watering and beautiful cakes, go check it out here.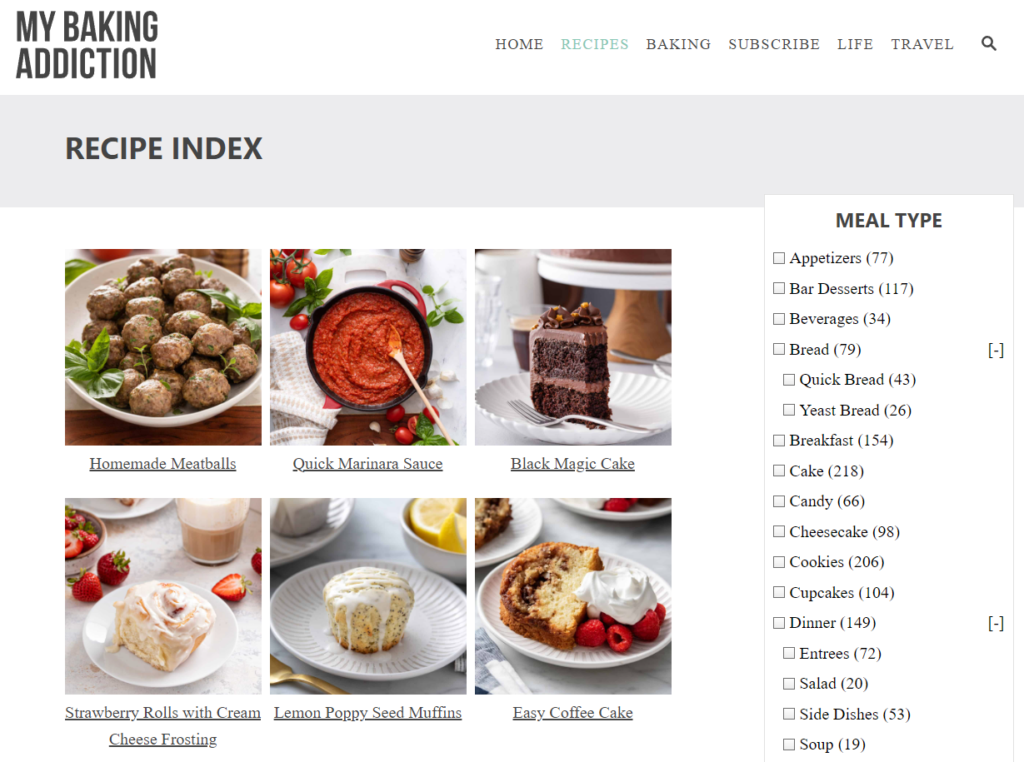 12. The Pineapple Chef
Elise is a Paris-based food stylist and photographer. Each creation looks more appetising than the last and thanks to her background as a stylist and photographer the photos are stunning. She started her blog in 2012 and has enjoyed partnerships with many brands including more recently Nespresso. We recommend you try her Red Berry Crepe Cake which is indeed a cake made of crepes.
13. Food nouveau
Marie is a Canadian cookbook author and culinary translator passionate about French and Italian cuisine. She started her blog in 2009 while she was living in Paris. She loves desserts, particularly French pastries and Italian gelato. Lactose-intolerant, most of her creation are dairy-free yet no less delicious!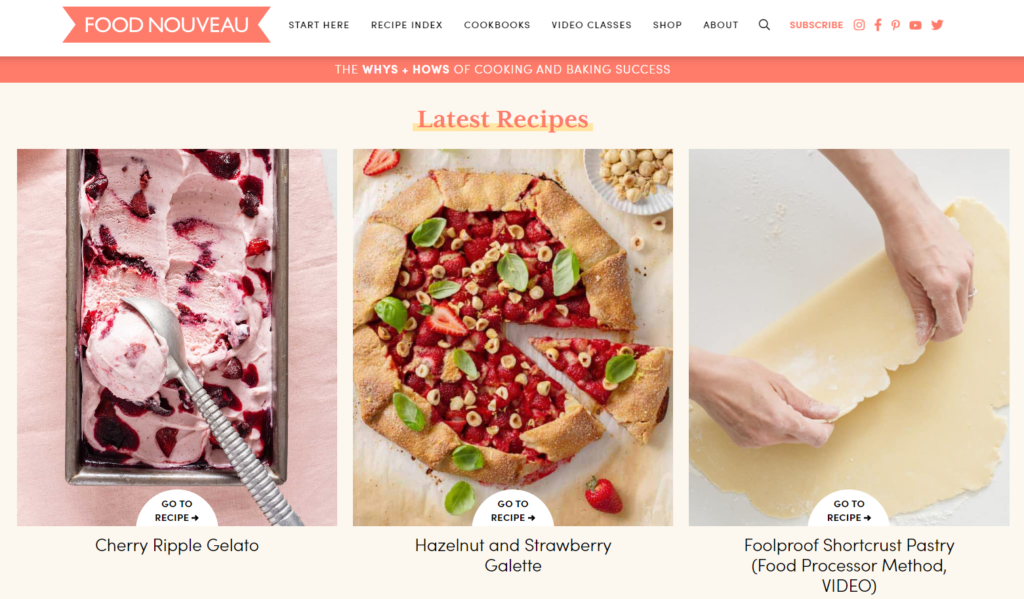 14. North Wild Kitchen
After moving to Norway, Nevada Berg, a woman raised in Utah, fell in love with Norwegian cuisine. In 2016 she launched her blog North Wild Kitchen to share her appreciation of traditional Norwegian dishes with her community. She has 23.7K followers on Instagram. Her recipes include berry-infused moose sausage, fermented trout, home-brewed beer, and traditional cheeses she makes on her farm. If you like berries, fish and Norwegian food, this one is for you!
15. Fresh Off the Grid
Megan and Michael are an outdoor enthusiast couple. Thanks to their many adventures they've developed real know-how of camping and backpacking food and can help you make sure that your meals won't be boring on your next journey. They can teach you to make your own dehydrated meals including an amazing dehydrated beef stroganoff as well as packable lunches, homemade granola bars and much more. If you like both good food and the outdoors, this blog is for you.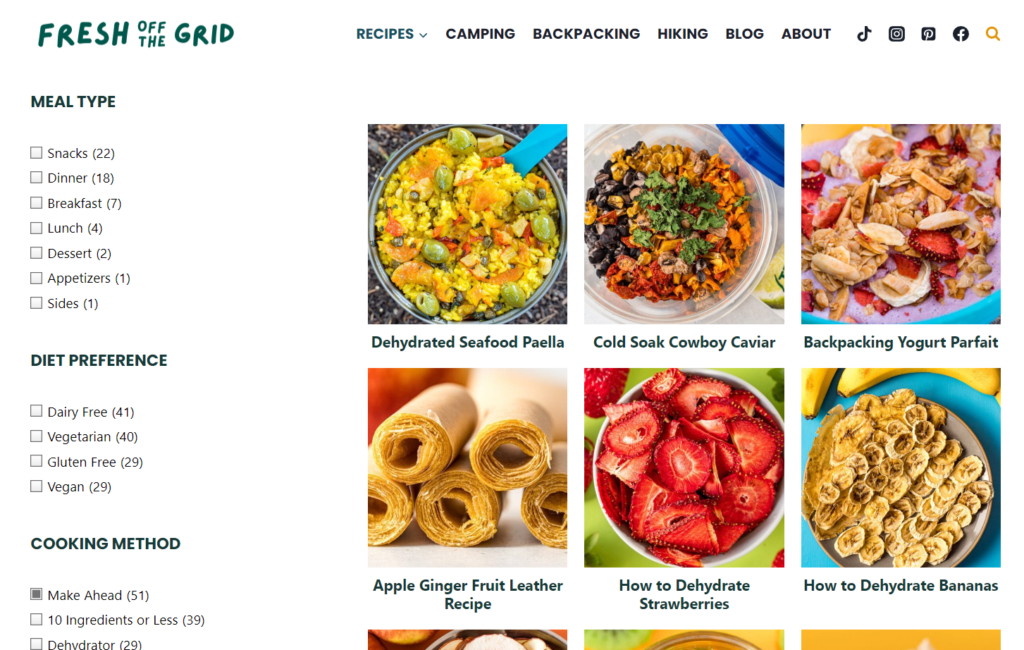 If you are looking forward to launching influencer marketing campaigns and struggling to find the right influencer in your niche use the Influencer Marketing Platform.