Top 15 Travel Blogs
Many of us have not started traveling again and are looking for some much needed escapism and travel ideas. Well, that's what travel blogs were made for! According to Statista, 36.5% of people use social media for travel inspiration, and 60% share photos on social media while traveling. At Influence4You we know how much social media impacts the traveling industry. We recently wrote a top 10 travel influencers article to help you find the best content creators in the industry. Today we are doubling down with our selection of the best travel blogs to follow right now!
Backpacking, solo traveling, around the world itineraries, traveling with children: there is something for everyone. Keep reading and discover our 15 favorite travel blogs!
1. Hey Nadine
The YouTube sensation
Nadine Sykora is a Slovak-Canadian travel enthusiast. One of the top travel vloggers on YouTube where she has 496k followers, Nadine traveled to more than 55 countries in just four years. Her blog is full of advice and ideas to help inspire your next trip.
2. The Bucket List Family
The big family
Garrett and Jessica Gee and their children have been travelling the world since 2015. Their journey started after Garret sold his app to Snapchat for $54M. Instead of buying a house and settling into their career, the newlywed couple decided to embark on a new adventure and set off for French Polynesia. They launched their blog 'The Bucket List Family' to capture their adventures.
Traveling with toddlers was a challenge and the family has been sharing the ups and down with their now 2.6M followers on Instagram.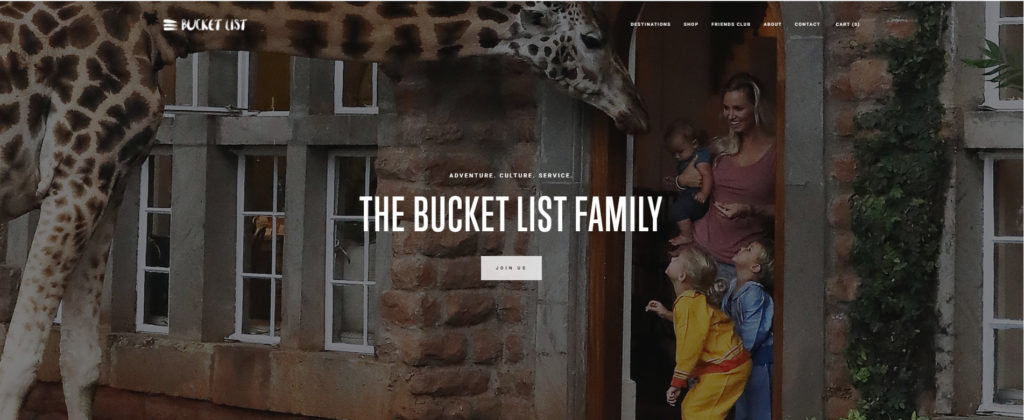 3. Honey Trek
The love birds
When Mike and Anne Howard got married and it was time to go on their honeymoon, they decided to sell their belongings and embark on a trip around the world. Since they started traveling in 2012, they have been on what they call 'The World's Longest Honeymoon.'
After traveling in 62 countries, they wrote their first book 'Ultimate Journeys for Two', a best-seller published in no less than four languages.
Check out their blog to see their itineraries, tips and favorite destinations.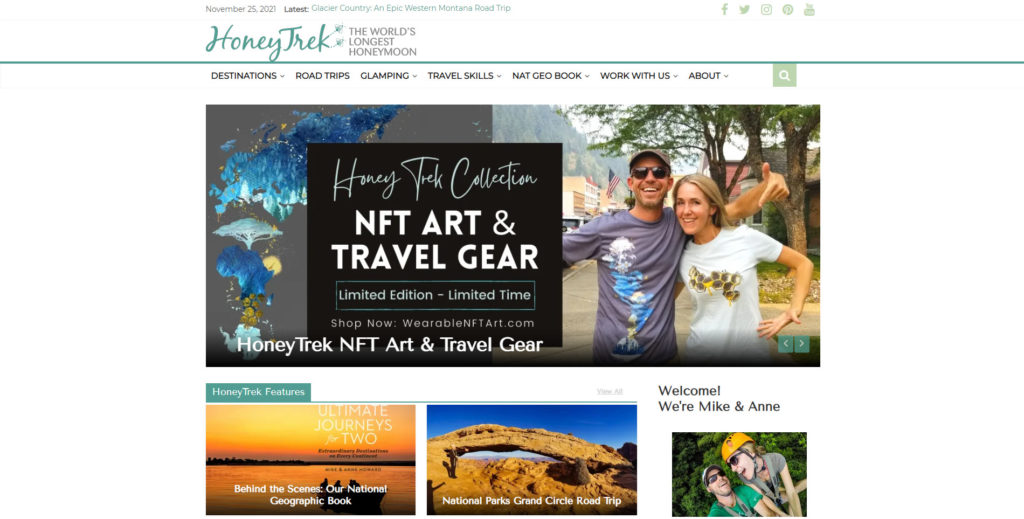 4. Hey Ciara
The female solo traveler
After quitting her corporate HR job in 2017, Ciara Johnson became a full-time blogger and travel influencer. She shares pictures of her trips with her 89k followers on her Instagram account.
Her blog offers great resources for solo traveling, from taking photos on your own to mastering the art of eating alone. She loves encouraging other women to travel alone and helps them to stay safe!
 

 

 

View this post on Instagram

 

 
5. Savoir There
The best tips
Jaillan Yehia is a London-based journalist who loves to share tips. She launched her blog Savoir There in 2012. Experienced journalist and former travel PR, Jaillan shares her experience on her blog. She loves to help people get to the good part of traveling without the hassle of researching.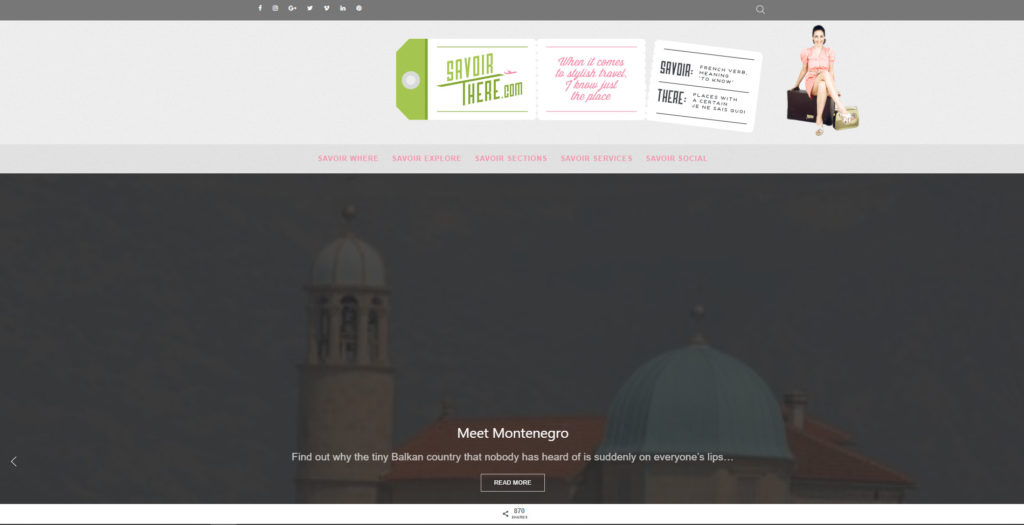 6. Julianna Barnaby
The best writer
Julianna is the voice of The Discoveries Of, a blog launched in 2016 which now has over 120k monthly pageviews. Obsessed with traveling, she is an excellent writer and has received several awards for her hard work.
 

 

 

View this post on Instagram

 

 
7. Nomadic Matt
The nomad
Matt Kepnes aka Nomadic Matt was one of the first travel bloggers. Solo male traveler and self-proclaimed vagabond, he is the author of The New York Times Best Seller 'How to Travel the World on $50 a Day'.
After a trip to Thailand in 2005, Matt decided to quit his job, finish his MBA and explore the world. One million people visit his blog each month, making it one of the most popular travel blogs out there.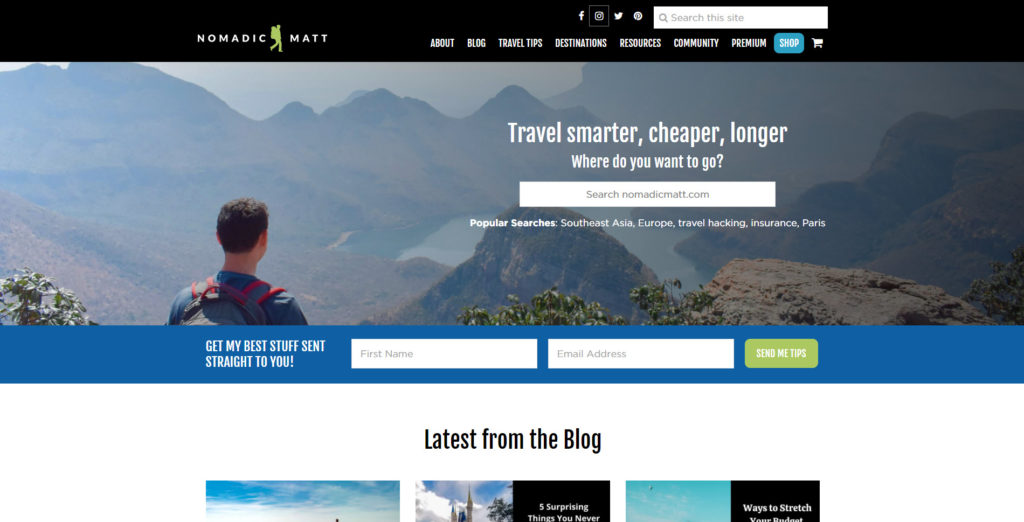 8. Urbane Nomads
The most luxurious
Urbane Nomads is a luxury travel blog launched in 2008 by Hajar and Luqman Ali. They like expedition-style & off-the-beaten-path travels done in luxury and have numerous tips for remote destinations.
Fun fact, Hajar is the first woman to cross the world's largest sand desert, the Middle East's 'Empty Quarter'. She shares her adventures with her 10,8k followers on her Instagram.
 

 

 

View this post on Instagram

 

 
9. The Gypsy Nesters
The empty nesters
Once their youngest child left for college, Veronica and David James decided to buy an RV on eBay to go visit their families and friends across the US. They loved it so much that they decided to never stop traveling! Over some 10 years later, they have visited all 50 states and 53 countries. They share their experience in their blog 'Gypsy Nester' and in a book called 'GOING GYPSY: One Couple's Adventure from Empty Nest to No Nest at All.'
10. Marlina Moreno
The most wildlife
Marlina is a conservation biologist, filmmaker, blogger and explorer passionate about wild places and animals.
Former NFL cheerleader and go-go dancer, she completed a Master of Arts in conservation biology and set out to save animals.
It's while she was volunteering for conservation projects that she got into filmmaking and other forms of visual storytelling. She launched her blog 'Mar Gone Wild' as a way to keep her friends and family updated while she was helping animals around the world. It was a resounding success and she has been featured by everyone from Nat Geo Wild to Forbes.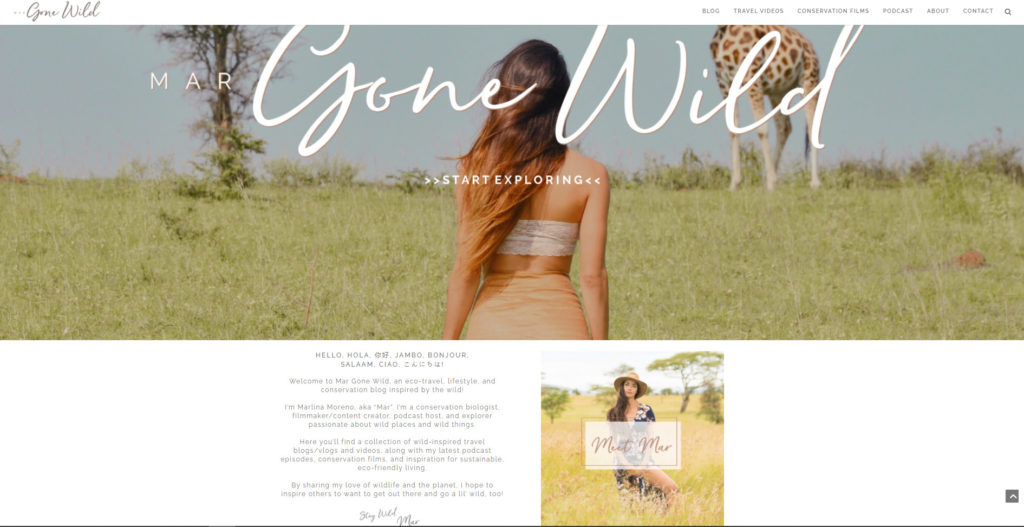 11. BudgetTraveller
The best money-saving tips
Kashyap Bhattacharya or Kash as he likes to be called started the BudgetTraveller blog in 2009 after he lost his job. In order to make a living he had to take 3 different jobs. In his free time, he would reminisce about his travels on his blog. It was a therapeutic way to deal with hardship and he would use writing as a way to relive the memories.
In 2012 he finally decided to take the leap and become a full-time travel blogger. In 2016 he won the National Geographic Traveller Blogger of the Year award. He is the author of the book 'The Grand Hostels: Luxury Hostels of the World.'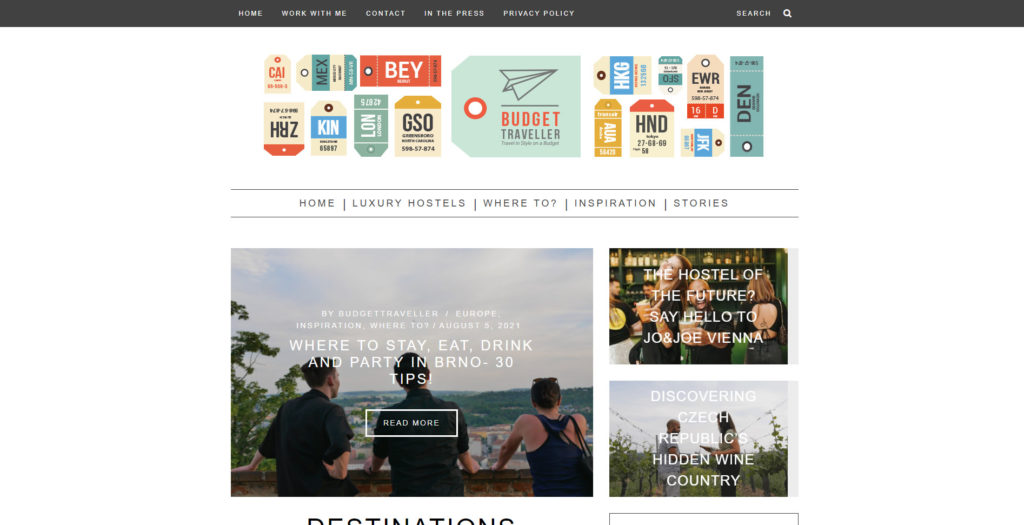 12. Girl Eat World
The most foodie
Melissa Hie had been blogging for a decade when she became an overnight internet sensation. During a solo travel in Europe in 2013 she took photos of her food or drinks with cities for backgrounds as keepsakes of her journeys. Her Instagram became hugely popular and the following year she created her blog 'Girl Eat World'. She has 344k followers on Instagram and has grown a loyal readership on her blog.
 

 

 

View this post on Instagram

 

 
13. Long Haul Trekkers
The most dog-friendly
Dog mom Jen Sotolongo is the founder of Long Haul Trekkers, a blog meant to help readers to find their next dog-friendly adventure. She loves to give advice to help people travel and adventure with their pups.
Freelance journalist, content writer, and author of 'The Ultimate Guide to Hiking with Dogs', Jen has a lot of knowledge about training and traveling with dogs.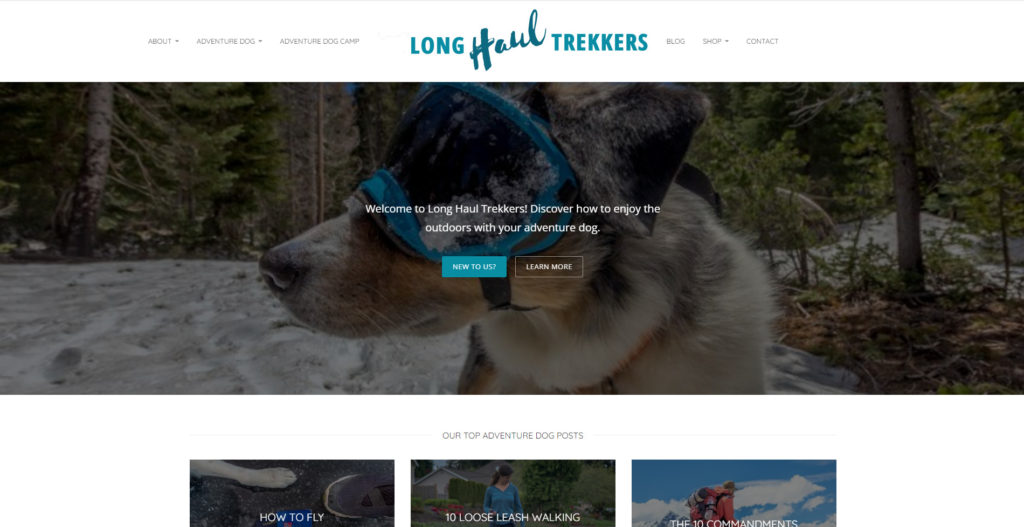 14. Notes from the Road
The best photos
Notes from the Road is an American online travel blog founded in 1999 by Erik Gauger which focuses primarily on North America. The photography is so good that Forbes deemed them 'worthy of National Geographic'. That's no small compliment! His blog is very personal and provided some much needed escapism.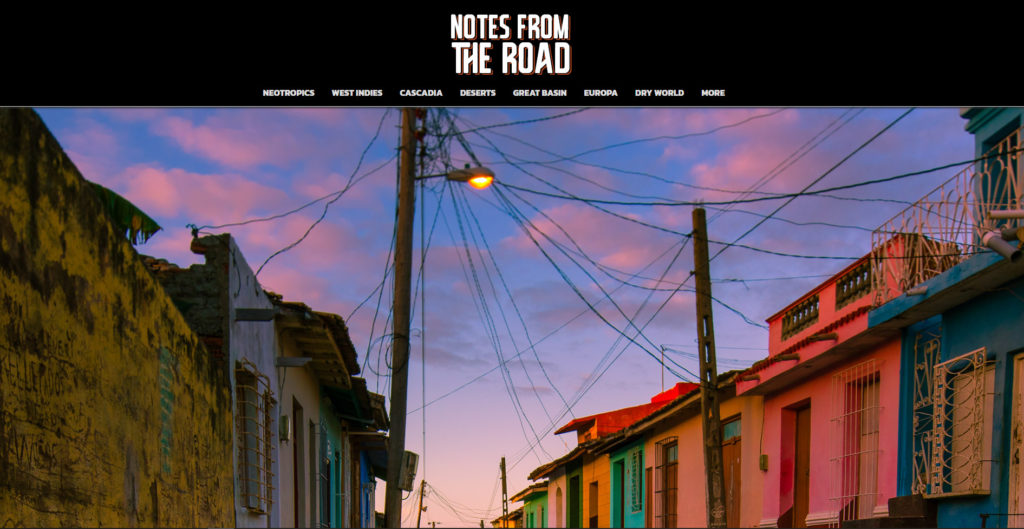 15. Zero to Cruising
The most nautical
Mike and Rebecca started their sailing adventure in 2008 with no prior sailing experience. After taking a 7-day learn-to-cruise crash course, the couple sold their house, bought the Zero to Cruising domain name and went boat shopping!
Since then they document every trip sailing their catamaran around the Caribbean. With over 2500 posts, the couple is nowhere near ready to stop adventuring!
To go further, you can download our Guide Travel, Tourism and Influencer Marketing for free!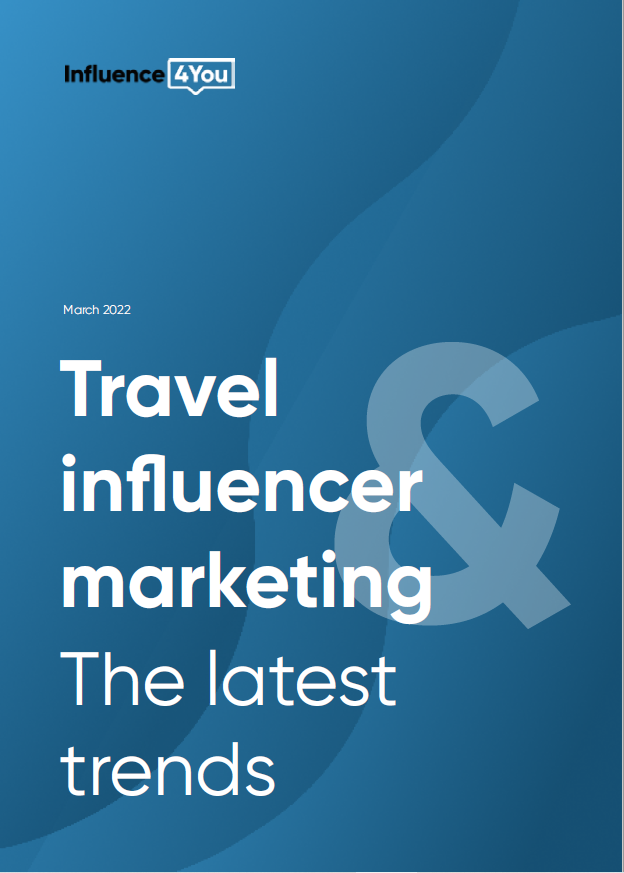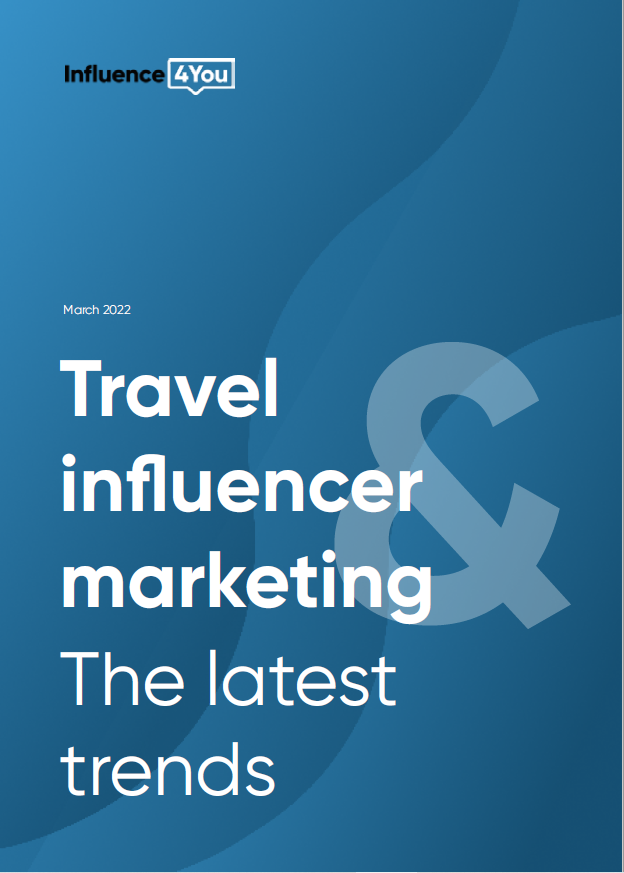 Download the Guide Travel, Tourism and Influencer Marketing for free
Do you work in the travel industry? Don't hesitate to hire travel bloggers to promote your services.
Influence4you helps you get in touch with the right influencers and bloggers for your target. Contact us!