Top 10 Instagrammers of 2022 in the UK
All brands expect more out of their social media presence, but using just one business account you are limited to a smaller audience or can say the same old audience.
That's where Instagram collaboration comes in, where you reach a larger audience with different accounts by collaborating with the influencers in your niche.
Do you want to boost your social media engagement? Have you thought of collaborating with influencers on Instagram?
In this article, we have listed the Top 10 Instagrammers of 2022 in the UK who made their mark on Instagram by gaining loyal followers and collaborating with brands to scale and grow their business by creating and sharing engaging content
1) Rosie
358K followers
Young mother Rosie shares a lot of content, giving an insight into her life. She shows everything from beauty to travel, lifestyle, food…
View this post on Instagram
2) Breakfast London
273K followers
This account captures the finest English cuisine. Use this page to discover the best restaurants and taste your way around London…
View this post on Instagram
3) Luxury Columnist
183K followers
Suze is a photographer for luxury brands. Her unique job allows her to travel and be fully emerged in the fashion and luxury industry. She shares her travels, photos and gives fashion advice.
View this post on Instagram
4) Carly Rowena
169K followers
Carly is a healthy lifestyle guru. As a sports coach and young mother, she is very motivated. On a daily basis, she trains and offers her pearls of wisdom to help her audience feel their best. Her YouTube channel features her workouts, but also her travel and food tips.
View this post on Instagram
5) Belle and Bunty
121K followers
These two women are passionate about everything fashion-related and created a joint account on Instagram. They both post their looks and offer fashion advice!
View this post on Instagram
6) Alanisko
71K followers
Alan is a British Photographer who loves to travel. He has already visited 46 countries and uses his camera to take impressive artistic photos! Each photo is unique and well thought through.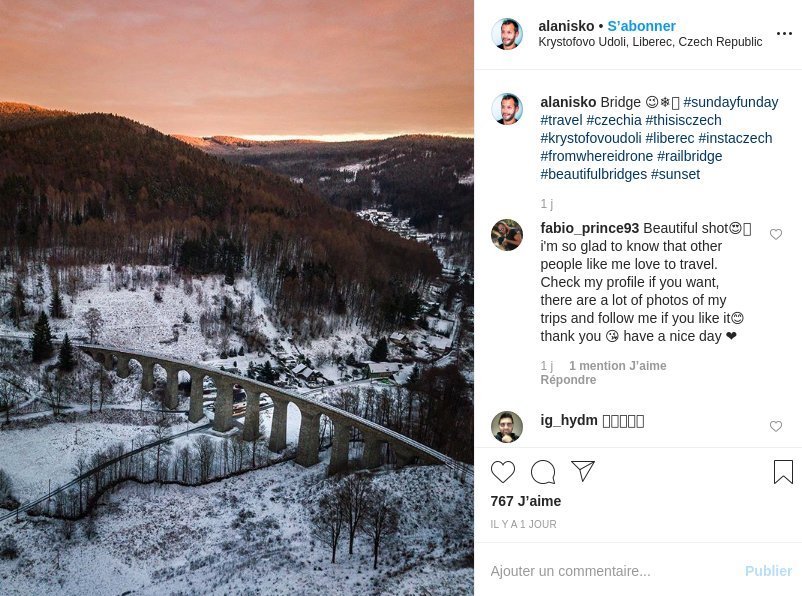 Instagram account: @alanisko
7) Giulia Mulè
57.4K followers
Giulia loves 2 things: food and traveling. She really knows how to combine these two passions to create an original quality account.
View this post on Instagram
8) Luiz Hara
35.9K followers
This Londoner left his job as a banker to follow his dream of becoming a chef! This was clearly a good move for for him, as his Instagram is now a total success. He shares all his meals, tasting experiences, recipes and gives great cooking advice. Luiz is clearly not a one tricky poney!
View this post on Instagram
9) Elodie
12.9K followers
As a young ex-pat teacher in London, Elodie decided to create an account dedicated to London. As a true guide, she gives you a tour of the entire capital. She also has a blog in French and English so that it is accessible to both her French and English followers.
View this post on Instagram
10) Travel Dave
16.8K followers
Alan is an experienced traveler and has now visited more than 90 countries! Follow him to discover the wonders of the world!
View this post on Instagram