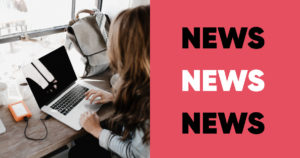 Influencer marketing: an ever-expanding sector
In recent years, influencer marketing has emerged as a new, modern and less invasive advertising format than traditional television or magazine advertising.
Brands have quickly understood that collaborating with a creator on social media allows them to obtain better outcomes, whether in terms of sales, visibility, engagement… It offers a "Best Friend" effect that builds trust with the public. Some of them have quickly entered the market with inventive and innovative placements; NordVPN on YouTube, or RinoShield on different platforms come to mind.
Partnerships, sponsorships or product placements are a good compromise to both compensate the creator for their work and also to reach the brand's objectives. These are more personalized campaigns that are closer to the consumer who is treated as an equal.
As a result, influencer marketing has exploded in recent years, allowing even the smallest influencers to find brands for collaboration.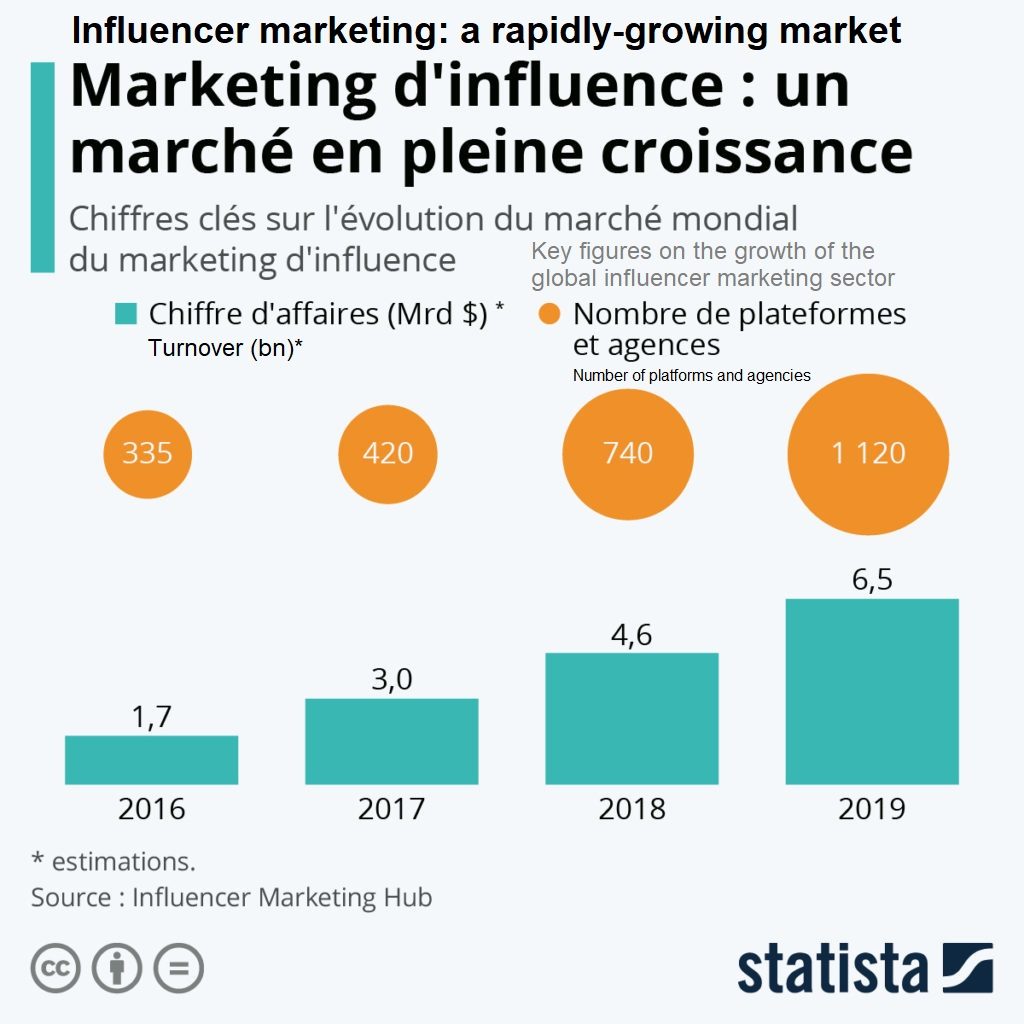 As you can see on this graph, the global influencer marketing market has grown by $4.8 billion in just 3 years. The number of agencies & platforms dedicated to this domain has also exploded, with 785 founded in the same time period. Launched in 2012, Influence4You was one of the pioneers of this trend.
While these numbers are impressive, they continue to grow. In fact, according to Influencer Marketing Hub, the influence market is expected to reach 20 billion dollars in 2020!
Certainly a sector in which to position yourself then!
Find influencers on Instagram
Pros: Instagram is the most used platform for influencer marketing. 79% of partnerships happen on this platform. There's sure to be influencers that match your brand and sending a free product is often enough to get micro-influencers talking about you.
Cons: The amount makes it difficult to sort through influencers, not to mention the fake accounts and creators who exaggerate their number of subscribers or the engagement of their community.
To find the perfect creator for your Instagram campaign, you need to sort them by several criteria. First of all, based on your specific goals. What size influencer does your campaign require? What is the theme of the account? What type of community is it (age, engagement…)? Increasing small appearances with several small influencers is a good idea on this type of platform.
As communities often follow several influencers of the same kind, they will see your message often and be more likely to respond to it. Make sure to be on the look out for fake Instagram accounts! Some are completely fake, others fake their numbers.
Be careful not to be scammed by these untrustworthy people! An influencer marketing platform will allow you to find quality influencers.
View this post on Instagram
If you want to know more about Instagram marketing campaigns, you can read our article on the topic.
Find influencers on YouTube
Pros: YouTube is a platform with a very active community that is committed to their creators. They have a great influence on their respective communities, especially because of the video format and the fact that the influencer generally shows themselves in a much more natural light (#nofilter).
Cons: Making a video with a brand is often quite time-consuming for the influencer (and often requires a larger investment than an Instagram post).
YouTube is the perfect platform for long-term partnerships with medium to large creators. Youtubers have an extremely active and engaged community, with whom they have considerable influence.
YouTube makes it possible to create an atmosphere of trust where viewers will not feel like they're watching an advert, but that they're being recommended a product by a friend. This kind of partnership also allows you to enhance your image with the audience and to gain visibility.
To find YouTubers, using YouTube's search bar is a good first step.  Then look at other similar recommended channels. However, it must be said that this method can be time consuming.
Opt for a multi-criteria influencer search platform that will facilitate your targeting and provide you the information you need to know on creator's channels.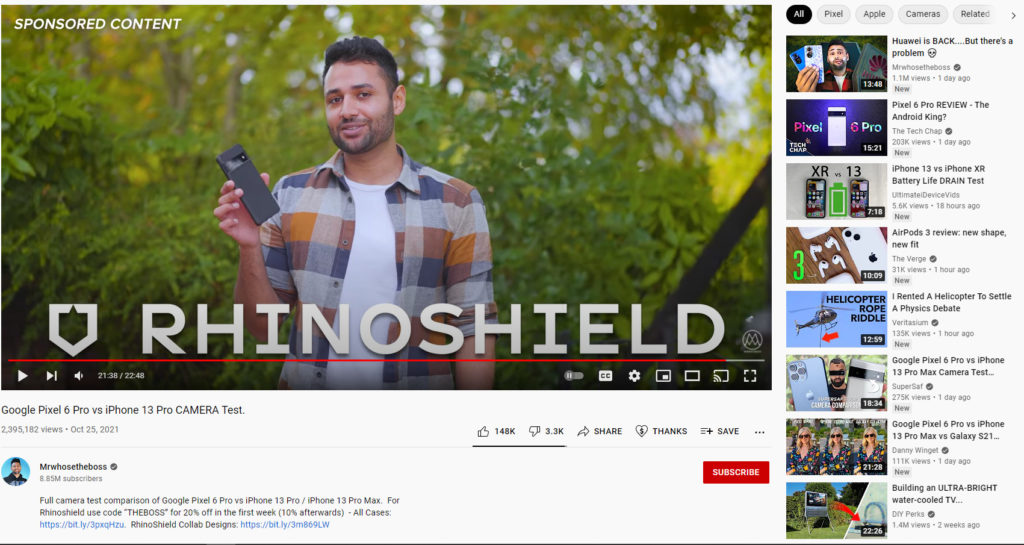 If you want to know more about YouTube marketing campaigns, you can read our article YouTubers are the Best Way to Reach your Target Audience.
Find influencers on Facebook
Pros: Facebook is a long-established platform and most of the influencers who have been very successful on another platform, especially YouTube, are also on this site.
Cons: This platform is still not very modern for influencer marketing, which has had more success on younger networks.
Despite a slowdown in recent years, Facebook remains a major global social network. But it is more worthwhile to use this platform in addition to a main campaign on another social network, and in particular to focus on Facebook groups that can relay your influencer campaigns.
Find influencers on other social networks
Snapchat
Snapchat is a recent application that is very popular with young people. With videos that disappear after 1 to 10 seconds, this is an opportunity to advertise to the consumer in a very "down-to-earth" way, with an effective face-to-face feel.
Asking several influencers to share your message via their stories will allow you to be ubiquitous with the desired category of subscribers. They will also be able to direct their viewers to your account, boosting your visibility.
However, it is more difficult to find an influencer on this platform, due to its transient nature. The best option is to contact an influencer marketing agency that has access to lists of influencers on many platforms.
Snapchat also allows for more creative marketing with filters, for example; you can create a fun filter with your brand name. Users will be able to adopt it and spread your brand on the application.
Many major brands have already used this platform for modern and impactful campaigns with young people.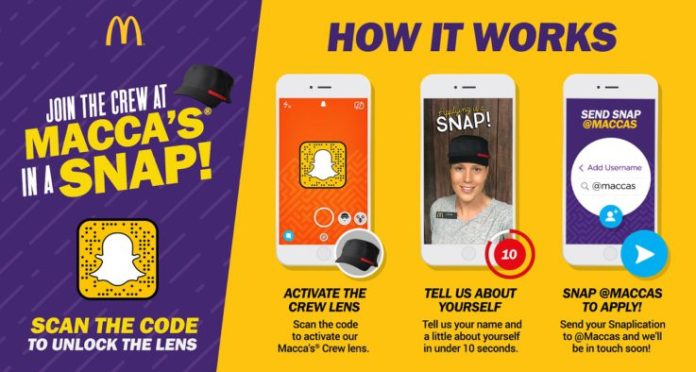 Twitter
Twitter's community is older than most other social networks, with 50% of users between 25 and 49 years old. It is therefore an interesting network to reach a more mature audience, depending on your brand's needs. Plus, it's third in terms of engagement, right after Facebook and Instagram.
On the other hand, the lifetime of a tweet is very short; about 20 minutes. Using an influencer to get your message across rather than your brand itself increases the life of the tweet and greatly influences the consumer on a potential purchase.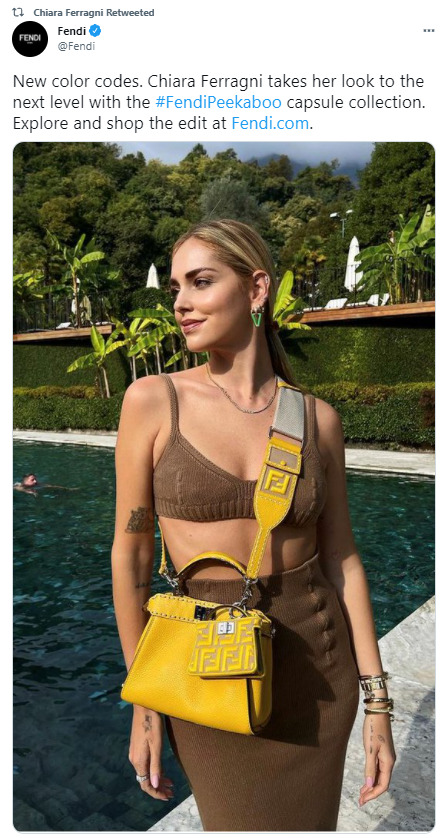 TikTok
Influencer marketing on TikTok is exploding, take a look at our book TikTok: A Creative Guide: 50+ ideas for your influencer campaigns.
This is a great opportunity for your brand to launch an innovative campaign on this young platform with a growing audience. The platform, allowing users to film up to 15 seconds over background music, coupled with filters and quite varied editing possibilities, is an excellent medium to create an innovative and original campaign!
In addition, challenges are extremely popular on TikTok; this allows for many creative responses that will captivate users. In short, a platform that is not yet fully exploited, but with great potential!
Use an influencer marketing platform as Influence4You to find the right TikTokers for your brand!
Influence4You is offering a new creative guide of 50+ ideas for your influencer campaigns on TikTok, the fast-growing social network. Download your free 160 pages eBook today!