Top 5 Criteria to Evaluate your Influencer Campaign
To get better results, every campaign needs to be analyzed and optimized accordingly.  Each campaign can have various goals such as visibility, engagement of your target audience, CTR, or increased conversions. Hence it is absolutely crucial to define your goals and objectives to analyze the results and statistics of your campaign.
Building a strategy with a goal to achieve a profit with an increase in website traffic or sales can be land up as a short-term objective on which many brands are currently focusing.
However, after looking at some data on influencer marketing successful stories, these campaigns raise their profile and boost their image in the long term, by adjusting their KPIs throughout their experience.
This guide will help you understand how to evaluate your Influencer campaign effectively with your influencers based on your marketing objectives and your set of KPIs for your campaign:
Reach

(followers, impressions, traffic)

Engagement

(clicks, likes, reactions, shares and retweets, comments, mentions)

Sales

(campaign performance, tracking, and conversion rate)
Here are five evaluation criteria to keep in mind for your influencer campaigns!
1) Post Impressions
When creating an influencer campaign, You will choose influencers depending on their number of followers and their average engagement rate per post, by doing this you will get an idea of the potential number of people you can reach. Sometimes, it is difficult to access and manage this data if you want to collaborate with two or more influencers. In such cases, you must use an Influencer Marketing Platform which gives a complete set of influencer profile data, the age range of the followers, the location of their followers, and gives you all the information you need to get the right influencer.
There are some amazing tools like Influence4You, detect and gives you information about the fake followers an influencer has as shown in the image below.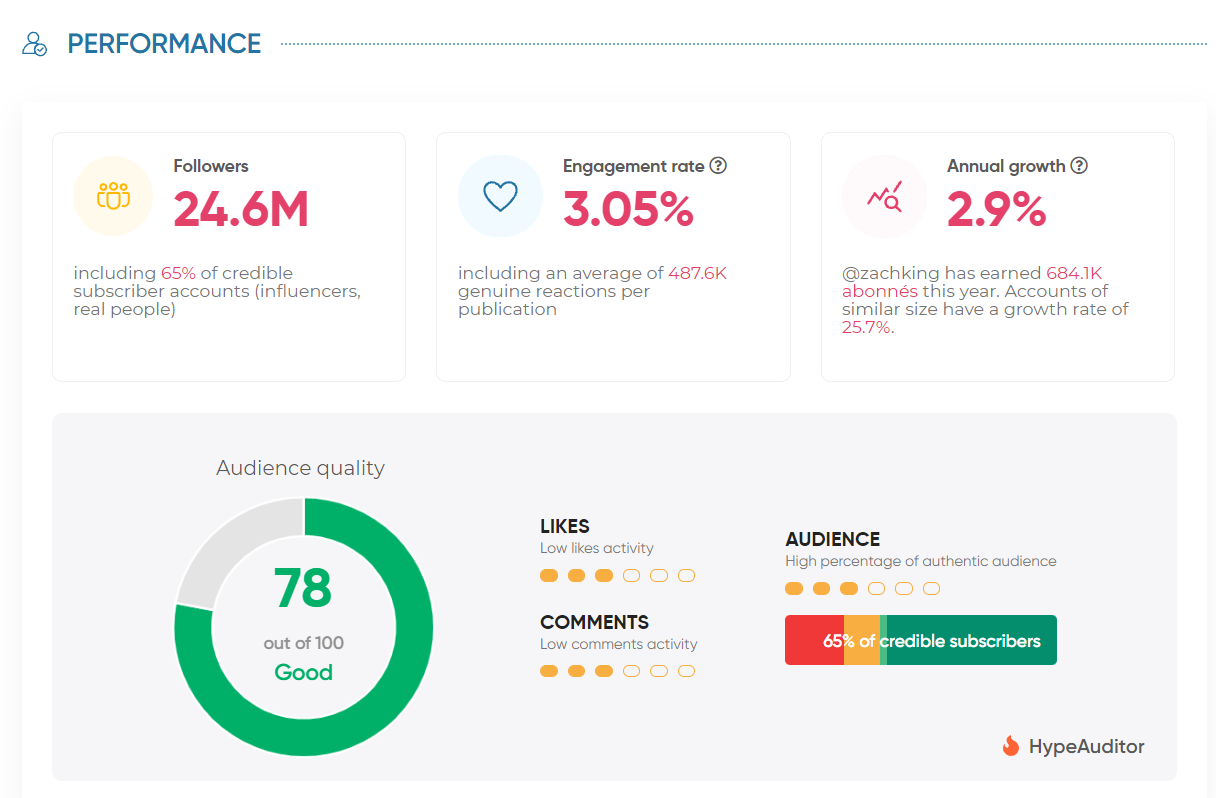 With the help of these platforms, you can easily launch an Influencer campaign and evaluate the effectiveness of the various campaigns you are running with different influencers under one roof.
Checklist:
The overall reach of the publication

No. of Impressions.

Increase in no. of followers.

Increase in website traffic.

The number of new subscribers on your brand account.
3) Post Engagement
You might have noticed, "likes" are key to happiness for all those who post on social media, and hence your brand is no exception!
But engagement doesn't end with a "like", it starts with one. A "like" is the first step towards the engagement process. Since every post has a different way to engage the audience, your key metrics will differ from the content-to-content you want to post.  To improve your brand awareness you can post various types of content like:
Image post

Video post

Stories

Live

and others.
To calculate a good engagement rate, several metrics should be taken into account:
The number of "followers of the influencer"

The number of "clicks" on the post 

The number of "likes" on the post.

The number of "reactions" on the post.

The number of "shares" of the post.

The number of "comments" on the post.

The number of "mentions".

The number of "views"

The number of responses to your products/service offerings. 

The number of times your task/challenge is being accepted.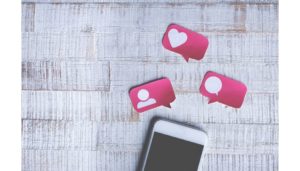 All of these represent the different types of engaging reactions which can be calculated. By adding all these metrics and later dividing them by visibility, we find the engagement rate of the campaign.
What matters the most is the amount of engagement relative to the number of people affected and not the gross engagement. For example, it is more interesting to have 100 comments on a post that reached 4,000 people than 100 comments on a post that reached 40,000 people.
Fortunately, Influence4You does all of these calculations for you. Also, to make it more convenient for you, we offer our free Chrome Plugin which calculates the engagement of a post and video on Instagram, YouTube, and TikTok.
3) Conversion rate:
‍The KPI your manager will always ask you is the "money" meaning conversion rate. An influencer campaign will help you increase website visits and sales.
One way to keep track of the conversion rate made from the Influencer campaign is by creating a personalized promotional code for each influencer will help you track every sale from that campaign and the effectiveness of each collaboration. 
And for the campaigns without a promotional code, you can simply create "UTM tracker links" and share them with your influencers for their stories. It allows you to know the updates of the campaign but also which influencers generate sales.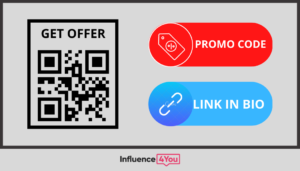 It is important to implement one of either two options to track and evaluate the influencer campaign to see your ROI.
Create a personalized promotional code for the campaign or each influencer.

Give UTM tracker links to influencers.
4) Earned Media Value (EMV)
To evaluate the impact of influencers' posts and your brand's success with their community, you should calculate the global factor which is Earned Media Value (EMV).
We say that EMV is a global factor because it not only considers the publications of your influencers but it also takes all the word-of-mouth that the campaign has provided (Mentions, Repost…) into account. For example, the #hashtag will help you to track and follow the progress of the EMV on Instagram or TikTok.  
Sometimes it becomes a bit difficult to calculate the EMV, but it may be essential depending on your goals and your platform. For example, if you want to launch a campaign on Instagram with a new challenge and your goal is mainly awareness and increase excitement, the EMV will be essential for evaluating your influencer campaign.
To go further about the Earned Media Value you can use our Free tool to calculate the EMV.
5) ROI
To measure the effectiveness of your influencer campaign and optimize your future marketing operations, you need to calculate the benefits it has produced. Therefore the most essential criteria to evaluate is the Return on Investment (ROI), it is the most concrete KPI for globally assessing the cost of sales generated by your collaboration with an influencer. This step also helps you analyze the most successful transactions and merge your weak points.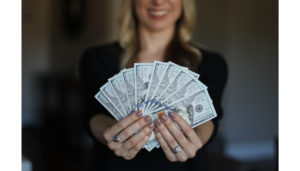 To calculate your ROI, you need to measure various KPIs which will help you get an accurate analysis of your marketing strategy's profitability:
The Earned Media Value (EMV)

The Reach

The number of comments

The commitment

Etc…
With an influencer marketing platform like Influence4You, you can access and collect all the data needed to analyze your performance and find suitable influencer profiles for your product.
To go further about the metrics, you can read our article about how to really measure the impact of your influence marketing campaign.
Also, don't hesitate to contact us if you want more information about our Influence Marketing Platform Influence4You.